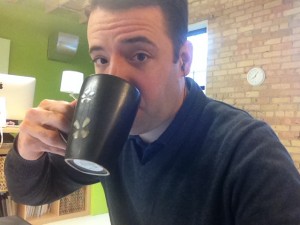 The best post I've read in the last week is 70 Things I've Learned From Writing 1,000 Blog Posts by The Everywhereist.
If you don't follow the blog already get your butt over there and check it out.
Geraldine is the person behind the wonderful gem of a blog. She travels with her husband around the world writing about their adventures. But it's not all about the glitz and glamour of traveling. It's a little bit about that, but more about the funny (especially unintentionally funny) things that happen in life.
The couple recently went to Red Lobster and it made for a great story (The Biscuits!).
There are also some serious stories like Geraldine's scary story about her brain tumor (she named it Steve). By the way, check out her post on 70 Things I Learned From Having A Brain Tumor. There are some funny ones and ones that will make you think about the important things in life.
It's a great blog. It's a great story of a successful personal blog and it's a story businesses can use to inspire business blogs.
My First Blog
I've mentioned it only a few times here on the GBW Blog, but my blogging career started toward the end of 2008 with a personal blog. I had been reading blogs for a couple years and really enjoyed it. I figured that I might as well start blogging. The only issue was I had no idea what to write about.
So I picked two things I really loved – business and hunting – and combined them. I shared things I was learning about business and creating a blog for hunting businesses to help them market their products and services online.
It was a lot of fun and it was really more of a personal blog than a business blog. I wrote stories about my hunting adventures and got the chance to connect with a lot of great people in the hunting industry.
If you're curious you can check out the blog at Hunting Business Marketing.
I look back at some of the posts today and cringe, but I also think some of those posts are really useful.
Today, I still maintain a personal blog on my personal website. It's a place where I can keep something that resembles a journal.
Personal Blogging And Business Blogging – The Intersection
Thinking about these personal blogs has me thinking about blogging in general. One of the great things about personal blogs is that there really are no rules. You have the freedom to write whatever you want.
That's different for business because there are profits to be made, but I think there are some good things businesses can learn about blogging from personal blogs.
Here are ten of those lessons.
1. State Your Opinion
It's more common for personal bloggers to state opinions. There is freedom. It's a reason why people love personal blogs.
You can do the same with your business blog. Your customers want to hear your opinion. Anybody can read the news, but if you can provide an opinion on the news you'll give people something even more valuable.
It's scary because some people won't agree with you, but some will and those are your future customers and advocates.
2. Laugh At Yourself
Geraldine mentioned this one and it's a really good one. I'm guilty of not doing it enough.
Sometimes it's good to laugh. And if you and your team do something that's embarrassing it will make your readers laugh. Remember when you were a kid and other kids would start laughing at something. It's contagious!
Laughter spreads and the more you can make people laugh (and feel other emotions) the more they'll share your blog with friends and colleagues.
3. Forget The Lawyer Speak
Too many business blogs read like a contract.
There are big words and fancy language.
Bleh.
Forget that. Nobody talks like that in real life. And if you do know something that does they probably don't have a lot of friends. Nobody likes it.
Why should your blog be different?
Forget the fancy words. Make it real and relatable. You don't have to be stupid, but write like you speak. I've come across way too many people that are hung up on proper language and grammar.
Life isn't perfect.
As the Eagles said, "Get over it."
4. Write About Others
In life we always talk about others. Personal bloggers do this too. They're not afraid of what might happen (hint: nothing really ever happens when you talk about others).
You can talk about others with your business blog. I'm not talking about writing smack about people.
Some of the most successful posts here on GBW have been written about other businesses. People like when you talk about them.
5. Stick To A Routine
Geraldine mentioned this one too and I think it's a good one.
We all have our regular routines in life. We brush our teeth, have breakfast and drink our coffee.
Make blogging part of your routine and write regular blog posts. It doesn't have to be every day, but get yourself into a regular publishing schedule.
People don't need to see that you're writing every day, but they want to see consistency.
A recent study found that 9 out of 10 people appreciate other people that are consistent (not an actual study, but you get the point).
6. Combine Your Loves With Business
This is a lessons I learned with my first blog. Combine the things you love with the things you know (your business) and you'll connect with people.
That's the first thing that will happen. The second thing that will happen is you'll be more likely to keep up your blogging. That's a big reason people give up on business blogging.
Infuse your passions into your work and your blog will flourish.
7. Don't Always Teach
Teaching is one great way to write a business blog, but it's not the only way.
If you've read previous posts on the blog you know that I love reading rockstar biographies. These guys and gals are never really teaching anything. They're just telling a story.
But they're all incredibly successful. The reason I like reading the stories is that you can pick up on your own lessons. You don't need to have someone tell it to you straight.
Just tell a story and let readers find their own meanings and take aways.
8. Photos Are Fun
It seems that personal blogs use more photos than business blogs. I'm partly at fault of this. It's hard to put yourself out there even more with visual evidence that you're kind of weird looking and slouching in your desk chair. That's how I feel anyway.
But adding photos makes your posts fun. It gives them life and energy. People respond to photos.
9. Forget About SEO (For A Few Posts)
SEO is great. The aspect that's great is that you know what people are searching for instead of guessing. It's like having a bunch of people ask you a question and then being able to provide the answer. You feel good. They appreciate it. Everything works.
That's a great way to write a business blog, but over time you get trapped chasing SEO all over the place. You lose focus of the human element that is yourself and the readers.
You need to forget SEO for at least a few posts. Write a story that has nothing to do with search. You're taking a chance that nobody will find your post, but if a few do and you've written a really good story that's interesting and entertaining you'll get people to share that post like crazy.
And that's another way to get mega traffic to your blog.
10. Add Personal Touches And Stories
This was one of my goals for the last year with my blogging. I wanted to add more personal touches and stories to all posts including business posts. The reason for this is that people respond to the human element in blogs. For businesses, it's easy to write the usual how-to posts that are very useful, but also very dull. Engagement gets people emotional about the content. That means they share it and it means they act on it. Business blogging is a combination of value and emotion. That leads to sales.
I hope these lessons will help with your business blogging efforts.
They're things I've kind of learned over the last few years from writing personal posts and things I've learned from reading other great personal blogs like The Everywhereist.
There are always things to learn about blogging. If you have a favorite personal blog out there you can probably pick up a few tips or two.