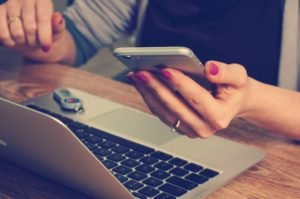 Website builders have been wonderful for small business owners, managers and marketers.
Just a decade ago, it was very difficult for a business owner to launch a website. Well, maybe not very difficult, but it required a designer, developer, hosting and much more.
Those things are often still required, but companies like Wix, SquareSpace, GoDaddy and many others have created website builders that allow tech novices to create their own websites. Complete with a good looking design, hosting and the whole thing.
If you've been using or are planning to use a website builder for your website, though, I've got a few tips to make sure you get the most out of the effort.
1. Don't Overthink Design
So many website builders have hired designers for wonderful designs. Will you get a completely custom design for your business? Not always. You usually use a theme that plenty of other businesses are using.
But what I've noticed over the years is that a completely custom design for a new or small business is probably overkill.
You want a good looking design. You want design that isn't complicated. Nothing that offends your audience. Usually simple and to the point. Not distracting.
Once you find a theme you like just go with it. Don't overthink it. If sales don't come in it's not the fault of the design in almost all cases. Playing around with different themes is usually just procrastination.
I'm a big believer in the importance of design, but it's not worth overthinking. Especially for a small business.
2. Sales Process
As you get into building your website it's critical to know your sales process. I'm amazed at the number of marketers that don't think about the sales process when they're creating websites.
Think about how you sell your product in person. It really isn't that different on a website. Potential customers go through the same steps. They ask the same questions. They want the same information and in the same order.
One of the best things you can do when building your website is to map out your sales process. If you have to, go make a few sales in person or on the phone. Record it or take notes immediately after documenting everything that was said and use the insight to organize and write the content for your new website.
Many businesses struggle to write content for their website. That's the process. That's all it is.
3. Photography
Photography is important. You can certainly find some great stock photography. You can take some great photos with your iPhone. But it might be worth spending money for a professional photographer in your area to help with photos for your business website. Especially if you're in the food industry. Food is really challenging to photograph.
Photos can make or break a website. A cheesy stock photo can distract visitors. It can totally take their attention away from what you're trying to sell them.
If you're wondering if your photography is distracting then just remove it from the site. You're better not having any than to risk the distraction. And the great thing is that many great websites and themes don't require photography.
4. Contact Information
Don't make it impossible to find.
If customers prefer contacting you via phone them put your phone number in the header on every page. Also make it easy to find your address if people should visit your physical location. Big or restaurants.
A service business may want to have an easy contact form to potential clients can contact via email.
Figure out what the most important one is for your business and make it easy to find.
5. Pricing & Packaging
There is hesitance among many marketers and small business owners to put pricing on a website.
"It depends…"
That's always the response. And it may be true.
But customers don't care. They want to know if they're even in the right ballpark. They want to know if they should spend their time doing more research and talking with you. They don't want to read through your site, talk to you, possible multiple times, only to get all the way near the sale to find out that they can't afford what you're selling.
Put the price on your website. If possible, create ~3 packages that you sell most often.
This makes it easier for your customer and for you.
Heck, that's what all the website builders have done. Website design used to be entirely custom. Every time. Now it's packaged and the industry is better for it.
6. Calls To Action
This gets back to knowing your sales process. It's good to use the appropriate calls to action throughout your website.
Let's say you open a restaurant website. Would it make sense for the first call to action button to be "Call us". Probably not. Most people probably want to look at the menu first.
Or maybe they want to know a little history about the restaurant. Maybe a little description of the kind of food they offer.
Once you know your sales process apply the correct calls to action to lead the visitor through the website until they're ready to take the final action and buy.
7. Mobile First
There is more website traffic on smartphones than on computers. This trend will continue. Computers will always be around, but smartphones are the internet for people.
Yet it's common to design a website for computers first. It's just habit.
To really create the best design it's good to have your phone out the entire time. Make sure the content looks good on your phone. Make sure the photos look good on the phone.
Have your phone with you the entire time you're designing. It's more important than how it looks on the computer.
8. Distractions
A big negative with business websites is the distraction. One of the most common distractions is a popup. Asking for an email signup right away on the homepage. The first time someone opens your site they are asked for their email address.
That's not a good experience. You wouldn't ask someone that just walked into your office for their email address. Before you even say hello.
Remove distractions from your site. It's better in the long run.
9. Page Speed
You get different hosting packages often when you're buying a website builder. You can usually get by just fine with the basic package when you're starting out. But monitor the loading speed of your website. If you notice that it's loading than other sites you visit you may want to upgrade.
The faster your site the better experience your visitors will have and the more business you'll receive.
It happens fast. If you're a restaurant and someone is looking for a place to eat in your area they may open your website via Google. But if it takes more than even three seconds to open they may go back and try the next one.
You've gotta be fast.
10. SEO Expectations
You find a builder. You launch the site. You wait a month.
No traffic.
What are your SEO expectations? Most people have unrealistic expectations. Especially if they're not creating ongoing content on the site.
If you're a local business you can do well with Google Business listings and Yelp and things like that. You'll get traffic, calls, etc.
But most businesses have an uphill battle for SEO traffic especially for general terms. You have to give Google indications that you're the best, that you're trustworthy and worth high rankings.
General brand awareness helps. So does creating content. So does high social media use and engagement.
But the key to it all is that it just takes time. You have to be in it for the long term.
Final Thought
Website builders are great. They can really help your small business. In fact, I think it's the way to go for small businesses looking for a good website. But use the tips above when you're building your site. I can guarantee you'll find more success by doing so.