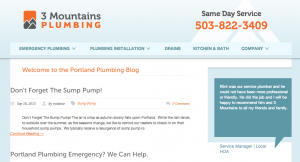 Are businesses really that interesting?
I say that every business has something valuable to share.
There is always an audience of people looking for creative, interesting information.
But I still speak with business owners that feel their business is just too boring for a blog. They think, "Who wants to read about [fill in the blank]?"
Well, I thought I'd find a few examples of "boring" businesses with great blogs.
Here they are.
1. 3 Mountains Plumbing
The 3 Mountains Plumbing company is in the classic "boring" industry. It's not like people are always thinking about plumbing. But if you're a home owner you have probably had issues with plumbing before. It might not be your favorite topic, but it's probably been on your mind.
That's where the 3 Mountains Plumbing Blog comes in. They have regular advice on all things plumbing. They cover everything from leaks to sump pumps to emergencies. It's a great resource.
2. Ohana Construction
There are a lot of DIY blogs out there, but I like it when a construction company does a blog of their own. They're out there working every day with real customers. They know what's up and they have some tips to share with others. They care share tips that are basic for professionals, but extremely useful for people that like to try to do it themselves first.
Great blog from Ohana Construction.
3. Big Table Farm
Farming isn't usually seen as a glamour industry although it's an industry that affects us all in a big way. I'm guilty of not knowing enough about where the food comes from that I'm eating every day. It's nice to see great farms like Big Table Farm coming out with great blog posts. It's a fun blog with good stories and some interesting tidbits for people to read and learn about food and drink.
4. Already Maid
Cleaning services is another industry that isn't real glamorous, but if you're busy or if you just like having your home or office cleaned it's a necessary industry. I see a lot of value there and Already Maid has a great blog with tips for homeowners and for office owners. You can pick up a few tips to help keep things looking good and clean for you, the family and the environment.
5. The Pfister
The hotel industry is pretty straight forward, but if you're looking for more than just a room then a blog is something you might come across. Hotels can provide helpful information to all kinds of travelers. You can share information about your city. You can help people with planning vacations and business trips. You can share stories of previous visitors.
That's what The Pfister in Milwaukee is doing with their blog.
6. US Coachways
Chartering a bus is nothing real crazy. It's pretty boring if you're not thinking about all the cool stories you can read about traveling. That's what US Coachways does with its blog. Another example of a boring industry with a great blog.
7. UPS
Shipping is another industry that's pretty boring. UPS has the Upside Blog, which has some interesting news from the industry, but what I like more is the quick tips they have for customers. They have posts with tips for small businesses and posts with tips for parents that are sending kids back to school. It's some things that you wouldn't think of and that makes a "boring" industry blog very useful.
FedEx has its own blog too.
8. Waste Management
Trash is about as far from glamorous as you can get, but that's not stopping Waste Management from publishing some great content on their blog. I watch the Phoenix Open each year in the early spring. It's a great golf event and Waste Management really puts in an effort to educate people on composting and recycling. They're doing the same thing with their regular blog updates.
9. Educators Credit Union
There isn't much glitz around the banking industry. It's something everybody is involved with even though there is a ton of bad news out there about the entire banking industry.
Yet there is some real value people can learn about retirement, planning and budgeting from a banking blog. I like the one Educators Credit Union has going right now. It's a widely recognized blog. They provide information overspending triggers, advice for college freshmen and much more.
10. Heimerl & Lammers
Nobody wants to think about lawyers until they need a good one. Heimerl & Lammers has a great, up-to-date blog about family law issues. Everything from divorce to other issues are covered. Nobody likes to think about divorce, but it does happen and if you're in the situation you're going to want to find some relevant information.
On their blog they provide some really great expert information.