This is a guest post written by Valerie Shoopman.
—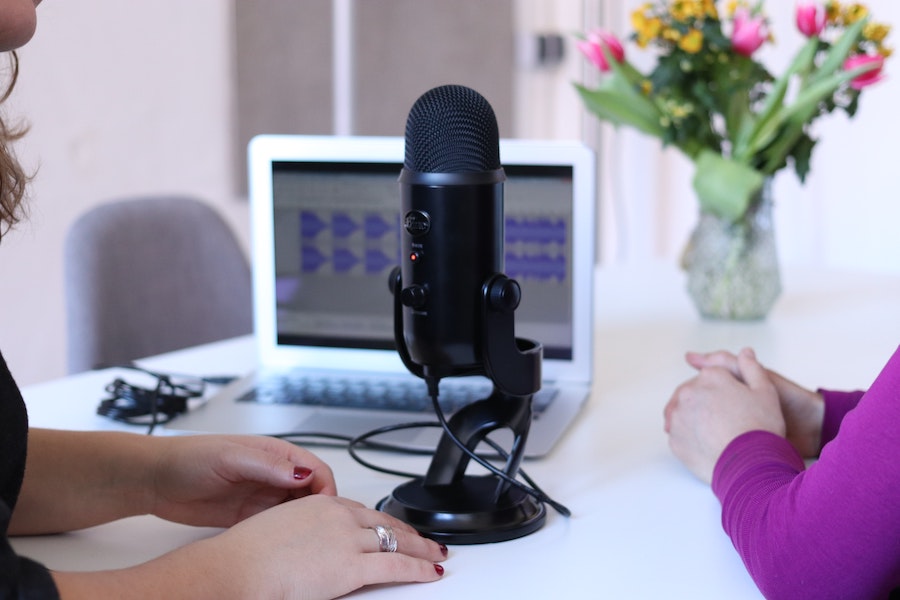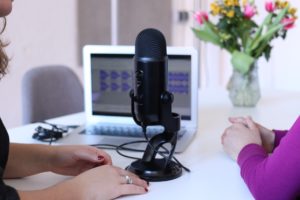 One of the most popular formats in Podcasting is the interview format where the host interviews various guests on their podcast.
A question that invariably comes up for hosts is "Who Should I Have As Guests On My Podcast"?
That is actually a great question!
Who you have on your podcast as a guest is going to help set the tone for your podcast, keep your listeners engaged (or dis-engaged), and also have a bearing on how enthusiastic you are as a host.
There are 3 main areas we've found beneficial to focus on when you're looking at who you should have as a guest on your podcast.
#1. Focus On Guests Who Can Speak About Particular Topics You Yourself Are Interested In And That You Have a True Desire To Learn More About
Your interviewing skills will shine when you're talking with someone about topics you yourself are actually interested in. You'll ask better questions. You'll dig deeper for answers. There will be a natural curiosity and flow to your conversation with the guest.
Your listeners will be like a fly on the wall – absorbing this really great and informative information about a particular topic. And chances are, since they are following you already, they will be interested in the same or similar topics as you are.
It's a win, win, win for everyone. Your guest gets to talk about what they love, you get to ask those burning questions that have been keeping you up at night, and your listeners come away better informed about the topic at hand and feeling like they were privy to something really special between you and your guest.
#2. Tapping Your Own Network And Networking With Others For Awesome Podcast Guests
It goes without saying that we should look to our own networks first to make a list of potential great guests for our podcasts. Create a spreadsheet of your closest contacts and what topics they specialize in. Then sort them by topic according to your specific interests (see #1 above). Create a basic template (email or message) to reach out to those who fit what you're looking for and customize the template accordingly.
As you're listening to podcasts in your niche, keep a running list of those guests on other podcasts (and the hosts themselves) that you think would be interesting to interview and can speak on topics you have an interest in learning more about.
Create a modified template from the basic template above adding in things like…
"I loved listening to your latest episode on x, y, z. I learned so much in that short time! You have a way of simplifying complex things. My audience at "Podcast Show Name" loves learning how to simplify things in our "niche". Would you be interested in sharing your simplification techniques with my audience? I know they would find so much value in what you share and I'd love to have you as a guest on my podcast! Then provide links to a couple of your podcast episodes for them to listen to and an easy way for them to reach you.
The podcasting platform is such a great educational tool. Think of yourself as a "curator" of information from different sources i.e. the various guests you have on your podcast to bring a deeper understanding or a different perspective to a particular topic for your audience.
Ask your own guests (at the end of your interview with them) if they know of anyone else that would be a good fit as a guest on your podcast. If they say yes, note the name and information, and then ask them for a personal introduction if possible. Be sure to have an email introduction template ready, and then send it over to your guest thus allowing the potential guest introduction to be as simple and easy as possible for them.
You can also ask your audience who they would like you to interview next and ask for personal introductions if possible. People are more likely to listen to and share those episodes that they had a hand in selecting.
#3. Reach Out To Other Industry Leaders In Your Niche
Create a running list of other industry leaders in your niche and also track things like…
Do they have a podcast? Have they recently launched a book? Have they written a particularly interesting and informative article or blog post? Did they just launch an educational series on one of your favorite topics? Were they recently featured in a particular publication?
Those questions above will help you to sort out who you should approach first in a strategic way. Those who have a yes to the above questions will usually be very interested in getting more publicity and quite open to accepting guest spots to talk about their specific topic.
When you reach out to these industry leaders, we recommend you have these elements as a part of your communication with them.
Necessary Elements Of Your Communication With Industry Leaders
You admire their work (be as specific as possible – refer to post, article, book, video, etc.) and the knowledge they have on a specific topic.
In your shared industry, you realized that there was a problem or something lacking.
You decided to start your podcast to "give the industry what it was missing" and solve that problem.
A link for them to check out your podcast (link to your podcast on your site & in Apple).
If they like what you're doing and would like to share their particular expertise and knowledge with your audience, you'd be honored to have them as a guest on your podcast and support your "mission" of helping to educate your shared industry. Make it easy for them to respond, schedule, ask questions, etc.
Final Thoughts
It is helpful to have some process of vetting those guests who you don't know well. There are a few ways you can do this.
A basic questionnaire asking for their bio, pics, contact info, website, social profiles, etc. is helpful for your notes during the interview and also to check them out and do a bit of research beforehand. In addition, make sure you alert them as to how the interview will flow…. Time wise and whether a standard list of questions or a more conversational back and forth style and an audio quality checklist is ideal to include.
You can set up a quick chat beforehand with your potential podcast guest to see if it would be beneficial for them to be a guest on your podcast, make sure they're comfortable with their audio setup/sound quality, and answer any questions they may have.
A quick pre-interview chat with your guest before recording the interview to put them (and you) at ease, check their sound levels, and answer any questions they may have is an ideal scenario regardless of the pre-vetting you've done.
The bottom line for selecting awesome podcast guests and having a great interview is…
Seek To Expand Your Knowledge In Your Niche
Reach Out To Those You Know
Be Consistent – Add A Timeslot To Your Calendar To Find And Book Guests
Make It Easy For Them To Be A Guest On Your Podcast
Ask Open Ended And Follow-Up Questions
Be Curious – Most Likely Your Listeners Have Similar Questions As You
Relax And Have Fun
Ask For Referrals
Continue Nurturing The Relationship
To sum it up, when deciding on who you should have as a guest on your podcast, you need to first figure out what topics in your niche interest you the most. Then, find people in your network who can speak on those topics (ideally, those who are already doing podcast interviews). Next, be sure to ask for guest referrals from your audience, your guests, and your professional networks. Finally, reach out to industry professionals who have recently been in the media to offer them additional exposure on your podcast. Make it fun, easy, and memorable for both you and your guest!
—
Written by: Valerie Shoopman
Valerie Shoopman is the Podcast Educator and Head Podcast Launch Coach with Cashflow Podcasting, where she helps industry leaders and advocates reach more people, change more lives, and move entire industries forward through the processes of Podcast Education and Coaching Strategies that work to plan, launch, and grow successful business podcasts.