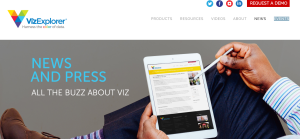 Today we're looking at the blog strategy for vizExplorer.
I'm excited to look into what this company is doing on their blog.
It looks like vizExplorer has a variety of analytics software programs and platforms. They help companies with analyzing data so that action can be taken on that knowledge.
It looks like perhaps the target customer at least for a few of the products is more in the gaming and casino industry. But vizExplorer does say that their software can apply to just about any business.
We'll keep that in mind as we look at what they're doing with their blogging effort.
I'm excited to dig in so let's look at what they're doing.
1. Blog vs. News
It seems like a subtle distinction to call a blog a blog or a news section or something else. I know we've talked about naming a blog before and my general take is that the name is not necessarily important.
A blog is part of a company's overall brand. The content will reflect upon that brand. In that sense a blog name could make things confusing for readers, but when it comes to using News vs. Blog it can also perhaps lead to confusion.
A news section says to many that you're going to provide company news or perhaps industry news. A blog is more vague and that can be a good thing because you can provide a number of different types of posts including company news, industry news, how-to posts and more.
I only comment on that because I see that vizExplorer refers to theirs as a blog in a couple areas and as a news section in others.
2. Ego Lists
I'm a big fan of mentioning influencers from your industry in posts. These are people that have influence over the audience you wish to attract.
And when you create a post that mentions an influencer or influencers there is a chance that they will promote the post to their audience and followers. It's good for them because it paints them in a good light and they can share it without really bragging about themselves (because you're doing that for them).
And it's good for you because they're sending you traffic from their audience, which is also your target audience.
vizExplorer has a good recent example of this strategy with this post.
It turns out that the post is curated from Inc.com. And that's okay. vizExplorer certainly does it the right way by linking to the original post. And the curated post is still valuable for vizExplorer target readers so they're providing value by curating.
The way to take it to the next level would be to create a new list that the target readers would find interesting.
3. Awards
I think it's great to share the fact that you've won an award on your company blog. vizExplorer does that in a recent post.
Why not share that great information?
It may seem a little like you're bragging about yourself, but that is very minimal. If you win and award it's a good thing both for you as a recognition of the hard work you're doing and it's good for your current and potential clients to see that you're a quality company.
Businesses work with businesses, but it's ultimately the people at those companies that work with each other. In those B2B relationships the people want to trust those they're working with especially in new relationships.
Things like awards are indicators that you can be trusted.
So go ahead and share your accomplishments on your company blog like vizExplorer did with this post.
4. Mentioning Specific People
Building on the previous point – it's good to mention specific people in blog posts.
Often, the About page is one of the most trafficked pages on websites, especially B2B websites.
The reason is that potential clients want to know the people they will be working with should they choose to partner with the business.
So it's good to discuss the people at your company on the About page, but you can do it in other places and that's what vizExplorer did with this post where they mentioned one of their employees.
The post has a specific author and even includes a photo. I think that's great and in the post the author comes across like she really understands a specific problem the target client has.
That's all great stuff and it adds a real personal touch knowing that it comes from a person at the company.
You can do this in a number of ways:
Company events recaps like Christmas decorating or employee awards
Employee interviews
Employee quotes
Employee's discussing industry trends
And more
5. Promoting Events On The Blog
Earlier this year, vizExplorer had a webinar and they promoted it on their blog.
This is a great idea.
When you're doing something it's good to reach out on the various channels to promote the event. That can include the blog so regular readers can learn about the event.
The same is true for social media, email newsletters and even having employees reach out to their contacts that would benefit from the webinar. Nothing too pushy, but just a mention about it.
You want to build your blog as a source of valuable information for your target audience and that includes promoting all the great things you offer them like webinars.
Conclusion
vizExplorer is doing a lot of great things with their blog. They have a really consistent frequency going right now and that's one of the areas where we see businesses suffering. It's hard to keep up with a consistent blogging schedule yet that's a major key to blogging success.
Like all business blogs, there are a number of posts that vizExplorer could do including how-to posts and lists that answer common questions their readers are having. It's okay to focus on sales-specific questions like a gaming expert asking, "How do I save time?" and answering that you have a product that can help.
That's good sometimes, but a blog is more for providing a list of 5 things that can help the target reader save time with maybe one being your product.
Overall, vizExplorer is an example of a business committed to blogging and doing some really great things.