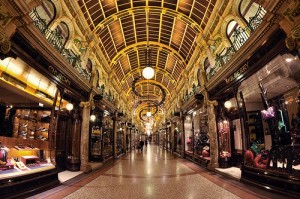 Over the past few years many businesses have started a blog as a way to increase traffic, increase sales, and improve customer relations.
Most blogging by businesses has been experimental. There is really no exact formula that works for every business regarding blogging. Each business is different and each has to find its own formula.
Many businesses have started blogs simply because their competitors have or because they've heard other businesses have found value in blogging. It's never bad to experiment with new forms of business. Over time, business models change, people change, products change, and services change.
As for blogging, we know that:
43% of businesses will be blogging by 2012
What are your plans for blogging?
Top Retail Business Blogs
Here are ten retail companies that have started a blog and continue to experiment and improve their business through the practice.
Cafe Press
Blog: Newsprint
Cafe Press is a printing company that specializes in allowing individuals and businesses the opportunity to put whatever they want on merchandise like t-shirts, coffee mugs, hats, and many other items. The company has grown mostly because it provides a quality service for competitive costs and it's easy to use.
Cafe Press has fun with their blog. The nature of their business allows them to highlight the fun designs their customers come up with.
Just this week the site was already selling shirts for to celebrate the World Series Champion San Francisco Giants.
Post: Didn't See That Coming, Giants
eBags
Blog: eBags Blog
E-Retailer eBags was one of the original dot com success stories and they're still going strong today. The company sells the best bags of all kinds at the best prices and they also have a quality blog to supplement their business.
I love their recent post Back To The Future Bags. Shari went to see the reply of Back to the Future in theaters – Happy 25th Anniversary! – and she noticed a few bags in the movie. She found similar ones on eBags and pointed them out to readers.
This is a great strategy. It brings in pop culture and connects with people looking to find products from their favorite movies.
I also like the relevant tagging on the post as well as the related posts feature. Both are great ways to improve blog function and page views.
Football Fanatics
Blog: We Are Fanatics
Football Fanatics is a company that sells team merchandise for all kinds of sports like the NFL, NCAA, and Baseball. The company even runs the official merchandise online stores for a few universities.
On their blog they use current events like the World Series to highlight the latest gear available for fans to wear as they celebrate victory (see: Get the Gear of the 2010 World Series Champions). Also included on the blog are lists like the Top 10 Sports Costumes.
Lists are loved by Web users so creating lists for events and occasions is usually a good bet to gain some traffic to your site and increase interest in your products.
You'll notice this post on GBW is a list.
Levenger
Blog: Well-Read Life
It's no surprised that writing and reading product company Levenger has a great business blog. The company was founded by a husband and wife that loved writing and reading. The elegance of language and communication was the inspiration for Levenger and the same is true for the blog.
Levenger takes a unique approach to their blog. Steve, CEO, writes a regular column on his own Well-Read Life blog. Here he shares his own thoughts on reading, writing, history, and life. He has great stories and does a great job of interweaving Levenger's products in the posts.
Also on the site are a few articles on classic readers and writers along with a few highlights of uncommon books.
Levenger has control of a unique niche in the retail business and they have successfully captured a unique voice with their blog.
Some things with URLs and organization could be improved, but the blog is well done and enjoyable to follow.
BuyCostumes.com
Blog: BuyCostumes.com Blog
BuyCostumes.com sells more than 50% of the world's costumes online. That's a lot of costumes. The company started from humble beginnings and one of the most successful online companies in history.
Along with costumes, something the company does well is content creation and management. The company's blog has been a big success for years. Halloween just finished up last week and leading up to the big day the company had bloggers busy writing about couples costumes, pet costumes, scary costumes and sexy costumes.
It looks like BuyCostumes has fun with their blog and that's important. The more people involved and enjoying the blog the more likely the blog is to become a success.
Way back in 2007 the company was doing great things like lists with Top 10 Adult Halloween Costumes of 2007.
BuyCostumes was an originator in the blogging and content world among retailers. They're a leader in their industry and showing no signs of letting up.
Sears
Blog: My Sears Blog
The My Sears Blog dates back to 2009. Post strategy appears to focus somewhat on the latest trends when it comes to fashion. A recent post highlighted a big trend in women's footwear: Over the Knee Boots. These kinds of posts are usually winners. Trends are important each season. Retailers usually have an advantage when it comes to fashion trends because they have access to the manufacturers and know what is coming months before the consumer. It's a great way to prepare in advance for future keyword phrases.
The organization of the community and the blog is a bit confusing on Sears. There is the blog page in the link by the title above and there is also this link to a Sears Blog. This blog looks nice and is organized well by category of general merchandise. There are great articles with focused content. This kind of blog strategy can lead to strong natural search traffic and good customer interaction. I also very much like the Tips section.
Sears wasn't the first company I thought of for a successful retail blog but the company is doing great things with their blogging strategy.
Dell
Blog: Dell Blogs
Dell has been a leader in home computing for nearly 20 years. The company was one of the first to sell computers directly to consumers allowing them to compute from home.
Being an innovating company, Dell has ventured into blogging as another way to improve the business. The blog is organized into different areas like education, enterprise, and health care. There appear to be tons of writers churning out great content on a regular basis. It would take ages to sift through all of the content in this blog and that's a very good thing for Dell.
Not all the posts are long and that's Ok. If short posts make it easier to be frequent with blogging it can be an advantage. Each blog will have its own style and Dell has its own unique style.
The Dell blog is well organized and it looks simple, clean, and functional. It's a great example of a blog that suits both the company and customer well.
Netflix
Blog: The Netflix Blog
The Netflix Blog is an interesting one. The blog has been around since 2007. The company has obviously grown since that time and the blog appears to have been losing focus over that time. In 2007 the blog had over 100 posts. The next year there were fewer post and the same for the next year and this year. This is a common situation with most blogs including business blogs.
The blog does get tons of comments and it appears one of the reasons for this is they cover timely issues relating to their customers. It's a simple concept, but interpreting the news that affects your customers is a great strategy for a blog.
An example is the announcement of Netflix on Google TV.
The Netflix Blog seems to have started with a simple strategy and it's worked well for the company.
Bowhunting.com
Blog: Bowhunting.com Blog and Video Blog
Since I'm a bow hunter I'm probably biased towards Bowhunting.com, but they've been doing great things with their blog and video blog for a few years now. The team is talented at multiple skills like business, hunting, and now blogging.
Bowhunting.com has grown a large following over the past few seasons. Their posts regularly get lots of comments and interaction from customers, readers, and members of the site.
On a few posts the writers will include a great internal linking strategy. For example, when one of the pro staff members discusses a hunt they usually link to the hunting products they used. These links of course go to the product pages on Bowhunting.com.
The videos on the site have always been great, but this year the guys debuted their Bow Hunt Or Die series. It's been exciting to follow the team on their hunts this season. Hunting shows used to video tape their hunts this fall and broadcast them on TV the following year. Now with shows like Bow Hunt Or Die fans only have to wait a week or even just a few days to see hunts. It's great.
Leather Tree
Blog: Leather Tree Blog
This Internet 500 Retailer started their blog back in August of 2010. There is always room for improvement when it comes to design, look, and feel, but on the surface this blog gets the basics right. The blog articles are easy to read. The topics of the posts seem relevant and valuable to potential Leather Tree Customers.
I really like they way Leather Tree is using correct anchor text. Notice their post How to Pick The Perfect Briefcase For Yourself Or As A Gift and how they use targeted anchor text for their important keywords like padfolio, leather briefcases, and wheeled briefcases. Correctly using anchor text is a blogging best practice and Leather Tree seems to have a good grasp of business blogging.
A few suggestions I'd have would be to shorten the URLs to include only the most important keywords. Also, I would add at least one heading wrapped in an H1 tag to highlight a targeted keyword phrase. The title is also important for targeting keyword phrases.
For the post mentioned a keywords phrases like best leather briefcase could work.
URL: /best-leather-briefcase/
Title: Best Leather Briefcase – Men, Women, Gift
H1 Tag: Best Leather Briefcase
Discussion
These are just ten of the many business blogs in the retail sector I'm sure. Please share your favorites in the comments.
Shopping Mall image courtesy of Paul Stevenson