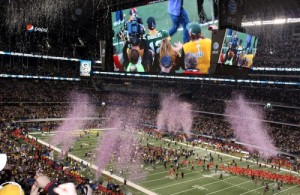 It's that time of the year.
The Super Bowl is here and people are already talking about the Super Bowl Commercials.
These short, 30-second advertisements have taken on a life of their own over the years. The Super Bowl is the annual game between American football teams. It's often the biggest television event each year and this year appears to be no different.
People struggle watching the game because they don't want to leave when the commercials come on. They often leave for breaks during the game instead of during the commercials.
It's the ultimate audience for companies looking to reach the biggest and broadest audience in the world.
As a result, the commercials are the most expensive to produce and most expensive to purchase. The ad slots during the game are in the millions. Only the biggest brands have the ability to purchase spots.
There have been many defining moments that have helped brands introduce new products. With a good commercial, a company can successfully build a frenzy over a product launch.
One such commercial was Apple's "1984" commercial, which introduced the idea of the Macintosh during the 1984 Super Bowl. The ad was very successful as it stirred up anticipation for the computer that would give people the ability to become individuals with their computer.
The perspective of Super Bowl advertising from most people is that one big bang with a commercial can really break a new product or company. This theory is sound, but it likely takes a little more than a one off promotion to really make something successful.
And I think that has a lot of similarities with how companies should look at their blogging strategy.
Super Bowl Theory of Blogging
Some of the best blogs have had moments of short-term success or breakout moments coupled with a long-term strategy of posting quality content consistently over a long period of time.
Most blogs will not see success with the first post or even the first few posts. There are some circumstances where the author is well-known outside of their blog and thus has an audience they can tap into for their new blogging effort.
But that's not the case for most.
Blogging needs to be a long-term strategy for most companies, but there can be something learned from the Super Bowl ads seen each year.
Successful blogs need to have posts that breakout and gains tons of attention. A few of these kinds of posts mixed in with consistent quality posts are what can bring a blog to prominence.
With each of my personal blogs there have been moments where a single post has really gained a lot of attention just as a Super Bowl ad can when it reaches a large audience.
On Country Music Life there were a couple times when a post would reach a large audience. With this post – Darius Rucker Sings with John Daly – became a big hit on the site when John Daly himself shared the post with his Twitter followers. At the time, the blog was pretty new and it felt like I had just had an ad run during the Super Bowl when flocks of JD's fans started coming to CML to read the post.
This happened in similar fashion a few other times.
But I like to think that some people stayed because  of the other posts on the site. You can have one great post that gains attention, but in order to sustain success and build on a big rush of attention you need to have  solid foundation and a solid strategy.
With Super Bowl ads companies will succeed based on how they use the attention they receive from their Super Bowl ad. Unless there is something substantiative to support the traffic there will not be success.
You should look at your blogging efforts with an eye toward gaining big time attention on occasion, but know the real success comes with each blog you publish.
Not every post will become a winner, but each post will be judged when you get traffic to one post.
If you want to keep readers you need to put effort into each post. And then when one hits it big you'll be in position to capture subscribers and your blog will continue to gain momentum and continue being successful.
Apple 1984 Super Bowl Commercial
Super Bowl XLV image courtesy of Sarah Lynn Design