It's hot. It's muggy. People are all busy taking off work for summer vacations. What do you mean summer is the best time for networking? I get it. But hear me out on this one.
Whether summer represents a busy time for you or a slow down in business, it's still a great time of year to be networking. It might be the best season of all for meeting and greeting your top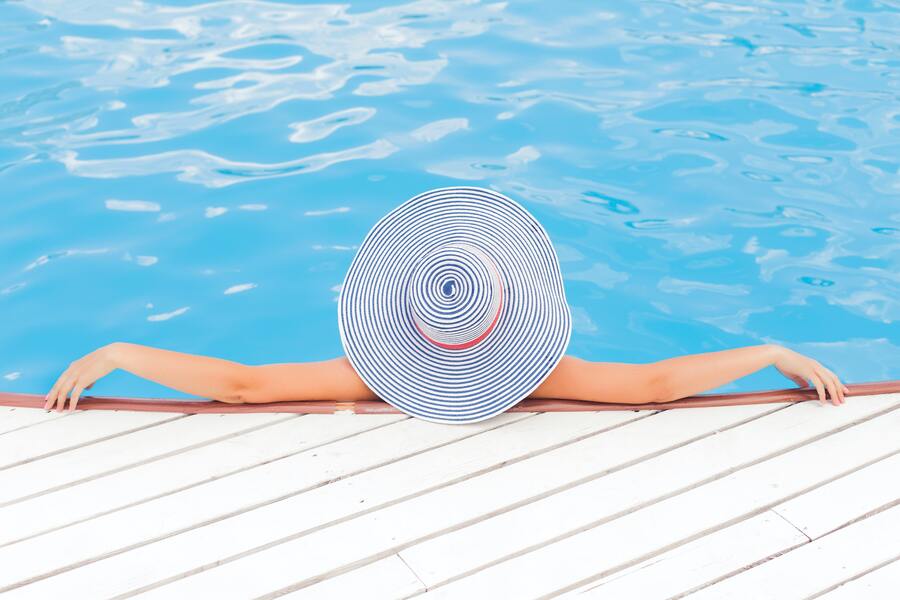 prospects. Some of the best connections can be over a round of golf, sitting outside for a patio lunch, and handshaking at local ribbon-cutting ceremonies. And all of those scenarios, and a few others, make summer the best time to get connecting.
People Are Just Happier with a Little Vitamin D
Some people prefer the snowy winter months. But everyone can fall susceptible to the winter blues. There is scientific evidence proving that sunshine makes us happier. And as a business leader and entrepreneur, you can use this science to your benefit when you're networking. Getting outside more, being active, and enjoying summer activities just makes everyone a little happier. So, gathering with others for a community social hour or chamber outing might be more fun. And when everyone's in good spirits, you're more relaxed about making strategic connections.
More Consistent Weather
Weather matters, especially when you're trying to plan get-togethers and networking events. So, during the summer months, when the breeze is balmy, and the sun is bright more often, it's the best time to plan those events or attend scheduled networking events. Sure, the rain will delay the occasional golf outing. But ultimately, look for more events to pop up through the summer months. Don't be afraid to step outside your networking comfort zone and get out there! The weather won't likely be any better than it is right now!
Volunteer Opportunities Abound
Another benefit of great weather is that it's also perfect for fundraising and volunteer events. Look for charitable organizations in your neck of the woods that might be asking for help. You can gather up some of your colleagues or join an already planned initiative. Maybe you're pitching in on a local festival or helping assemble new playground equipment. I remember volunteering at the local animal shelter that was busy adding onto its facility. We cleaned kennels and painted sheds. And it was a community event that helped the shelter, allowed us all to get out of the office, and put us in a position to network with some of our biggest client prospects.
More Outdoor Activities
Networking doesn't have to be confined to a stuffy conference room or lunch venue. During the summer months, there are tons of outdoor activities you can tap into as prime networking real estate. Some of the most ground-breaking business conversations can take place at the beach, on the golf course, and during local festivals. Take advantage of these increased activities to find new ways and places to connect with those who can help grow your business.
Casual Environments Translate to Relaxing Networking Opportunities
Summer presents opportune times for a little rest and relaxation. It's time for flip-flops and Hawaiian shirts. Sunglasses and convertible hair are expected. And when people are more relaxed, networking becomes more casual and agreeable. Lose the suits and ties and have some fun this summer. Shake hands and start having more authentic conversations. Let your guard down and watch those casual conversations translate into strategic relationships.
There Is Often More Downtime
During the summer, more people venture out on vacation and take time off of work. It can be harder to pin people down for appointments and meetings. But during their downtime, they'll be looking to do more recreational things with their time. And meeting up with people at local fairs, community celebrations, and sporting events can provide you with the meeting opportunities you wouldn't otherwise get with a formal appointment.
Summer Events to Look to Add to Your Calendar
If you're looking to get into your networking groove this summer, there are some events and get-together opportunities you can look for on the community calendars. Dot your schedule with a few of these and try to identify which events your top prospects might be attending. And who knows. You might even close a few deals while you're at it.
Volunteer and Charity Events
Check with your local non-profit organizations and ask about upcoming fundraisers or events. You can find volunteer opportunities, too, with your local Chamber of Commerce or BNI group. There might be industry associations in your region that put on events, as well. Find a way to give back, and you'll likely bump into other business leaders doing the same.
Ribbon Cuttings
Take every advantage to demonstrate support for businesses in your community by attending the summer ribbon-cutting ceremonies and celebrations. Local chamber organizations will usually schedule these, so keep up with those calendars. Other business leaders will also be in attendance, making it a great time to network.
Golf Tournaments
Even if you don't play golf, remember that your target prospects probably do. Get involved in amateur tournaments and fundraising golf outings. Be a sponsor. Drive the drink cart. Meet and mingle. Just don't try to talk to anyone when they're teeing up for a drive.
Happy Hours
Find the local hotspots for happy hours, especially those with patio settings or live entertainment on the schedule. Invite some friends and colleagues. But be prepared to meet and network with business contacts who'll also be eager to relax with a cool beverage and enjoy a band.
Holiday and Seasonal Festivities
Memorial Day, July 4th, and even Labor Day all make for reasons to celebrate in almost any community. Look for social event gatherings and festivals that bring local leaders, businesses, and families together. Attend those with intentions of having some fun yourself, but also meeting a few people and exchanging business cards.
Sporting Events
Depending on where you network, sporting events might be a great networking summer event option. Major league games or minor league tournaments are always a good time, especially when entertaining prospects and clients. And scoring tickets or booking the box seats could be just the thing you need to attract the best.
Wine Tours
Summertime is wine time! Local wineries offer recreational and celebratory wine tours as well as casual outdoor settings for get-togethers. Check your local wineries for their summer schedules and venture out for some sipping and mingling.
Patio Lunches
If you were to name the top five or ten restaurants in your neck of the woods with the best patio ambiance, what would they be? Now bookmark their websites and pencil in some time to enjoy them. If they're your favorite places for dining and patio atmospheres, they'll likely be favorites of other business leaders, too.
Concert Events
Summer is also an incredible time for various concerts and outdoor music events. Discover festivals or concerts in the park that may draw crowds. It'll be fun to hear new bands and see new performers. But you can also gain business advantages when you run into some of your top prospects there, too.
Summer Networking Tips to Make the Most of Your Efforts
Even in the most casual of networking settings, you'll want to be prepared. Bring your business cards. Prepare some icebreakers. And know what you plan to do should you score a one-on-one conversation with your biggest client prospect. Here are some definitely dos and definitely don'ts to consider.
Definitely Do:
Definitely ask lots of questions. People are more comfortable talking about themselves and topics they enjoy. Initial networking conversations are about putting prospects at ease about talking with you. Trust comes when there is a comfortable exchange, usually centered around them.
Do practice your elevator pitch describing what you do for a living. There's nothing more embarrassing than a big-fish contact asking you what you do, and you're left unprepared, jumbling marbles in your mouth. Practice how you would respond to that inquiry so when the time comes, you're ready to deliver a home run response.
Definitely be prepared to exchange numbers. Don't embark on a networking event without your business cards. Take it a step further by handwriting "give me a call" or "thank you" on your business cards ahead of time for a personal touch.
Definitely Don't:
It's important to remember that being overtly in their face won't leave a favorable impression. If you're somewhere recreational, they're not likely thinking about work either. Be assertive with your introduction, but don't be over-intrusive or aggressive about gaining a work advantage. Remember, you're developing a relationship, so stick with creating a bond, not a sale.
Don't ignore cues that someone is disinterested. Nothing is more annoying than someone who keeps talking about something you're done listening to, right? Read the audience. If they're tuning out, it's time to zip it up.
Don't go into these summer social events with a hard-fast mission to get appointments or collect business cards. Instead, go in with a plan to make introductions and have conversations. The appointments and business cards will come later.
Don't be a salesy stalker. Yes, be where your people are going to be. Make the introductions. But keep it casual and friendly. Opportunities for more in-depth conversations will happen naturally if you keep it cordial, relaxed, and informal.
Networking Follow-Up Is Still Important
Whether you're networking in the summer or the winter months, follow-up is key. But when you've recently spent quality time with someone in a summer social setting, you have an incredible opening for your follow-up email or phone call. "It was great hanging out with you" is going to draw on the memories you made. And that's what will provide the inside channel you need to ask for the appointment or business-related conversation. Start with brief, short messages, opening the dialogue. Then, after you receive the response, you can move into asking the next-step questions. Maintaining contact after the event, even if it's just to invite them to another summer outing, is how you'll grow your network of strategic relationships.
But What If You Think You're Terrible at Networking?
For starters, when you go to a networking event, stop calling it "networking." It's actually relationship development and making introductions. The term "networking" can make anyone with the slightest social anxiety cringe, at least according to the Harvard Business Review. But it doesn't have to be miserable, awkward, and terrible. Remind yourself you're only there to exchange names, shake a few hands, and hopefully learn some things. Set goals that are attainable, like meeting five new people or getting a chance to explain what you do to three new people. Attend these shindigs with co-workers or bring a friend. You'll build some confidence, and it'll be less and less awkward with each event.
Be mindful, too, that you might be picking some lame events to attend. If your target audience is homeowners or real estate agents, you'll have more opportunities at a local Home Show. If you've attended a few networking association meetings and aren't meeting the right people, stop going. Be smart about how you choose the events you attend. It may just be that you're attending the wrong get-togethers, not that you're no good at networking.
Look for ways to make networking fun. Maybe this summer is the perfect season to host your own networking event. Go out to dinner. Invite colleagues and friends. Do some summer social hour recognizance to find something that sounds appealing to you. And when you attend all these festivities, do so with the intent of making a new acquaintance.
When it comes to developing new strategic partnerships for your business, make the most of your summer networking opportunities. Consider these tips and suggestions to improve your efforts.
And don't forget, when you want to share some of your success stories in the form of blogs, newsletters, emails, and content, let Ghost Blog Writers help!