I had a few goals this year.
One goal was to use storytelling more often in blogs.
I've found that storytelling is a good blog strategy. So I figured it was time to write another story here on Ghost Blog Writers.
The Story of a Startup Blog: Hunting Business Marketing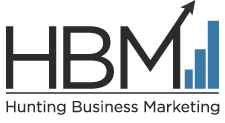 Back in 2008 I started my first blog, DayneShuda.com (now my personal site).
Side Note: What you see on the site now is my personal site and blog. Prior to this version it was a basic WordPress blog where I blogged about hunting and marketing.
My plan for the blog was pretty loosely defined. I had some free time and wanted to get into blogging. I had read blogs for a couple years and knew it was something I wanted to try for myself.
So the blog started with some posts about what I was doing at the time: hunting and working in business.
I shared experiences I was having in the business world. I was interested in online marketing and was reading quite a few blogs on the topic. As time went on I started having some ideas about online marketing and was sharing them on the blog.
The posts did all right in terms of traffic. I was making friends on Twitter and in the blogging world of hunting. It's a good group of folks.
A couple of them to mention are Cory Glauner of Outdoors International and Jody of The Hunter's Wife. There are a ton more as well.
The blog got some decent traffic. I figured getting about a 100 views each day was pretty good. That happened after a few months. The blog's first big break came when Chris Brogan shared a post on Twitter (I can't find the tweet for the life of me).
That was a confidence booster.
Flash forward a year or so and I transferred things over to Hunting Business Marketing.
All of the content from 2008 through 2010 is now hosted on this site. I had decided to focus more on helping hunting businesses with their online marketing.
The continued doing well in this niche. I still get calls today from folks just wanting to chat about hunting and marketing their hunting businesses. Folks that are outfitters or have ideas for new hunting products will call and chat. It's interesting hearing their stories.
I'm an avid hunter myself. I hunt whitetail in Wisconsin during the fall season so I enjoy chatting about hunting whenever I have the chance.
It looks like the site still receives about 5,000 or so page views each month these days. I haven't written a post for over a year. I moved my focus over to Ghost Blog Writers to work on business blogs for clients and there just wasn't enough time in the day.
I also wanted to post daily on my other passion, country music. I do this on Country Music Life.
Looking back, Hunting Business Marketing is where I cut my teeth on blogging. I learned how readers interact with blog posts. I'm still learning this with each blog I write for these days.
There were a lot of failures with blogging in the early days. But there were some good posts too. It seems people still link to the posts on Hunting Business Marketing.
I guess it will always be true that if you provide something that someone finds valable you'll be relevant.
It's been four years since I started blogging and I enjoy it more each day. There is always something to learn and something new to experience.
Any time anyone asks me what has been the most rewarding thing in my professional life I tell them it has been blogging.
And it all started with a (still) little blog about hunting business marketing.