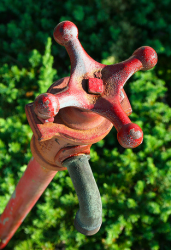 Small businesses have little time for social media management.
You're probably feeling the pressure to start a social media program for your company, but like many others you just don't have the time or the personnel to do things the right way.
Social media is not something you can do just halfway. Many businesses have tried and the result is a Facebook page, Twitter feed and business blog that has a few updates from a few months or even a few years ago.
The frustrating part is that social media presents an opportunity for small businesses to acquire new customers (see: SLD increases traffic 250%). If you don't do something you'll stick with your current methods of acquiring customers.
And while there's nothing wrong with this the chances are you want more. You're competitive. You want to beat the competition.
Here are a few hacks for social media management that you can do under your current time constraints.
Start With A Blog
At Ghost Blog Writers we make no bones about where you should start your online marketing efforts – your website.
There have been many businesses of all sizes that have put effort into social media, but have made those efforts the main focus or center of their entire online marketing strategy.
There are some big downsides to this strategy.
First, you don't own the content you create on Twitter, Facebook, Pinterest or any of the other social sites. These sites are using the masses to create content that can be used for those sites to make money.
Users don't control the design. They don't control the platform. You never know when Facebook or Twitter will make a change that will put you in a position to adapt and make changes to your strategy to continue getting interest.
So if you're going to start investing in social media with your time we feel the biggest payoff will be with a blog. We're biased, but your blog is a great source of traffic from both search engines and social media sites.
You can use the content you create on your blog, which you own, to bring traffic in from all the social sites. That's what we do here at GBW. We're a small business like you. We're working hard to deliver great services for our clients so there is only a little time to invest in social media. We put out efforts on creating great blog content. It generates the most traffic and the most new clients.
With blog posts you can put out a minimal effort to social media to get results at first. Use The Go Daddy Strategy to get people from social media back to your website.
Focus On One Social Media Site
The next social media management hack is to focus on one social media site to start.
Social media experts say you should be on every social media site under the sun. That's really impossible for small businesses and even large businesses. There is simply not enough time to put full effort into all social sites.
What I've seen work for small businesses is to focus on a single social media site.
Here is an overview of social media sites for small businesses. You can see where your target customers are spending time and focus your efforts there.
At GBW we've been putting our focus on LinkedIn more in the last few weeks. This is where we've found the most success in social media for generating interest, website traffic and new customers.
We're focusing on the GBW Blog and sharing each new post on LinkedIn. Beyond that we're also connecting with small business owners. Those are the people we want to connect with so we can acquire new customers.
We're also trying to participate in more groups on LinkedIn where there is an opportunity to answer a lot of questions.
After LinkedIn we've found that Twitter works well for our business. Google+ is kind of a mixed bag, but it is kind of a necessity to be involved there a little bit because Google kind of rules the online world.
Use that article above that has an overview of each social media site. Focus on the one with your audience and spend your time there exclusively. It's better to be a real presence on one social media site instead of nothing on all social media sites.
Use Your Knowledge To Answer Questions
The final social media management hack here is to use the knowledge you already have to grow an audience on whatever social media site you target.
We're all experts at our craft and most times we don't even realize it.
Think of the last time you had an introductory chat with a customer. They probably had a few basic questions to get things started. You shared your answers without even giving it much thought. You've done it hundreds of times over the years and the information is throwaway – at least to you.
But to the potential customer your answers are little nuggets of gold.
Before you start a social media management program take 20 minutes and write down the most common questions you're asked from potential customers.
Try to come up with a list of a 100 or more.
Now use this to create blog posts of about 300-500 words. You already know the answers so creating the post won't be as difficult as coming up with something from scratch.
Have your team write the posts and schedule two for each week. That's a year's worth of blog posts.
Now each day you'll also have content for the site where you're putting your focus for social media. Use little snippets from your posts on the site.
For example, let's say a plumber writes 100 posts. The main social focus for the business is Facebook.
Each day the plumber goes to an old post and grabs one sentence or tip and posts it on Facebook with a link back to the site.
Post: How To Seal A Garden Hose To A Water Spigot
Facebook Post: A small amount of Teflon tape on your spigot can eliminate leaks when connecting your hose to your spigot. More at [Link]
It's that easy.
You already have the knowledge. Organize your thoughts and you'll have everything you need for a great social media management program.