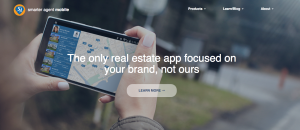 Smarter Agent seems to know what they're doing.
When it comes to business, it's critical to know your target customer. That target customer can change over time, but you'll generally do better with a key focus on an exact person as your target.
Smarter Agent makes it clear on their website that they're focusing on real estate agents. The product provides an app for agents so they can share that app with their clients. The app has uses for both agents and clients. For example, clients can use the app to drive around and find listings based on GPS locations.
And the whole thing for agents is that the app is branded for them. They're using Smarter Agent, but to clients the app is branded for their agent. And that's important for any business including a real estate agent.
So that's the skinny on Smarter Agent. You can check out more on the app on their website, but we're going to dive into their blogging strategy and how they're targeting real estate agents with that strategy.
1. Long-Term Commitment
Right away the first thing I notice about the Smarter Agent blog is the archive list on the left side sidebar of their blog. It lists the years the blog has been in existence and it goes all the way back to 2012.
That's the long-term commitment you have to have if you want to be successful with business blogging. So many blogs, both business and personal, are started and stopped. Usually the blogs are stopped just as the owner is starting to figure out what works. It's usually right before the traffic starts ticking up from various sources including search.
It's good to see a company that has archives dating back four years and that they have posts in all those years. The next step in general is sticking with a consistent posting schedule for the long-term. Do that and you'll build posts on your site just like you build savings with regular contributions to an account.
You get into a habit and the rewards build over time. Slowly at first and then faster and faster as time goes on.
2. Helping Target Customers
This is really the core of any business blogging strategy. You identify your target customer. Then you find the questions they have and answer those questions. Or you find the struggles they have and find solutions.
Keep it simple like that and you'll be in good shape.
Smarter Agent gets this concept and you can see it in posts including this one about how real estate agents can be more accessible to their clients. The post focuses on a challenge that agents will have: being accessible to clients. The post provides a solution with advice for how to be more accessible.
Blogging doesn't have to be complicated. And you can work your own product or service in the mix as well, but keep the focusing on helping your target customer and you'll be in good shape with your blogging effort.
3. Broker Focus // Case Studies
Here is a post in a series that Smarter Agent calls Broker Focus. This is a way that Smarter Agent kind of reuses or repurposes content. They have full case studies on their site and then they kind of use that information to create blog posts and I'm sure they use it on social media and possibly in email as well.
Case studies can make for good blog posts. Customer stories are good. You can do customer interviews as blog posts and then do full case studies in other areas of your site. You can ask one question to many clients and create a post. There are a number of different ways you can go about it.
This series from Smarter Agent is one example of how this strategy can work.
4. Teaching
Business blogs can also be used to teach customers and potential customers how to use what you're selling. That's what Smarter Agent does with this post where they talk about how to use their app.
It's one thing for agents to use the Smarter Agent app, but Smarter Agent wants those agents to have success with the app. A blog is a good place to share tips like the ones in this post. I like that it's done in list form. There are some good tips.
Someone that might be new to Smarter Agent and not yet a customer can read a post like this and get more information about how they can use the app. That can help them to get over the edge to making a purchase.
5. Frequency
Recently, it looks like Smarter Agent may be committing to doing weekly posts, but in the recent past it looks like they're doing about 1-2 posts per month. That's a good place to be, but we generally recommend doing weekly posts as a starting point for many businesses.
Most of our clients commit to 1-3 posts per week. Some do more and a few do less. If you're busy and you don't like writing then monthly can be a good place to start. Even with that you'll have 12 posts after a year. Those posts will always be there working to bring traffic to your website.
But if you can commit to weekly then you'll have over 50 posts in a years time and the results will multiply.
According to HubSpot, companies with over 200 blog posts general 5x more leads. And companies see a traffic increase of 59% after going from 100 to 200 posts.
A commitment to frequency can help your company reach those levels.
Conclusion
Smarter Agent is doing a lot of good things with their business blog. They're committed for the long-term. They're doing various types of posts. They're repurposing content. They're doing a lot of good things. The only suggestions I would have would be to perhaps commit to a more regular schedule; perhaps weekly, which they might already be doing with every Monday.
And maybe a focus on posts that answer questions agents would have outside of just apps and the Smarter Agent app. I'm sure agents have a number of challenges and questions relating to their job and life that Smarter Agent could answer. How to manage an email newsletter. How to manage direct mail. How to better schedule time, meetings, etc.
But overall they're a great example of how to use a business blog to attract more targeted traffic.