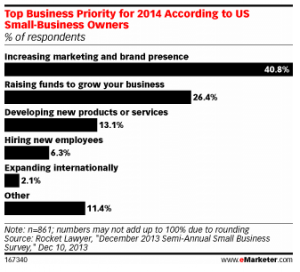 A new study shared on eMarketer shows that small businesses grew in 2013.
And many are expecting to grow again in 2014.
It's great news and the even better news is that the small businesses in the survey are looking to grow even more. To do that they're looking at investing in various marketing activities for the New Year.
It's great that companies are looking to expand marketing investments. When money is invested in the right marketing activities you can create a system that brings in new customers.
And new customers are really the only way to grow a business. You can focus on retaining current customers and getting more money from them, but experiences seems to show that getting new customers is the true path to growth.
In this post I'm going to share a few of the priorities we have for our marketing efforts in 2014. I would put Ghost Blog Writers on the list of companies that experienced growth in the last year. We were up from the previous year and we expect to be up again in the coming year.
But before we get into that I want to share one quick thought on a chart shared in the survey. It shows that only 2.1% of small businesses are expanding internationally.
This makes sense for local business in general I suppose, but there is a lot of opportunity out in the world. If you can grow internationally I don't think you should ignore the opportunity.
Global growth has been a big part of our success at GBW so don't overlook it.
Alright, let's get into the marketing priority list for 2014.
1. Build On Successful Blogging Formulas
This is an effort each year and really it doesn't begin with the New Year. We just kind of always do it.
We have about five different blogging formulas that do well for this blog. But we're also always working with new formulas. Some fall flat on their face. In fact, most fail, but that's the point. It might only take one of out ten experiments to work in order to find the next thing that will bring in lots of traffic and potential customers.
Don't be afraid to try new things this year. Let them fail and move on if necessary. While others are working in the past all the time you can look for the next thing that will work and expand on it once you find it.
2. Increase Blog Marketing Efforts
Blog marketing is an essential part of making a blog post effective. I've been experimenting with Buffer for the last few weeks and the results have been tremendous. Traffic is up and we've built the audience surrounding this blog even more than before. And it's brought in a bunch of new inquiries early in the year so far; many more than this time last year and I was happy with last year's rate.
So we're going to continue to increase our efforts with Buffer and with other blog marketing efforts in the New Year.
3. Improve Internal Systems
We have more than three priorities, but the idea of priorities is that you rank them and do what's most important for the business first.
The first two items above are incredibly important for us because they help us bring in new customers. In fact, the blog you're reading is the biggest way we bring in new business. The rest comes through referrals and we don't do any paid advertising.
So marketing and new customers is important, but our other biggest priority at GBW is improving our internal systems. We've been documenting things and working on getting our inquiry process honed in.
We've come a long way, but still have a ways to go to get it right.
So we're working on that and other systems in 2014.
Conclusion
Every small business is different.
You're going to have your priorities for investing in the New Year and other businesses will have theirs. I just thought that sharing what ours will be might help you out when it comes to thinking about your own investments.
Best of luck to you in the New Year and if you're considering investing in inbound marketing and blogging always feel free to reach out to us at Ghost Blog Writers.