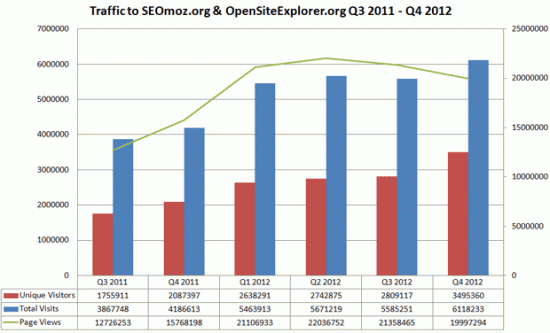 Small business blog marketing is no longer for just a few small businesses.
Owners and managers are looking to small business blog marketing as a way to grow and succeed. It's a strategy that can be bootstrapped. It doesn't have to take a lot of money, but there can be substantial effort involved.
There is a great example of how a small business can become quite a large business in a few years with the help of blogging.
The example is the SEO software company SEOmoz.
Founder Rand Fishkin recently shared the company's performance information from the last year. In 2011, the company's marketing expenses totalled just 4% of the overall expense budget. That number, as a percentage, actually dropped in 2012 to a mere 3% of total expenses.
Rand said this in the post:
Not a believer in inbound marketing? If this data doesn't convince you, nothing will. The incredibly low percent of costs that go to attracting traffic and acquiring customers (on the "marketing" line – remember that SEOmoz has no sales team or costs) are a testament to SEOmoz drinking our own Kool-Aid, and investing in sources like content, organic search, social media, email, CRO, and word-of-mouth to spread our brand. It means we can invest much more in research, product, and data.
Click through the link to view charts and data for sales and traffic. SEOmoz has been on a huge upward swing in just the last few years.
The company was a consulting firm in 2004 when Rand Fishkin started blogging on the company website.
Since that time the company has grown from under a million dollars in revenue to over twenty million.
Certainly it's not all a result of blogging, but the CEO gives credit to the blog as a great marketing tool.
It starts with a great product and blogging can help take a business to great heights.
Here's how.
Small Business Blog Marketing: The Start
Now that you've made the decision to start a small business blog the work begins.
I recommend using WordPress for your content management systems. It's the one we use at GBW for our own sites and those of the majority of our clients. There are other options, but it's the best we've found for both ease of use and support. There is a great community surrounding WP and it makes it easy to use add-ons and to get help when issues arise.
Have a programmer set the blog up on your company domain as a sub-folder (www.yourcompanysite.com/blog/). It's how we have it setup here on GBW.
This setup gives you a single location for all the content and attention for your business. Your blog will attract links and traffic and by having that all on your business site you raise the overall authority of your business and its website.
Strategy, Content and Resources
The next stage is figuring out the right strategy.
At GBW we start with the company goals. We talk about who your company is and what its values are. We discuss the type of products and services you sell and what customers have to say about you.
From there we discuss your ideal customer. You might have a range of different customers, but it's better to focus on one if possible for the blog. Having a clear focus on the reader makes the blogging much more focused, which leads to better posts that turn traffic into customers.
Next we look at the problems your ideal reader is having. This insight comes from questions the customer has asked you in person, is asking on sites like forums and questions and queries your customer is asking the search engines like Google.
From here we move to the content strategy.
This involves creating a list of posts in a calendar form. We list out perhaps 5-50 titles based on the research. We lay it out in an editorial calendar with specific dates for publishing.
Here on GBW we post five posts every week. Other customers do 2-3 posts each week and others do one post per week or even one post per month.
There is debate about how often a company should post. Start out doing what you can and go from there. The quality of the post will determine how often you should publish.
Your posts will focus on the answers to the questions your ideal reader has. The idea is to find them with search and social and other referral sources when they're in the mind for asking a specific question.
Over time you'll earn the trust of the reader and when they are in the mind frame to make a purchase of a product like yours they are most likely to choose you because there is a trust between you.
Resources are the next question for companies. It takes effort to create cheap marketing. In fact, you're going to put in quite a few hours researching, writing, formatting and promoting your posts. Blogging might be free in terms of money, but it's not cheap in terms of effort and time.
This is why quite a few business blogs fail after a few months. The companies give up because there aren't any results right away and the effort seems to be more than anticipated.
Plan for this ahead of time and set the right expectations and you'll have a higher chance of seeing the blog through to success.
Promoting a Blog
Finally we have the promotion of your blog. This is half the battle of creating a successful blog.
Help others starting right now. Share the posts of others. Do what you can to promote the content of others. They'll appreciate it and some will share your content when it's ready.
Include other bloggers in your content. Do list posts that include other blogs. Do interviews with other bloggers.
You need access to other audiences that hold your ideal reader. You have to go to those audiences and figure out how to gain access. One way is to get include someone that has an audience in your content. They will likely link to your blog post featuring them and you'll get access to the audience.
Guest posting is another way to get in front of another audience.
Google and social are the same concept. You're getting access to other audiences.
Try to capture new visitors with email newsletter signups. An email list is something you own. People are opting in to get updates and it gives you the right to market to them.
Final Thoughts
Small business blog marketing can work extremely well. You see the example above.
But go into it with the right frame of mind. It's free in terms of money, but there are a lot of man hours involved. It also takes time. Just look at the SEOmoz example. Rand started blogging in 2004. The company is now over twenty million in revenue eight years later.
Set the right expectations and put in the work.
Not everyone will because of the work.
This is your opportunity.
Will you take it?