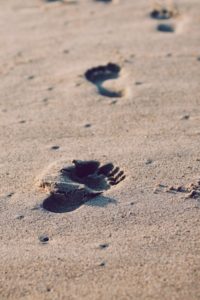 Do as I say, not as I do.
I know I've heard that from a number of people in my life.
Family. Friends. Bosses. Co-workers.
We're all flawed. I'll be the first one to step up and say that I'm flawed and I've thought that phrase and have said it to people around me many times.
Yet it's really wishful thinking to hope that someone will only do what you say. It's really not the case. Humans are wired to learn behavior from the actions and words of others.
Children learn behavior from adults. Parents. Teachers. Family. Friends of the family. Neighbors.
The parents can have great ideas and advice for the child. But if the parent exhibits poor behavior in front of the child throughout the day then the child will likely imitate the behavior and the cycle will continue.
Some children are able to get out of certain situations. Let's say a child is raised by bad parents with bad behaviors. It's certainly possible for that child to find a better person to imitate in life.
But the opposite could also happen. A child with great parents could latch on to a poor mentor and imitate negative behaviors that lead the child down the wrong path.
Becoming A Leader
Charles Woodson is one of the most successful American football players of all time. Woodson came to the team I follow, the Green Bay Packers, in 2006.
At this point in his career, many thought that Charles was done. He was on the downslide, injury prone and all that kind of stuff.
And his first year in Green Bay was interesting. He didn't buy-in to the new coaching staff. He was a loner.
But during that season something else happened. Woodson became a leader of the team and that carried on throughout the rest of his career.
This a great article about how others viewed Woodson:
Woodson is a no-doubt Hall of Famer himself, and while he leads the Raiders' defensive backs by example, he also doesn't act like he knows everything when the coaches talk to him.
"I am impressed by him," Raiders defensive backs coach Marcus Robertson said. "The one thing I appreciate about Woodson is that at this point in his career, he is still coachable. He has all the ability and experience, so you know you just have to help him see little things that could make a big difference.
"He is not afraid to make plays. There's no question that rubs off on the younger players."
How about that?
Humans are great imitators. We see someone do something and we believe we can do the same. We've seen it time and again with achievements.
It took years for someone to break the four-minute mile. Then once it happened it seemed like everyone was doing it.
Setting A Good Example, Discipline
Here is a quote from the article above from Charles Woodson:
Woodson was admittedly not always locked in during his first stint with the Raiders (1998-2005), busy enjoying the night life, but he became a professional during his days with the Packers and now proudly carries around the responsibility.
"Do the right thing, say the right thing," Woodson said, "so the young players have a good example to follow."
Leaders require more discipline than anyone else. If you want to become a leader whether it's to your family, friends or at work, you need discipline.
Setting a good example requires an understanding of an ideal.
For example, you're the CEO of your company. What, in your mind, is an ideal CEO of your company? What are the values? What are the work hours? What are the interactions with employees, partners and customers?
Being a leader is not something you can turn on and off. You can't live by ideals for part of the day. You can't treat one customer with kindness and the next with disgust. That won't fly. Your team will see the contradiction and they'll lose interest in following your lead.
Charles Woodson became a student of the game. He studied. He practiced fundamentals. He took coaching. He didn't do it some of the time. He had the discipline to do it all the time.
And players looked up to him and followed his example.
Woodson is retired now, but the Raider team he left is having it's best season in over a decade. There's no doubt that the example he set had an influence on the players still with the team.
Final Thought
What type of example are you setting in life?
If you really want to be a leader to others it comes down to one thing: discipline.
It's a lot of pressure. None of us our perfect. We'll have slipups, but the best leaders are the ones with the most discipline. They're ones that envision and ideal and make decisions, no matter how difficult, based on that ideal.
Can you become a disciplined leader?
Or are you setting one example and telling those around you:
Do as I say, not as I do…