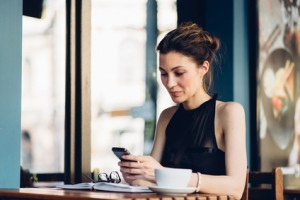 Still wondering if social media is right for your company?
You're not alone.
Responsible business owners and managers analyze all aspects of their business including marketing.
And it's hard to figure out the return on social media efforts. The results aren't often direct where a person clicks on a link you share on Facebook and makes a purchase.
It's often more long-term than that, but the payoff is still often there.
We think it's important for businesses to look at the importance of social media marketing so we've gathered a few of the top reasons.
1. 28% Of Time Spent Online Is Social Networking
(Source)
Social networking has become one of the main activities of Internet users.
We're spending 1.72 hours every day using social media. When you figure we're asleep for 7-8 hours each day and working another 8 or so hours each day it's pretty incredible to think that we spend almost 2 hours using social media.
But it's not entirely crazy.
Many people today have a smartphone. And smartphones have made it really easy to check social media especially the big ones like Twitter, Facebook, Instagram and all the others.
The number is on the rise too. In the future, people will seemingly spend more time on social media.
As a business owner that means that if you want to reach your target audience the odds are good that you'll need to reach them on social media.
2. 81% Of Brands That Work With Influencers Are Happy With The Results
(Source)
One of the reasons social media can be frustrating is that you put out content and it's hard to get a response. It takes time to build an audience.
While you're doing that it can be good to work with influencers in your industry. These are people that have the audience you would like.
There are a number of ways you can work with influencers. You can co-create content. Often this requires you to create the content and them to promote the content.
There are other ways as well, but when you reach out to influencers look for win-win situations so it's appealing for them. They won't often help you out of the goodness of their heart.
But when you find the relationships they often payoff very well as the study shows.
3. 95% Of Internet Using Millennials Use Social Media
(Source)
Millennials are growing up and entering the marketplace. Your target customer might not be a millennial, but it could be in the future and nearly all of millennials that use the Internet also use social media.
And businesses that do target millennials use social media to do it.
54.9% of small businesses that target millennials use social media to do so.
And small businesses that market to millennials in any way report being 80.2% happy with the return on the efforts.
Tried and true methods for reaching older customers should continue to work although those age groups are also using social media more.
And as you look to the future it's apparent that social media will play a role for the next generation.
4. 91% Of B2B Marketers Use LinkedIn For Marketing
(Source)
If you're not using LinkedIn you're in the very small minority on this one.
The B2B world has relied heavily on LinkedIn. It's the social network where you can connect with professionals and the network is built on the professional aspect of life and not on the personal side like Twitter and Facebook.
LinkedIn is the place to build strong relationships both before, during and after a sale takes place.
5. 84% Of Social Media Users Follow Brands
(Source)
It can seem like social media users only use social media to connect with people they know. And that is largely true, but as you can see there is a large percentage of social users that connect with brands.
The biggest reason given for following brands is to hear about products, offers and news.
People want to know what is going on with your products. They want to hear about changes, updates and things like that. They also look for other information that is important to them.
If you can provide that information you can attract followers and the path they often take is to your website to learn more about you and what you offer.
6. 68% Of US Internet Users Trust Businesses More Because Of Positive Reviews
(Source)
Reviews have become a big part of our lives. And online reviews have become very important as more people have become comfortable using the Internet.
People used to think twice about reviews they read, but now people are pretty good about spotting spammy reviews and they can focus on the reviews that are most helpful.
And people are leaving more reviews on social media about brands. And the brands themselves are sharing reviews on social media.
People are putting stock in reviews shared online including on social media. Social is a channel where businesses can earn trust and new customers.
7. 54% Of US Workers Ages 20-45 Say Social Media Is Important For Their Careers
(Source)
This is not about social media being important for life in general in the future. This segment of the US workforce thinks that social media will be important for their jobs in the future.
This really shows the way that social media is bleeding into all areas of our lives. It's not just about hanging out and connecting with friends. Social media is becoming a way to communicate in general and that includes professional life.
It's important to build social media skills as a way to communicate and connect with the upcoming generations.
8. 90% Of Pinterest Users Visit The Site To Find Help With Purchasing Decisions
(Source)
That's a big number. We're talking about people that are going to Pinterest simply to gain knowledge about something they would like to buy.
It's often difficult to connect the money side of things with social media.
But Pinterest has found that their users are very much using the site when it comes to buying things.
9. 33% Of US Small Businesses Increased Time Spent On Social Media In 2015
(Source)
Small businesses continue to struggle with getting ROI from social media, but more are investing additional time in social media. They see that results are possible, but the big struggle for small businesses is the time required.
A good strategy, as many are finding, is using a mix of in-house and outside resources to manage social media. It doesn't mean you need to invest in all social media, but bringing in help to help you with one network is a good way to build your social efforts.
10. 59% Of US Retailers Use Social Data To Improve Marketing
(Source)
Social media is not just about connecting with your target audience. It is about that, but you can also pull all kinds of information about your followers and target audience from social media to use in your marketing efforts.
The more you know about your customer the better you can market and earn new customers.
And social media is increasingly a way to do that.
Conclusion
Social media can be frustrating especially for small businesses. It takes a lot of effort to invest in social media and even then the results can be slow to come.
But as you can see the from the stats above, others businesses are investing in social media and having success. And more and more people are using social media every day.
Social is not going away. Those that invest now will be ahead of the game and they'll see success with marketing efforts in the future.