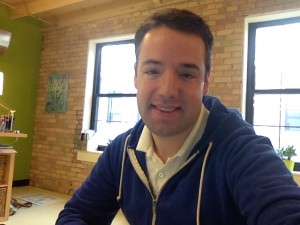 In a new study shared on eMarketer the topic was online video.
People are watching more online video than ever before.
Now, businesspeople are watching more video and it's leading B2B companies to produce more video.
What type of video is working?
Here is an excerpt from the article:
"People in general gravitate toward visual storytelling," explained Liya Sharif, senior director of global marketing at Qualcomm. "Video is an incredible way to tell a story for either a B2B or B2C brand."

Jennifer Anaya, vice president of marketing for North America at Ingram Micro, added, "Even though this is B2B, everyone likes a good story, and everybody likes to laugh."

It's easy to imagine how a video could present a laundry list of product features. But that won't work. According to Michael Peachey, senior director of solutions marketing at Salesforce.com, "Any time the story isn't the main priority in a film, you're not really making a connection with the people you're marketing to in trying to help them understand the real value of the situation."
The idea of using storytelling in your content isn't new.
It's one thing to describe your merchandise, the benefits and what's in it for the customer, but that only takes you so far. You have to weave those things into a good story in order to make it compelling enough for your target customer to make a purchase.
This study focused on video, which is important for content marketing heading into the future, but storytelling is important for all content marketing including guides, tutorials, blog posts and more.
Here are a few ways to use stories in your content (blog posts, videos and more)…
Case Studies
They're usually biased and people know this, but case studies are still great selling tools. They allow you to show the details of what you're selling while telling a story.
The key is to focus on the success of the customer. Show how they succeeded by using what you're selling.
Personal Stories
Much of content marketing is giving your target customers helpful tips. It's like the celebrity chef that gives cooking tips.
But a great chef in front of the camera giving basic tips isn't enough to win over viewers.
The best chefs are the ones that tell stories. They talk about their families and how they remember working with their grandmother to perfect the recipe when they were little.
These stories connect with people. You and your team that's doing the writing can share these stories in your content. You can tell your own stories or tell other people's stories.
Struggle And Triumph
Let's stay on the chef example…
Many chefs talk about how they had to struggle in the depths of life before finding their passion for cooking. Maybe they'll talk about working their way up from dishwasher to the chef at their own restaurant.
People love a good story about struggle and triumph. It makes them root for you and want to be part of your story.
That' leads to a sale.
Conclusion
The study shared on eMarketer shows again that storytelling works.
The type of content mentioned is video, but storytelling works for all types of content.
When blogging, creating guides, publishing videos and doing any other kind of content marketing always use stories when possible. It will make your content much more effective at getting sales, which is the goal of all marketing.