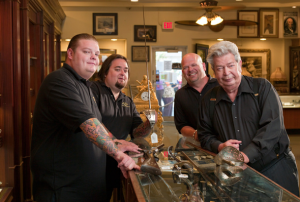 Do you ever watch Pawn Stars on the History channel?
The reality show has been a hit for the last couple years. Customers bring in some interesting and unique items to Gold and Silver Pawn Shop in Las Vegas. The owner, Rick, and his son and father do the dealing with the help of their sidekick Chumlee.
When the show is on I usually tune in if I can. I'm always intrigued by what people bring in to the store, but what I also like about these kinds of TV shows is how they show a business in operation.
And there is something that Rick always says when making any business decision.
In End It's All About Profit
Profit is the only thing Rick from Pawn Stars cares about. He finds himself getting attached to a few items that come into the store, but if there is no money to be made or not even a chance of money to be made he moves on to the next item. At the end of the day he is responsible for his own well being, that of his family as well as that of his employees.
Profit drives Rick's business. People bring in items and he usually tries to make at double the price when he resells it to his customers. That's part of the business of pawning. The other is offering loans to people that can't get a loan from another source. Some might look down on a pawn shop for their business model, but the model works and it's a pure form of commerce. I'm sure you've lent something to a friend or family member with a little collateral on the table in case they didn't have the means to pay you back. I think I even did that as a kid on occasion.
Now, how does this relate to blogging?
In todays's social media and online marketing world there is a lot of focus and discussion about metrics. People talk about pageviews, followers, and fans. But in the end those things really don't matter.
The only thing that matters is profit and that includes anything your business does online. Regarding blogging, profit is the only thing that matters. Pageviews are nice to have and can lead to profit, but you don't want to focus on pageviews. You want to focus on the aspects of blogging that ultimately drive profit.
From my experience in the blogging world profit is generated by getting new readers to blog posts. This is the discovery phase of a purchasing decision. People use a search engine to ask a question and they stumble on your blog. Or people ask their friends and trusted acquaintances and those folks share blog posts as trusted resources.
In the future I see the referral aspect of blogging becoming more important as SEO takes a little less of an important role.
The next goal or conversion you want to achieve is a contact from the visitor, which could be in the way of a direct purchase (not likely at this point), or the use of your contact form or phone number. The person is probably looking for more information. They've developed a certain level of trust by reading your blog post, but they need a bit more before making a purchase.
Next the goal is to get this person to subscribe to future content. My favorite way of achieving this is by email. An email newsletter is a great way to create a list that generates profit.
Finally the last step in the process is converting a prospect to a paying customer.
The relationship ends in profit.
I get asked all the time by clients and friends and family about how blogging works. It's been thought of as a hobby for so long that blogging almost has a bad rap in the marketing world.
But blogging can drive some great sales. Nearly all of the sales at Ghost Blog Writers are driven by the process you just read about. I don't attempt to blow smoke here. I try to practice what I preach and that includes getting new business by blogging. The leads come in via search or social or just regular referral sharing.
How did you find this blog post?
If you're interested in discussing blogging and your business please give me a call or contact me today.
In the end it's all about profit. Just like Rick from Pawn Stars says.