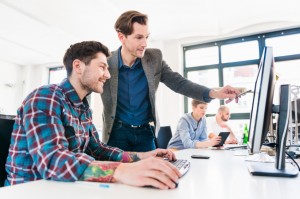 There are an incredible number of tools for businesses today.
The software world is exploding.
Many of us are familiar with the tools for consumers including things like grocery lists, calendars and even games.
But there are also tools that can help small businesses. I'm talking about the things that make your business more profitable, but also one that generates more profit and does it in a way that doesn't make you crazy.
Here are some of the best tools for small business. If you're not using these then follow the links to learn more. In most cases there is little to no charge to try out the tool to see if it'll be a good fit for your business.
1. WordPress (To Manage Your Business Website And Blog)
Your website is the most important online tool. You own it. It's the channel you manage when it comes to communicating with your customer online.
WordPress is the best website manage system. It's easy to use. Even if you haven't used any website management software before you can learn quickly to use WordPress.
You can add content to your site. You can change that content. You can make simple tweaks. And you can easily find designers and developers to work on your WordPress website when you need them to.
The other great thing is that a WordPress website can cost you about $100 to start. That's maybe $100 for a theme and then $100/year for basic hosting. Start there and build up as necessary. A basic theme is fine and as you grow you can use a custom theme that costs more.
2. Synthesis (To Host Your Business Website)
However, a basic hosting plan will cost you about $5-10/month. That's fine, but you need speed online. If your site is really slow then the best investment you can make is in a better host.
Invest in Synthesis. It's been one of the best investments I've made at GBW. It's not cheap. It's about $400/year, but think about how many customers you would need to pay that back?
One? Two?
It doesn't take many and you'll get more traffic and more customers if you have a fast website.
Visit: Synthesis
3. Aweber (To Build Your Email List)
We're talking about things you own. You can use a lot of online tools, but for many of the things you won't be the owner. With an email list, you're the owner and that's incredibly important.
I've used Aweber for years and years now and it keeps getting better. It's so easy to manage your forms and your lists. You can keep it as simple as one list and something like one email a month. You can even keep it simple with the forms by using a single form on your site.
That's probably fine for most small businesses especially when you're starting out. But Aweber also makes it great if you want to get more involved. You can manage multiple lists to handle different segments. It's a great tool. It's about $20/month and that price only grows as your email list grows.
One note on that topic, don't be afraid to delete people from your list especially if they haven't opened an email in a year or even six months. You don't want to pay more unless it's for the best of the best people.
Visit: Aweber
4. Freshbooks (For Invoicing)
Invoicing and accounting are things that grow as your business grows. It's one of those things that you'll tell yourself that more accounting is a good problem to have. Well, that's fine to say except on the day of the month you take to handle the accounting.
Over the years, accounting grew at GBW to the point where I needed to make things more professional and easier for me to manage. That's when I decided to invest in Freshbooks. It's $30/month or so and that's up there for small businesses. It's one of the higher items on our list of tools, but it's been worth it.
It manages all the invoices. You can see where you stand at all times. You can make changes. You enter in information only one time. And you can track your Profit & Loss statement anytime you want and that's good come tax time.
Visit: Freshbooks
5. Google Apps For Business (To Manage Communication And Information)
When your business depends on email, like Ghost Blog Writers, you need to have access as often as possible. That wasn't the case with the regular email I was using in the early day of GBW. Now, for the last few years, I've been using Google Apps for Business. It's been great. You have 99.9% uptime with it. Your email is fast. It's trusted. That's what you need when you're running a small business.
And I know that you probably hear about all kinds of business tools that come with a big price tag. Google Apps for Business comes with a price tag of about $5/month.
It doesn't get much more affordable than that especially for a tool that is so important.
And I also use it all the time for sharing information. You've heard of the cloud. Google invented the cloud (not sure if that's actually true) with Google Drive. We use it all the time and again we need it all the time, which works out great.
Visit: Google Apps For Business
6. Buffer (To Schedule Updates On 1-2 Social Platforms)
Buffer has been an amazing tool for me this year. I've been guilty in the past of trying to be on too many different social media platforms. I've given up Facebook. It's not part of the GBW story. It's not even part of my personal story, but that's another post.
I've found that there just isn't enough time in the day, especially for small business owners, to focus on everything. But social media is important especially for sharing your blog posts and video content. So I focus on Twitter and LinkedIn. To share on those networks, however, I use Buffer. I can schedule posts earl in the week and they're set for the entire week.
Buffer saves loads of time.
Visit: Buffer
7. Vimeo (For Your Video Content)
Vimeo is one of the biggest growing trends in the online world and it's only going to get more important. People have always demanded content. Whatever information people can get their hands on they're going to take. Right now people are demanding video content. They want to learn things. They want to laugh and be entertained by things.
Internet connections are getting faster. Screens are getting smaller. That means more demand for video content. It's easy to watch video on a smartphone even if you have a pretty good connection.
Businesses, even small businesses, can make video part of their content strategy. Vimeo makes it easy to upload your videos. You can keep them private and upload them to your website.
Visit: Vimeo
These tools are ones I've used or ones I've seen other small business owners use. Some help with regular tasks while others help with tasks that are more essential for the modern business. Either way I think you'll find some of them to be worthwhile for your business. So try them out today and start improving your company with the best technology available right now.