Nordstrom is changing its game.
The luxury retail brand is increasing its focus in online marketing. The brand's CFO, Michael Koppel, recently explained in the company's yearend earnings call.
From Nordstrom doubles up on the web:
"In 2012, we plan to spend over $140 million in e-commerce, representing approximately 30% of our capital expenditures, compared to spend of almost $100 million or approximately 20% last year," Koppel told analysts.
With its direct and e-commerce channel growing, over the next five years about 30%—$990 million—of the company's planned $3.3 billion in capital expenditures will be spent on further developing its Internet infrastructure, Koppel said. "Our current five-year capital plan is approximately $3.3 billion," Koppel told analysts. "About 60% of our plan is for new stores and remodels. Approximately 30% will fund e-commerce growth, which is double the amount we had in our five-year plan last year."
There is more in the article if you are looking for the details.
The trend of more online spending is something that appears to be happening in multiple industries. Even retailer brands are finding the advantages of online marketing are too important to ignore anymore. For the last decade, retailers and direct mailers have focused on a customer that was traditional. While that customer is still important for the immediate future, many brands are now focusing on the customer segments that will have the spending power starting in five or ten years.
And that customer is mainly using online and mobile channels.
Nordstrom Blogging Strategy
The article does not go into too much detail, but it is probably safe to assume that Nordstrom is investing in a variety of online activities. They are likely working with many different customer acquisition models (display, paid, affiliate, etc.) as they work to find the models that work the best to acquire profitable customers.
It's is likely that one of the areas of investment is the Nordstrom blog, which the company currently calls The Thread.
There are a few things Nordstrom is doing with the blog that are great. It seems like they are just dipping a toe into the blogging world, but as the company culture shifts to an online focus there is sure to be more experimenting with the blog and an increase in content and context focus.
The Thread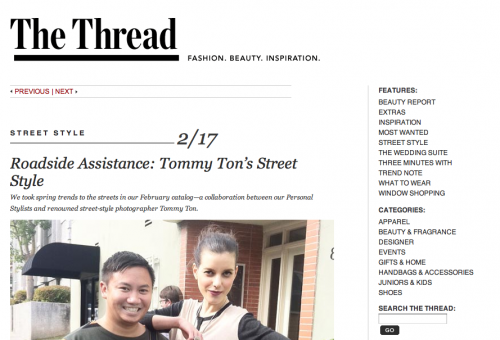 With The Thread Nordstrom is looking to connect their fashionable audience with the latest trends in fashion, style and beauty. The strategy of the blog is to use the unique assets at Nordstrom to bring useful content to the customer.
I've always thought this was a great strategy for a fashion retailer. Customers are always looking for the latest trends. People want to know how they should dress. People can figure things out for themselves, but we also like to be told the direction of trends and fashion. People like when experts provide some direction and interpretation of the latest changes in the fashion world.
This is true for a variety of industries. We look to experts for help interpreting the world's happenings.
When fashion lovers see a new style out on the street or on the runway, they look to the experts to really analyze what these changes mean. Some people want to read about the new styles and how they might be able to incorporate them into their own apparel.
The Thread also appears to be using some great video and photography. Video and photography is another big trend in blogging.
It seems like Nordstrom is doing great things with their blog.
As the company increases its focus with online channels I'd expect the blog to take on an even greater role in their marketing efforts.