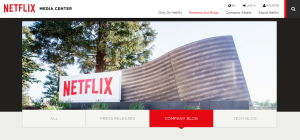 A few years ago my wife and I cut the cord with cable television.
We didn't watch it as much as we used to and we actually wanted to cut back. We figured that if the temptation wasn't there that we would watch less TV.
And that's been the case for the most part.
We do still, however, have our Netflix subscription. It's much cheaper than cable TV. But it still has addictive qualities like getting wrapped up in a TV-style series and binge-watching it until the episodes are gone.
A few years ago, Netflix began producing original content. They now have TV-style series, movies, documentaries, comedy events and more. And it seems like they're really committing to more and more original content.
What's also interesting, at least to me, is their online content efforts. I wanted to look at their blog, or blogs rather, to dissect their strategy.
1. Monthly Speed Updates
On the main English blog, the last few updates have been monthly blog posts on ISP speeds. Here is the latest one. This is a neat idea for a blog post. It's good to provide regular company updates on a company blog. Those updates can be various things like new hires, new features, changes, etc.
But I like this one a lot from Netflix. I'm sure they've been doing it for a while. It keeps customers and potential customers updated on the speed of the service. Netflix knows that they can control what they control with speed. They can do things with their software and servers, but they still rely on the ISPs to provide fast service. So this is a little way to keep the ISPs on top of things and I'm sure there is more than goes on behind the scenes with that relationship.
And customers can see what might be causing lagging issues if their ISP isn't as fast as another option might be.
2. Answering Big Questions
Netflix does this a little different. Their brand is so big and well known that both current customers and potential clients ask specific questions about Netflix.
One of those questions would be about getting new movies on Netflix. There are questions around how fast subscriber can expect a movie released in the theater to appear on Netflix.
That topic is addressed and answered in this post.
I wanted to touch on this type of post because it's one of the big ways companies can find success with a blogging strategy. It sounds simple – find the questions your target customers are asking and answer the questions with blog posts – but you need to know who your customers are and how to figure out what questions they're asking.
Customer service departments often know what questions customers have. Online forums, social media and other industry blogs are good places to find questions too.
If you're a big brand like Netflix you might find plenty of questions that relate specifically to your brand. If you're a smaller business you'll want to focus on questions your customers are asking.
For example, if you target small business managers you might write blog posts about management tips, hiring tips, etc.
3. "About" Posts
An interesting thing with our website at Ghost Blog Writers is the fact that the About page is one of the top five most visited pages on the site.
The reason?
Potential clients want to get to know us before they do business with us.
In real life, when you're looking to work with someone you always have a few questions about who they are, the people at the company. You want to know if this company and its workers share the same values as you.
That's why it's good to share posts like this one where Netflix discusses their policy change on maternity leave.
The question potential subscribers have would be, "What are Netflix's values?". So even with this approach Netflix is still answering a question and looking to connect with subscribers on a human level.
4. The Netflix Tech Blog
Netflix also has a Tech Blog.
It's interesting that this one is on another sub-domain. It's actually on the Blogger software. WordPress is pretty common with business blogs, but Blogger is just fine.
As you would expect, this blog is very much focused on the technical side of Netflix. How their service works, what changes and updates they're making, etc.
The blog is pretty well kept up. There are quite a few posts in the last few months. They do a great job in adding imagery like charts, screenshots and more.
5. Knowing Your Audience
It seems the reason Netflix has a separate Tech Blog is that it's a very different target audience. Much of the content on the Tech Blog is over my head. Some of it is interesting, but it's pretty far over my head. I'm probably not the target reader on that blog.
And that's just fine. Netflix seems to be looking to attract a person that is very interested in the tech side of the business. Possibly has a customer or maybe as a partner, employee, etc.
Perhaps the most important aspect for any business blog is knowing your audience. Once you know your audience you can more easily determine what they want to read and from there you have your blogging or content strategy.
Final Thoughts
It's cool to see a company as big as Netflix really investing in content and in blogging. They even have job openings for an SEO Specialist and Web Content Strategist. Those positions are related to customer service content and the knowledge base, but that type of content can also bleed into a blogging strategy.
A blogging strategy is part of an overall content strategy. It's a way to answer questions that current customers have, but also a way (especially for growing brands) to bring in new customers and build authority.