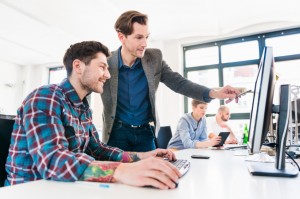 Do you have content that deserves more views than it's getting?
This can happen if you've been publishing content for some time.
You might have an early blog post that was really good, but since it is buried in your archives it might not be getting lots of views. It might also have been early in your understanding of SEO so it's not getting that really good organic traffic that can show up consistently.
It's frustrating when you know the content is deserving of traffic and that traffic is not coming.
The good news is that you can breathe new life into your best content. And even if you're new to content marketing you can use the following steps to promote your new content.
Here are the steps to take to spark more interest in your best content so it gets the traffic it deserves.
Step 1: Tweak The SEO
I know when I first started blogging that I really didn't have a full grasp on SEO. So some of the early posts I would write didn't really focus on SEO.
The more you write content the more you'll learn about SEO. You'll see the posts that do well with organic search and over time you'll see trends in keywords or topics that your posts are about.
Go back to the posts you feel deserve more organic traffic and look at the important things.
Look at the title. See if you used the most relevant words in the title. Go to Google and do a quick check for the main theme of the post. See if there are Google ads at the top and on the right. This is usually a sign that it's a popular keyword.
You can also use the Keyword Tool from Google as a general guide.
But you'll probably also have a better grasp on keywords for your industry now.
Change the title. Adjust some of the content within the article including headings to make sure that keyword stands out.
Don't change the URL. Keep that the same, but make the other tweaks. This can help bring in more organic traffic.
Step 2: Add Some Quotes And Mentions
Those old posts also don't tend to get as many shares as the new posts. It's just the way it is. You can add some juice by sharing those old posts, but that only gets you so far.
You can supercharge those old posts by going back and adding quotes and mentions to them.
Find a really good post that you feel deserves more traffic. Check the topic and then go to your contacts in the industry. Ask them to provide their thoughts on the topic. Then add those quotes to the post.
When you make the update, let those people know that it's ready. They'll want to share the post now that it mentions them.
You can also go back and add mentions of brands and individuals in posts. Compliment them and after you do let them know. They'll often want to share the posts now that they are mentioned.
Step 3: Turn The Content Into A Video
You can also bring new visitors to content by changing the type of content it is.
If you have a great blog post that needs more love, leave the post where it's at, but create a video around the post. It could be something as simple as turning on the camera on your computer.
Make a 2 minute video or so sharing the great tips and action items from the post. Publish the video on YouTube with a title that uses the keywords your target customers are using.
YouTube is a huge search engine. Your audience will find the video. Add a link in the description to the original post and mention in the video that the original post has even more on the topic.
That will send more traffic to your post and even if it doesn't you'll still get more exposure on the topic for your brand.
Step 4: Turn The Content Into A Slide Show
You can do the same thing with the post as you would by turning it into a video if you turn it into a slide show. Take the best content from the post, make some great slides and add it to SlideShare.
SlideShare is a huge site with tons of traffic. People search for all kinds of content on the site. Use a good title like we talked about. Add a long description just like you would on YouTube. This will make it easier for people to find the content while they're on SlideShare.
On the last post you can include the link to the original post where people can get even more valuable information.
Step 5: Link To The Content From Heavily Trafficked Content
Finally, link back to your best content from your new posts. If your new posts get good traffic, link back to your best posts from the past. People do click on those internal links.
But don't only do that. Find the posts in your archive that do well with organic search. Go back to those posts and link to your other great content. You know people are going to those popular posts. Use that traffic and send the visitors to your other really good content with internal links.
Conclusion
It's always frustrating when you have great content that isn't getting the traffic you feel it deserves. I've used the strategies above to boost some of the older posts I've written here on the GBW Blog and for other blogs. They really can help to bring more traffic to your best posts, which adds more traffic overall and more potential customers.
Give it a go right now and you'll start getting the visitors to those posts that deserve it.