Last year, blogging was on the rise among businesses.
This year, blogging is on the rise amongst marketers once again.
A new report shared by eMarketer via Awareness, Inc. shows that marketers will increase their content publishing efforts in 2012. The same report also showed that marketers are looking to increase their usage of social networks including smaller niche social channels.
These trends are interesting.
Let's take a look at what this means for your business blog.
Marketing Blogging to Increase in 2012
There are two points I think are key in this study. The first is the rise of the niche social site and how marketers are reacting.
Social Channel Focus
From Marketers Follow Users to More Social Sites:
But smaller social sites with less current marketer usage will benefit even more. Nearly one in five respondents said they would begin marketing on YouTube in 2012. And though just 10% of marketers said they would have a new presence on Tumblr, that is on top of only 15% already using it, for an increase of more than 66%. Proportionally, usage of SlideShare and online forums would increase even more than that.
There has also been an increase in the number of marketers using sites like Pinterest. Instagram is another popular application or social channel people are using. These sites have unique users and marketers are looking for ways to mine the audiences that match their target demographics.
If you are looking to explore options for expanding into new social networks there is something to keep in mind. It is easy to spread yourself too thin across too many channels. I've seen this happen in businesses both large and small. I'm a big believer that it's not best practice to focus on everything because if you do this you become good at nothing and mediocre at everything.
The trick is to find maybe one, two or maybe three sites with that really fit your target demographic. Focus on these social channels and leave the rest behind. This might mean your taget demographic is on Pinterest instead of Facebook. It's ok if you don't spend time on Facebook. Pinterest might pay off more for your business. Keep tabs on what is happening in other channels, but focus on the money making opportunities.
Blog Usage by Marketers
The second area of interest in this article is the increase in blogging efforts by marketers.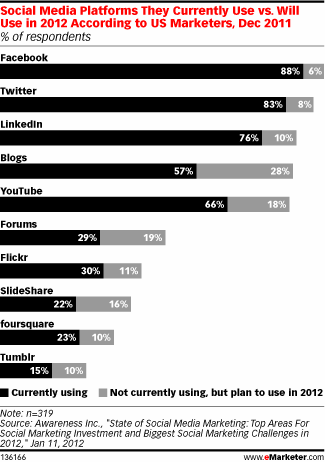 By number of marketers, blogs will be the greatest beneficiary of new efforts, with 28% of respondents saying they were not currently using them but would this year. Among the most experienced social media marketers surveyed, 91% said they planned to increase their use of blogs.
It appears that blogging is still paying off for marketers. There is work involved with blogging. I think people are seeing the long-term benefits of publishing content on their own properties. They realize that it's a great strategy to build a community around a blog and then use social channels and strategies like guest posting to build this audience.
Discussion
Are you planning to increase your social media usage in 2012?
Is blogging part of the strategy?
Share your biggest struggle with online marketing in the comments.