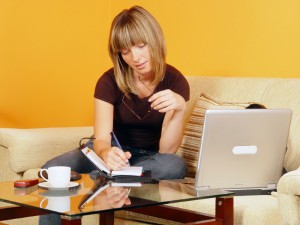 Social media listening is taking in data from social media and using it to learn and make decisions.
Much of what you read about social media is about what you should create.
And that is certainly important. If you want to build a following you do need to create social media content, but social media listening can work for you in a few different ways.
Back when I was just starting with Ghost Blog Writers. Heck, it was before GBW was even a company and I was just a blogger, I used social media listening to get a client and I didn't even realize it was social media listening.
I would type in things like "blog writer" and things like that in Twitter Search and look for people that expressed a need for a blogger for their blog.
If I spotted a good opportunity I would reach out and take the conversation offline. That's how I got the second client for Ghost Blog Writers.
You can use social media listening to get new clients. You can use it to track what's being said about your organization. You can even use it to spot trends in your industry.
And you can also use it to get traffic to your website.
And that's our focus for this article. Here are some of the key ways to get more traffic by using social media listening.
1. Find Topics To Cover With Content
Creating content is a great way to build traffic for your website. It's a long-term strategy, but a great one.
A major aspect of creating content that gets traffic, though, is creating the right kind of content.
A good general rule is to answer the questions your target audience has as it relates to your industry.
If you're a business that sells to other businesses this usually means answering the questions your target customer has in relation to their job.
You can use social media listening to find what your target customers are asking and what they're interested in finding.
Let's say you're targeting CEOs of major corporations.
Setup a few social media listening techniques.
First, create a list on Twitter or follow closely about 20 target CEOs on other networks. Follow their updates and when they express a struggle or challenge they are having that's an opportunity to create content that answers their questions.
Second, look at the content the CEOs are sharing. Often, people share content they find most interesting. In the case of a CEO they may read a great article about a trend in the industry and they'll share it thinking that it will help their colleagues. That's a topic you could potential cover. You already know that the CEO is interested.
Third, identify the popular industry publications that your target CEOs are following. Type that URL into Twitter and you'll see the most recent (and most popular) articles or videos shared from that URL. This gives you an indication of what the CEOs are finding most interesting on the most popular industry publications.
These are just three examples and hopefully enough to get you started as you build your own variations.
When you're creating the right kind of content you set yourself up to get more traffic and more of the right kind of traffic (your target customers).
2. Find Guesting Opportunities
Another great way to get traffic to your site is by being a guest on podcasts, webinars, blog posts and even doing guest posts that you create.
You can use social media to find these opportunities.
First, type in keywords like "podcast interview" in Twitter and you'll get results for podcasts that have regular guests or interviewees. From there you can choose the ones that would be perfect for you to be a guest on and reach out.
Second, you can do the same thing with guest blog posting opportunities. You can search for "new guest post" and related keywords on Twitter and see the sites where people are writing guest posts.
With guest posting, look to identify the sites that accept guest posts even if they don't make it public that they do accept guest posts. The site may share the posts using just the title and the link, but the author often shares the post using things like "My new post on…" and "My guest post on…".
Getting content posted on other sites with links back to your site can increase your traffic. Some sources will bring more traffic, but you're looking to build a good collection of quality sites bringing traffic to your site for the long-term.
3. Find Co-Content Opportunities
I also like to find co-content opportunities using social media.
Co-content is when you create something like a podcast, webinar, blog post, guide or whatever with another person.
There are a few variations and ways to set up the content.
One is that you could each do half the work on a guide and publish on your site. This way you get the content and the other person will even send traffic your way as they promote the guide.
But you could also publish on their site and include a link in your author profile. That can increase traffic back to your site. This is a more likely scenario if you partner with someone that has a higher profile than you in the industry.
In these situations I'll create a list on Twitter or identify people that are in complementary businesses as mine that share the same target customers.
Perhaps I'll partner with a web designer and create a guide or webinar about creating a new business website complete with good design, good content and an ongoing content strategy.
When you have your list you're looking for people that create content. This means they understand the importance of creating content and they're probably interested in partnership opportunities.
You might even find that some people are already co-creating content. They'll share things with lead ins like, "My new guide co-created with…".
If you find something like that you should immediately start brainstorming your pitch on what you could co-create with the person.
4. Find List Inclusion Opportunities
Also use social media listening to find opportunities to get your business and content included in lists and directories.
To do this you need to think about how you would create a list of businesses like yours. You might do that by industry, type of business or any number of things.
Then start searching for those keywords on social media and especially Twitter.
Let's say that you sell email services for ecommerce companies. You could look for lists like top ecommerce tools and services or you could look at lists like outsourcing services for all industries and things like that.
You can also listen for opportunities to include yourself on businesspeople lists like the top women in business or the top entrepreneurs under 30 or 40 years old. Or maybe the top businesspeople in your city or state.
There are lists for everything. You'll get included organically the longer you're in business, but you can help your case by identifying the lists that are being published and reaching out to make your case to be included.
Once you're listed on these lists they can be a great source of traffic that can directly lead to new inquiries especially the service-related lists.
5. Find Quote Opportunities
Finally, look for quote opportunities.
I have recently started using HARO again for quote opportunities. After just a few weeks of replying to inquiries I feel I can offer a good quote or tip I've been included in a few articles. And those articles have already sent a little traffic.
You can use HARO, but if you really want to supercharge your effort you can listen on social media. Search for things like, "Looking for a business expert…" or things like that to find writers or content creators that are in need of tips and quotes from experts.
You're a business expert and an expert in your industry so search for those things on social media. Even 1-2 opportunities each week can add up to 50-100 opportunities in a year. Let's say conservatively that if you respond to 50 opportunities that you'll get 15 that work out.
Wouldn't you like to have 15 sites sending you traffic for as long as the articles are online? In a few years you could have a hundred or more of these sending you traffic.
Conclusion
Social media listening is something that many people overlook. We spend a lot of time making noise on social, but like most things in life you can often learn more by sitting back and listening instead of talking.
The strategies above are for building traffic to your site with social media listening. I would say that each of the strategies is a mix of short-term and long-term. You can get some good bumps in traffic in the short-term with the right opportunities, but I really like to look at them as long-term strategies; things that you do as habits and over time you'll have a diverse source of traffic to your site that leads to new inquiries.