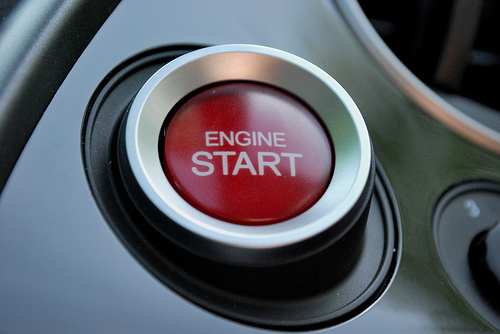 If you're wondering how to start a company blog you've come to the right place. This is a step-by-step guide for setting up your company blog. We've covered soem of this in the free business blogging guide. This will be more of a how you can actually get the blog setup and what you can expect as far as costs and resources.
The area where most businesses struggle with in blogging is finding the time to blog. That's the term people use when their blogs go without update for a few weeks, months or years. "I don't have time."
We'll talk about that and more in this article.
How to Start a Company Blog
Starting a company blog is a big commitment. You're looking at years of work to get traction depending on the connections you have already. There are some promotional things you can do to get things moving quickly, but in most cases it will take a few years to get traction and that's where some people get deterred and frustrated.
Remember that as you get started. If you're not prepared it's best to just stop right now.
But I know you're an entrepreneur and those competitive juices are flowing. If you're still ready to go then keep reading.
Domain Structure and Setup
There are three different ways to setup a blog. None are wrong, but all have slightly different ramifications.
Sub-Directory
This is how Ghost Blog Writers is setup. It's ghostblogwriters.com/blog. It's my preferred way to setup a business blog. It's common. It's something people are familiar with when they visit sites.
It's relatively good in the eyes of search engines. You keep the focus on your business site and all the authority you build through your business blog directly impacts your business website.
Sub-Domain
This one is also common. It would be setup like blog.ghostblogwriters.com. It sets the blog up on a sub-domain, which in some instances is treated as an entirely different website.
I prefer directory or domain, but you can't go wrong with either. I've seen programmers push for domain before. I'm not sure why it's easier to setup. I think both are relatively easy to setup and it's also pretty easy to setup WordPress on either.
New Domain
This one seems less common. You setup the blog on an entirely different site. It would look like ghostblogwritersblog.com. Back in the old days of SEO it was occasionally thought this was good because you could send tons of links back to your business site.
A new domain can make sense in some instances. Maybe you're a brand with an older audience, but you want to attract a younger audience so you start a new blog brand to attract those readers. Things like that would be a reason to setup a new domain. Don't do it for SEO reasons.
CMS
GBW is run on WordPress. It's a free software program with tons of community support. Lots of developers and programmers know it and can help with setup.
Depending on who you host with it's also really easy to setup WordPress. If you use Go Daddy your WordPress site can bet setup in just an hour or so. WP is very easy to use. It's straightforward and with a little practice you'll know all you need to about how to publish and format a blog post.
Other options include Expression Engine, Blogger and TypePad. I haven't used those as much, but I'm sure they're fine.
Design
In the early part of your business blog it's probably not top priority to get a good design. You can use something that's free and have a designer customize it to match your general business website.
You're just starting the blog so you don't want to go all in right away only to toss the blog aside in a few months.
Get a blog up with a basic design that won't turn people away and then focus on creating content and getting readers.
It's just like in the early days of your business. You focus on creating something and selling it. You get customers and then you start refining the business with things like design and structure.
There are risks with free themes and designs. It's probably worth it though to get started. Once you realize you have something you can hire a designer to develop a custom theme.
This can cost anywhere from a few hundred dollars to thousands. You get what you pay for in blog design.
Structure
The big thing with structure is setting up the URLs and Titles.
I try to use short URLs when possible. You can see that the structure for this post is:
How to Start a Company Blog
That's the title and it's also the URL. I always try for a short, but descriptive title. This one is actually longer than most here on the blog, but I felt each word was necessary to get the point across.
To setup your URLs you can use the Permalink structure within WordPress.
One thing I should note is that I'm experimenting with basic numbered URLs on my new blog HunterShare. I see large and successful sites (including Google) using numbers and crazy URLs. I think they're less useful to people, but if the big guns are doing it there must be something to it. So I'm experimenting there.
Writing Resources
The reason GBW exists is because business owners don't have time to write blog posts. They know there is an opportunity to get new customers by blogging so they hire experts to create content that attracts incremental traffic and potential customers to the site. It keeps the site fresh and appealing to an ideal audience.
Ghost blogging is a growing industry so you can check out that option.
The other option is to do it yourself.
Anticipate doing some work to get the blogs published. There is research involved. You'll have to do some reading and find ways to get ideas.
I've found the best things to write about are the things you talk about with potential customers in person. Take the questions your customers ask and answer them with blog posts.
Also talk about insider information you have from being an insider in the industry. You can really help people out and in return they'll return the favor by hiring you. By blogging you build a trust and people purchase from people they trust.
Setting Expectations
The expectations for your blog are important. Every entrepreneur has big dreams. It's why you're successful. You don't believe in putting limits on yourself and anything you do.
There are no limits to blogging. It just seems most new business bloggers think it's easy. You put up a few posts and magically Google is sending you tons of traffic.
It doesn't work that way.
Yes, you'll get some traffic from Google, but it's much more than that. It starts with interesting content targeted at specific readers. Then you have to promote the content to those readers. Part of this comes from being active in the community. You can comment on other blogs. You can share other content. It all gets you noticed and gets others with popular blogs to link to you and send you some of their traffic.
This can all take years if you're starting from nothing.
Promotion
We just talked about this a little bit and we'll do more in a future post, but a quick point on growing your business blog is that you'll have to promote. Yes, that includes sharing your posts on your Google+ page, Twitter account and Facebook page, but it's more than that.
You need to grow your audience.
I like to think of a singer that's just starting out. They have zero audience. They can create the best song in the world and post it on their Twitter account, but nobody will listen. They need to tap into other audiences to get exposure.
The new artist begs and pleads to get on tour with a well-known artist that already has an established audience. The new singer feels the established audience is similar or the same to the one they want to build for themselves.
After playing live shows and fighting to get on radio and get their song included in movies and TV shows the artist finally starts getting momentum. People fall in love with the song.
It works the same way in blogging. Do all you can to get exposure to other audiences that fit your target.
Write for other blogs. Help other bloggers and see if you can't get them to link to you. Do interviews. Do anything you can to get exposure.
Final Thoughts
You're looking at how to start a company blog.
This should get you started and it should set the expectations. If you're not ready for work then just stop right now. Use your time and money in advertising where things are more certain.
But if you've seen all the successful company blogs and are convinced you need a business blog then get started. It offers a great opportunity.