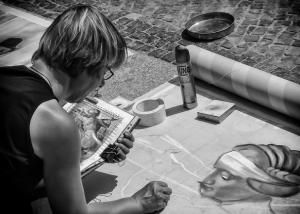 Just the other day we looked at how to pick a great marketing agency.
Today we're going to look at something else businesses need to find – a great design agency.
Now, before we get started let's address the issue of content vs. design. I don't know why it's a debate, but some people are still wondering if content is king or if design is king.
Here's my take – they're both important.
Did you ever watch Married…With Children? It's a show from about 25 years ago or more. It was great. You can catch the reruns today and they're still funny.
Anyway, the opening song was Love and Marriage by Ol' Blue Eyes. That's the point of this debate about design and content.
You can't have one without the other.
Well, you can, but you're leaving at least part of an opportunity on the table if you do.
Let's get rolling.
Full Disclosure: My Design Bias
I have to disclose something before I get started. My soon-to-be wife is the owner of Sarah Lynn Design. Her team does great work and they recent redid the design for Ghost Blog Writers.
Things have been going great since the release. I notice that inquiries are coming in more frequently and the people that do reach out do exactly what I want them to do when they inquire. That's the sign of a good design.
But you have lots of options for design.
Here are the things you should look for in a great design agency.
Focus On Business Goals
A good design agency will ask you about your business goals. They'll dig into your sales process. They'll ask how you deal with your customers in person and they'll take that interaction and turn it into a website.
In basic terms, your website is a virtual salesperson. The website is selling for you for the people that are interested in buying that happen to prefer buying from you online instead of in person or on the phone.
In order to make your website effective the design team needs to know your process. Ask them if they understand your business goals before you get started on the project.
SEO And Social Media Understanding
In order to get new customers from your website you're going to have to get traffic. Two sources of traffic are SEO and social media. Your design agency needs to understand both.
The agency needs to know the basics and probably more than that when it comes to SEO. They need to know about title tags, URLs, redirects and how to make sure your website is blazing fast on desktop and on mobile devices.
The agency should also help you turn the content on your site into something that is even more interesting than just plain content. You want people to share the content you're creating. A little design help can make that happen more often.
Give Them Freedom
I'll never forget what a colleague once said in a meeting. We were going over catalog cover designs and we both agreed that we liked what the designer had put together. It was a new idea and a little out there, but my colleague said, "Let the designer design."
It was simple, but it made sense. Everybody has their area of expertise. Let them do it.
When you bring in a design team you want to give them the freedom to do what they do best. You're not a designer. If you were you would do the design yourself.
Give a basic framework including your business goals and rules about SEO and other items and let the designer design. Let yourself go a little here. You don't want to hold the designer back too much. If you do they're not going to be happy and you're going to get something that's up to your level of design abilities and that's probably not very good.
Image: York Berlin