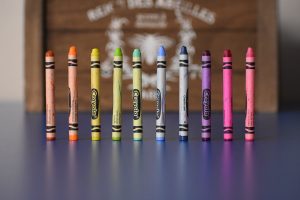 Much of the social media information you read is probably aimed at the Business-to-Consumer crowd.
And some of the information is universal, but there are some cool things that apply to business-to-business companies.
In fact, I think B2Bs have an advantage over the B2Cs when it comes to certain aspects of social media.
A big one is the fact that B2Bs often have products and services with larger price tags. You don't need to connect with a million people on social media to make an impact to your bottom line.
So the opportunity is there, but you need a strategy to get your B2B social media off and running.
And I'm talking about going beyond the one or two posts per month you're doing now on Facebook.
Here is how you can create a B2B Social Media Strategy that will connect you with your target audience and get you earning their trust so they become new clients.
Step 1. Define Your Target Audience
The first step is an easy one, but it's important to note here and for you to think about or discuss with your team.
Just about every business has a defined target customer. It doesn't even need to be one of those neat little personas that you store on the company hard drive.
But it is important that everyone in the company knows who the ideal customer is so they can all do their jobs better. When there is a clear vision of who you're working for (the target customer), decisions become easier and that includes social media decisions.
Step 2. Identify Common Questions And Talking Points
Now comes perhaps the most important step in the process.
The best social media content is actually the same things you would discuss with a potential customer in person. In a bit we're going to talk about how social media is a lot like those industry events you've probably attended as a vendor where potential customers ask you questions and you get to know each other.
That's why it usually comes back to questions your target audience has and the talking points they care most about. When you're getting to know someone these are the things you discuss. And it's no different on social media. You're getting to know someone.
Start by making mental notes or actually writing down the questions you get from your target audience in person. Go back in your mind to past events and interactions.
You can also find questions online in places like industry forums, the comment sections of popular industry websites, popular industry news articles, and other places online. Facebook accounts of popular brands in your industry.
Focus both on specific questions people ask you about your business, products and services.
But also focus on the other questions that simply relate to your industry. In fact, you'll probably focus on these industry questions more because on social media people won't be looking for your brand (they haven't heard of you yet) they'll be looking for answers to the questions they have as it relates to the industry.
Let's say you're an IT services company for small businesses.
A specific question is: How can you help my company with IT?
A general industry question is: How do I get my smartphone working with VoIP for my business?
Identify all the questions and start creating answers. Then share the answers on social media…not all at once.
Step 3. Create An Initial List Of Content To Share
With those questions you'll find that you're probably already answering them without even thinking about it. That won't always be the case, but it will be the case fairly often.
Simply make a big list of that content and put it in a file where the person in charge of your social media has access to it.
Then they can share the content on social media. You can repeat the same content multiple times. Not all your followers will see it the first you share it.
But also continue to create new content so you can build your library of useful information.
Step 4. Create A Schedule And Assign Responsibilities
One of the best tips I can share about a social media strategy is to create a content schedule or calendar.
It's one thing to say that you'll post one new thing each day, but over time it's often difficult to keep up. A schedule and calendar will keep you honest with updating your social profiles.
What you'll find is that you'll feel guilty for even thinking about missing a day or time. And you'll be better able to organize the type of content you want to share.
Over time you'll learn the type of content that works best, but you might share a new group of photos on Monday, answer some common questions Tuesday and so on.
There are also tools, like Buffer, that allow you to schedule updates so you don't have to be "in the office" every day making updates. But it's good to use these tools as a supplement to your regular social activity.
Now is also the time to assign the responsibilities for your social efforts. This person will be in charge of the entire effort. Or if you're a larger business it might be a team with specific people in charge of specific roles.
It's important to give ownership to individuals so they are compelled to do the work and to look for opportunity and improvements over time.
Step 5. Track Success And Experiment
Finally, track success. Most social sites now have their own analytics and you can see the type of content that is getting the most engagement. And tools like Buffer mentioned above can also give you insight.
You ultimately want to tie it back to getting new clients, but that's difficult to do directly with social media. But we're starting to see that social media engagement metrics can correlate with getting new clients.
You have to be careful that you're not simply chasing comments and re-shares and things like that, but relationships with people that fit the profile of your ideal customer.
And at this point I always like to mention that it's important to leave room for experimentation. You might find that certain content works well, but leave room to try new things.
You never know what might work in the future. So have the person in charge try new things and don't get discouraged if experiments fall flat on their face. You don't need them all to pan out.
There is a local brewing company here where I live and they have this timeline of all the beers they've tried over the years. They have a few staples, but they're always trying new things.
Over the years some where pretty solid hits while some where duds. But in 2007, they launched a flavor that has now become the biggest selling beer they have. It's been huge for them.
So don't be afraid to keep experimenting. It's important.
Final Thought: B2B Social Media Is Like An Industry Conference
The above steps can seem pretty simple for setting up your social media strategy, but that's really what it takes for it to be successful. That and actually doing the work. That's why it's important to determine the person in charge of the efforts and to give them the direction they need to create content.
And to close I'd like to again say that social media is the same thing as the relationships you make with new people and potential customers as industry conferences and events.
Think about the conversations you have at those events. It's usually small talk back and forth. You're getting to know each other and if the connection is made the discussions move along more.
That's exactly how social media works. It's real life experienced in a digital setting.