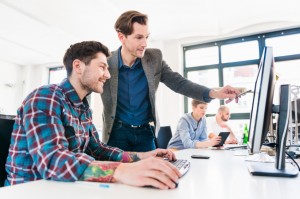 Earlier this month a new inquiry came through at Ghost Blog Writers. We went through the usual discussion via email about their business, industry and target customer. Then we discussed how things work here at GBW and from there we started work on a first pot.
But then something interesting happened…the person said that they had signed up for the email newsletter at GBW and that they'd been following our posts for the past couple weeks. And they said that by reading those posts they knew that we would be a good fit.
We're still in the early stages of the relationship, but I'm hoping we can fulfill those expectations.
But that experience got me thinking about website traffic and conversion. Sometimes the issue isn't getting traffic for your website. You be able to generate that in different ways, but maybe you're struggling to convert that traffic, even if it's something like 50-100 visitors per day, into new customers.
So I'm going to share a few of my tips on how do that.
1. Show Your Knowledge In Blog Posts
This goes back to the story I shared above. When you're selling something and you're just using your own claims on your homepage you're going to have a difficult time convincing people to choose you as an option. Some will, but many won't because they need more in order to feel comfortable.
You can use things like case studies and customer reviews. You can show that you're trusted by other well-known brands and things like that. Go ahead and do so.
But beyond that you can also show your expertise in the industry with regular blog posts. That's part of what we do at GBW. And the great thing is that blog posts can also bring in potential new customers. You bring them in when they're searching for answers to their industry-related questions. Then they sign-up for your newsletter and continue to get value from what you're sharing. That establishes your expertise and makes it likely that the person will choose your service or product.
2. Show Your Personality On Blog Posts And The About Page
Also with your blog posts is the idea that you want to show your personality. This can be yours individually, but also the personality of your company. You can talk about things you stand for and things that make your business work.
People buy your service or product, but they really buy from you and your brand. They want to feel a connection to you and one way you can do that is with your blog posts. It's a casual, but valuable way to let your potential customers get to know you.
The thing about online marketing is that your website is a salesperson for you, but there is a lack of personality. So you have to inject that where you can with your blog posts and on your About page where you can share your story, your vision and more.
3. Answer All Common Questions On The Homepage And Subsequent Pages
Next the issue might be that visitors to your site don't really know what you're offering them. It's amazing, but if you look around at homepages it can be difficult to figure out within a few seconds what the business is about.
That's why I like to go through every few months and audit the Ghost Blog Writers site. I'm so involved with the business that I take things for granted. I think people will understand everything like I understand everything. But they don't work in the company all the time so that's impossible.
It's up to me to make it understandable and easy for them. It's not their job to figure it out. Their time is valuable. So I go through and use experience with customers I've gained over the last few months to improve the content on the homepage and the other pages on the site.
4. Check Your Sources Of Traffic
Now it's good to check the sources of your traffic. If you're not bringing in your target customer to your site then you're never going to have a good conversion rate. You could be bringing in people that are searching for a keyword that is on your site that may not really have anything to do with your site.
It's tricky for us at Ghost Blog Writers because sometimes we get people looking for ghost blogs, as in people looking for ghosts (Boo!). So I try to make sure those folks don't visit our site. I look for keyword phrases that people looking for blog writers are looking for instead.
And this can happen from other sources of traffic too including social and referrals from websites.
5. Optimize For Mobile
Finally, things are really changing in the online world in terms of mobile. More people than ever are using their smartphone to access websites. And if you have a poor experience for them when they visit on a phone then they will likely leave your site.
Look to get a responsive website and look to get a host that can provide an extremely fast website. Those two factors have always been important to experience and conversion and that will continue.
Final Thoughts
We talk a lot about getting traffic here on the GBW Blog. But the second part of the equation is getting traffic to convert. So hopefully these insights can help you to improve the conversion on the site. These things may seem simple, but it's like my high school basketball coach always used to say – you have to focus on the fundamentals more than the advanced tactics. It always comes back to the simple things.