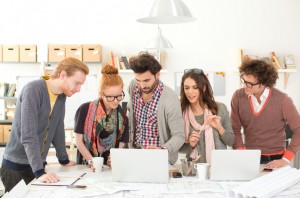 Most of us work in teams. In business, as the owner or manager, you build a team around you that can fill the roles necessary to make profits. In the traditional business setting this is done in an office. But even as businesses become less tied to the office setting there is a need to build solid teams.
At GBW, we're 100% remote. I work from my home in Eau Claire, Wisconsin. The writers work from various locations around the US, Canada and the UK. They do work for GBW and they do work for other companies and individuals.
But there are things that make us a team and one that I feel proud of when I look at how GBW has been steadily growing over the last few years.
On one of my favorite sites, PSY Blog, there was a post that collected some interesting studies regarding teamwork. It's worth time to read about each of the studies. I know it's helped me think about how to form the team at GBW.
Here are my thoughts on a few of the findings about teamwork that I really believe in.
1. Trust
Trust is one of the items listed in the post. It's something most people want to build, but it's not always hard to build. And it's definitely not something that can be built overnight.
Luckily, most people are programmed to trust each other when they first meet or when they first start working together. With our team at GBW, I feel fortunate that the writers trust me with various things like being timely with communication and with paying them on time, every time.
It's my job to make sure that I keep that trust because when it's there the writers seem willing and more likely to do great work, which raises the level of GBW. I have to make sure to maintain that trust with the writers every day and over time the bond grows a little bit stronger, which over time leads to a very strong company.
2. Goals And Roles
One of the things I'm still trying to do more effectively is define goals and roles. I have goals in my head for GBW, but the challenge is sharing those goals with the members of the team and then defining their roles in achieving those goals.
I never realized how challenging this can be when I was on the other side of things. I used to have a really great boss. He was great at communication, but things got busy at one point and I started feeling like I didn't understand the direction of the company or my role in the company.
Now I know that when the boss gets busy it's not that he or she is avoiding communication. They're just busy.
So it's my job now to make time for that. I have to communicate the goal to each writer. I have to give them their role and then report back regularly on the progress. Otherwise the work suffers.
It's something I still need to work on otherwise the team and the business suffer.
3. Concise Communication
I definitely believe that when mistakes happen that it's the result of poor communication. I've been learning that I'm the one in charge of communication at GBW. So whenever something happens it's my job to figure out where the communication went wrong. And it's my job to figure out the solution for that.
I've been working on constantly refining the processes at GBW. For us it's about putting together procedures so everyone on the team knows what to do. But it's also about empowering the team to update procedures when they figure out a better way to do something.
That seems to lead to good communication and good work for our clients. But mistakes still happen. We learn from those. Try to predict where similar mistakes could happen and then do what it takes to fix the procedures and communication.
Always improving. Not blaming people, but fixing the processes.
Conclusion
It's important to think about your company as a team. It's a concept that has worked for a number of successful businesses. I've seen how strong teams can lead to great things for a company and I've also seen how poor team dynamics can lead to struggles for a company. It's not easy to build a strong team. It takes work on all the things above and more over time. But you can start today and work each day to build a little trust at a time until you have a strong company.