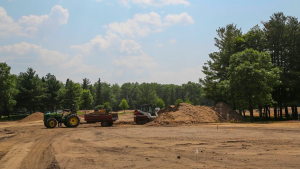 One of my passions is golf.
I've played for as long as I can remember. I've never been very good at it, but every year around this time the golf bug gets me and I start watching tournaments on TV and putting the ball around in the living room.
Recently, I've been getting email updates and blog updates from one of my favorite courses, SentryWorld in Stevens Point, Wisconsin.
I worked on the grounds crew for SentryWorld as my first real job during the summer when I was 16. It was a fairly difficult first job. The hours were early in the morning before the golfers got to the course, but it was great. I got to learn a lot of things and the best part was I could play the course (late in the evening) for only $5.
SentryWorld: Complete Renovation
In October 2012, my Dad and I played a round at SentryWorld. It was unseasonably warm that day. I think it was near 70 degrees, which has to be at least 20 degrees higher than the norm for early October in Central Wisconsin.
We finished our round and were getting ready to leave when we started chatting with one of the managers outside the Pro Shop. He said that the original designer of the course was on the grounds looking things over for a potential renovation of the course.
Later that winter SentryWorld decided to completely renovate the course, which meant shutting things down for a year. That year turned into 18 months and the course is due to open in August 2014.
I'm pretty excited about the new opening and part of the reason I've been excited is that I've been following things step-by-step on SentryWorld's official blog.
The SentryWorld Blog
The SentryWorld Blog is a basic design and setup.
Sentry just started posting this past January, but they've been consistently updating every couple weeks or so. They started with a post about the why the process started and what the plans were.
They discussed how the course was changing and how the pro shop area, restaurant and indoor sports area (tennis and racket ball) was changing as well.
There is a new logo to go along with the changes. Nothing major on the logo, but a slight change to coincide with the course updates.
The posts aren't extremely long. They're a couple hundred words each at most, but that's fine. You get a lot of information in those few hundred words and that's what really matters.
Plus Sentry has been telling a story with each post and that pulls in the target reader (me) and gets them hooked for more updates.
Just last week Sentry revealed a flyover of the property from last fall and an image of the new course layout.
That was pretty cool.
There was also a post about the signature hole on the course, The Flower Hole. It's a unique hole that has tens of thousands of flowers. It's nice to look at but I remember back when I worked there that it took a lot of working to plant those flowers and to weed them.
One of the worries with the upgrades was that this hole would change. The post talked about how they kept it pretty much the same with a few slight updates.
Lessons In Blogging From SentryWorld
This is a cool blog and I'll be following it all the way up to the day they re-open the course. And I'm putting it on my schedule to play there hopefully next fall after it's been open for a couple months.
Here are a couple lessons to take from this blogging strategy that you might be able to use in your own blogging efforts.
1. Tell The Story
SentryWorld made changes and with their blog they're keeping people interested by telling the story of the changes. If your business is changing you can follow the same strategy. It's a risky time because you don't know if everybody will come back. This type of blog keeps people interested and by the time you relaunch they already know everything and they're probably waiting to buy again.
2. Give A Few Behind-The-Scenes Images
It was cool to see the image of the machinery working on the course. And the image of the new layout was great. You don't have to give away all the details in one post, but using a few images gets people excited.
3. Keep The Schedule Consistent
Sentry has only been doing this for a couple months, but it seems like they're going to keep a regular schedule with the updates. That's important because once you have your customers' attention you want to keep delivering.
Conclusion
SentryWorld is a small business that made major changes. That was a big risk and they didn't know for sure if people would come back once the changes were made.
As a way to keep people interested they've worked on this blog and I think it's pretty cool. I'm a target customer and I'm sure a follower of the blog and I'll be back to spend my money once the course is open again.
If you're launching a new product or even if you're a startup looking to build some buzz for your new company you can use this same strategy.
It's working for Sentry and it can work for you too.