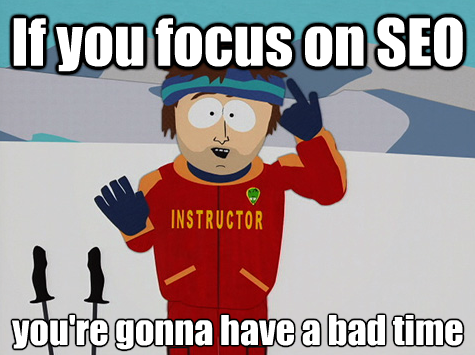 Once again the SEO world is having issue with the focus of a strategy.
This time the strategy is guest blogging.
Since guest blogging is a service offered here at GBW I felt it necessary to comment [Update: Guest blogging is no longer a service at GBW]. It's also important to share good insight from respected leaders in the online world and I certainly respect what the folks at SEOmoz have been doing for years. Their blog is one I always follow. Initially I was interested in the SEO side of things, but over the years they've become more about user experience and customer acqusition as a whole. I think that's a direction many folks in the SEO world are taking.
Anyway, the topic today is SEO and Guest Blogging.
From Guest Blogging – Enough is Enough:
Guest posts can be an effective supplemental tactic to a fully-formed strategy, but giving this tactic center stage is a recipe for frustration and inevitable defeat.
There are parts of this post I full agree with and other parts I do not agree with. This part is one I do agree with. I encourage you to read the entire post. There is some good thought throughout. What I'm going to do is pull out a few key points and provide some additional thoughts on how this relates to your company.
I'm going to do my best to use the same context as the author intended.
Guest Blogging is Not About Links
There are as many ways to get links as there are people and pages, but in the aftermath of Penguin, guest articles are slowly becoming an industry default. I fear that the trend is driven by a lack of creativity, augmented by fear of failure, and then reinforced by poor communication.
Yep.
This one bothers me the most. For too long there have been too many people, mostly in the SEO world, that have thought guest blogging was all about links as it relates to SEO. These folks only thought about a link back to their site from a guest post in the context of how Google would view that link and increase the rankings of the author's own website.
That is not what guest blogging is about.
Any customer acquisition strategy you implement should really not focus on SEO anymore. At the least I would say you can focus on SEO in small part of your overall Referral Strategy.
If you're writing guest posts with the sole focus of SEO improvement via links you're going to have a bad time. It won't work in the long run. It might work in the short run and that's why things have gotten out of hand.
In the long run you'll be screwed. That's how Google operates. They want you to focus on people. They're right.
Guest Blogging is Not a Good Long-Term Strategy
Guest posting (by itself) is essentially never the best activity for an SEO, due primarily to the diminishing returns seen in long-term guest blogging campaigns.
I agree with Carson that guest blogging has diminishing returns for SEOs. What I disagree with is that guest blogging is not a good long-term strategy. I'm of the opinion that guest blogging is a great long-term strategy.
First, we already touched on the fact that focusing on SEO is a bad strategy for blogging so it makes sense that the same is true for guest blogging. If you're writing content for the search engines you're going to have a bad time.
If you're writing content for people you're going to struggle and work hard, but you're going to have a good time in the future. It's all about having a good time.
A guest blogging strategy is about bringing new attention to your company. You want to gain access to your target audience and earn their trust with great content. You want them to come to your site and read your content furthering that trust. You want the people that trust you to purchase your goods and services and refer their peers to your company.
That's how all outreach works. It's about referrals. When a website owner allows you to write content for their audience they are referring you as a trusted source to their readers.
Focus on Your Business Blog First
Carson talks about a comprehensive strategy. He's right. It's not just about an SEO comprehensive strategy, though. You're looking at ways to earn referrals. You want access to different audiences, but in order for that strategy to work you need to have your own Web property to reference.
Your business blog or your business website is the asset you need to focus on. Carson mentions this and it's something I see all the time:
A pure content strategy can be frustrating simply because it takes so long to get rolling. I'll be honest: I abandoned both a commercial and a philosophy blog in a past life because I got sick of writing posts no one read.
It happens all the time.
Blogging is difficult, but if you want to commit to a content strategy for customer acqusition you need content on your site. You also need to continue publishing content.
Combine this with outreach efforts like guest blogging and you'll be attracting people that will be interested in your company and your products and services. That's how content marketing truly works and it has very little to do with SEO. In fact, I'll say it has nothing to do with optimizing for search engines.
Only think about people when creating content. Think about how people will discover your content and what will get them to take action. Remove search engines from your thought process. You'll be better off in the long run.
Focus on Multiple Forms of Outreach Including Guest Blogging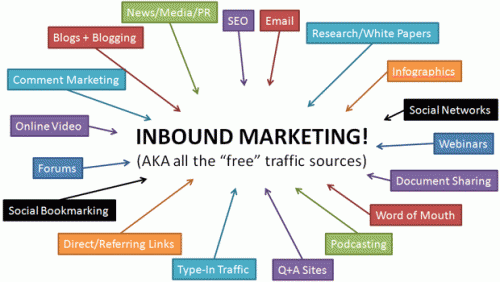 Guest blogging works great when you have the right focus. If you're only in it for the links you're going to be disappointed. This is true with videos, infographics and any other form of outreach.
SEOmoz CEO, Rand Fishkin who I respect completely, created this great Inbound Marketing image. Use it as your guide for getting referrals. You are working to earn the trust of audiences. You want to use these strategies to build your own blog or website.
I like using the example of country music singers.
When an artist is new they have the impossible task of "breaking" into the business. When nobody knows who you are it's incredibly difficult to get them to listen to and to like your music.
The strategy that has worked for decades has been outreach.
New artists go to radio stations and play their songs for the DJs. If the DJs are impressed they play the songs on the radio. If the audience is impressed the DJs play more of the songs.
The new artist also asks to be an opening act for bigger, already established artists. The new singer provides great entertainment and in return they get access to the established audience full of people that fits their target audience.
Along with this outreach the new artist if focusing on building their own fanbase. They create fan clubs and subscriber lists. They build a following of their own. They're always doing outreach, but only as a way to build their own audience. The main focus begins with the artist's own content.
It's the same in business blogging.
Focus on your own asset first (your website and blog) and build your audience through outreach.
Forget about SEO. It's about referrals and building your audience.