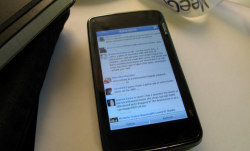 I haven't been the biggest fan of Facebook over the years.
But when I think about the social networking site I think of something Elvis (and later Bon Jovi) said with album titles:
One billion people can't be wrong.
Okay, for Elvis and Bon Jovi it was 50 million and for Bon Jovi it was 100 million. Those are two of the biggest music acts of all time. So for Facebook it's 10 times that amount so you can see the status Facebook has right now…
With that many people using Facebook it's hard to ignore it for marketing purposes.
So I've gone back to my years of using Facebook for personal and business purposes to create some of the best ways your company can get more website traffic from Facebook.
After all, the goal of any marketing including Facebook marketing is to get more sales. Getting people from the social networking site to your website is often a first step in making a sale.
1. Share Photos
The one things that's crazy about Facebook is that it's one of the biggest photo sharing sites on the Web.
When we first starting using Facebook back in 2005, people were all over the photo feature. You could create albums and tag your friends. It was a great way to document your life.
People love photos and Facebook made it easy to share them.
Something that's kind of crazy is that you have to share photos on Facebook that people find interesting in order to get attention.
Now, "attention" can mean a lot of things. In this sense it means sharing a photo that your current followers find interesting enough to comment on or "like", which is how people associate with things they agree with.
You can share your photos or maybe photos from around the web. It gets people talking and sharing and that exposes you to more potential customers.
Are you a plumber?
Maybe one day you find a flower bouquet in the drain. That's crazy. Share it on Facebook and ask people what the craziest thing is they've found in the drain…
Obviously be careful with those types of things.
2. Take A Stand On Something
It's hard to take a stand as a brand. You don't want to make people angry that might disagree with you, but in today's social media world that's kind of what people want.
You can take a stand on something. The people that love you will agree and love you more. They'll become your biggest fan.
There will be some haters, but you're going to have that anyway.
Be careful with this one, but take a few stands even on petty things and you'll get some fans.
For example, if your business is located in Wisconsin say that you're cheering for the Packers this year to win the Super Bowl. Then ask your followers who they have to win the big game.
3. Share Your Blog Posts
People love to comment and like things on Facebook.
Create your blog post titles in a way that gets attention, but in a way that's relevant to the content in the post.
Then alter that title to fit the Facebook crowd.
Let's say you're a plumber that writes a post titled: 5 Common Things Found In Clogged Drains.
You could change that to: Towels Are Commonly Found In Drains. See these others common drain clogs… What have you found clogged in drains?
It will get people commenting, which drives engagement with your Facebook page. That increases your visibility on the Newsfeed and that makes it more likely that others will follow you.
4. Share Posts From Around The Web
It's best to create your own blog content, but you can build interest in your brand and get traffic to your website by sharing the content of others.
Maybe you find a great post online that you agree with. Share it on Facebook and ask your followers if they agree with the sentiment.
Maybe you find a post you disagree with. Share it and then add a link to your blog post that discusses and alternative approach to the issue.
That will get people interested and they'll visit your website.
5. Share Videos
Video is blowing up on the web right now. People are watching more video than ever before and they're going to continue to watch more and more.
In order to keep up (if you have customers that use the Internet) you're going to have to create video at some point.
Sharing it on Facebook will give your followers the type of content they want to consume.
There is an opportunity right now to stand out because not every brand is creating video.
Get your start now and you'll get a little edge on the competition before everyone catches up.
Parting Thoughts
I haven't been the biggest Facebook fan int he past.
I don't think it's best to put all your eggs in the Facebook basket. You never know how they're going to change things on the site, but there are a few advantages to investing some time into the social network.
People love Facebook. If you can tap into their love for sharing photos, videos and their opinions you can earn some traffic for your website.
In most cases that traffic leads to more sales.
Image: tlaukkanen