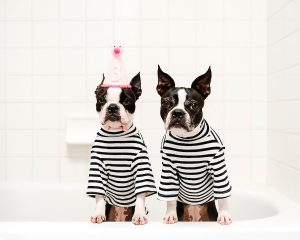 Facebook started as a way to connect with people online.
Humans have always connected with each other in person, but as the Internet came to the mainstream it offered a way for people to connect no matter where they were located in the world.
In the early days of the Internet it was common to see message boards and forums everywhere. People would build these forums usually around a common interest and others would join and have conversations just like in real life. Those message boards are still as popular as ever.
But about ten years ago or so Facebook went mainstream and brought the idea of social networking to the mainstream.
People Use Facebook To Stay In Touch With Family & Friends
A recent poll found that 73% of Facebook users use the site to stay in touch with friends and 83% use it to stay in touch with family. That makes sense. I don't use Facebook as much as others, but when I do use the network it seems that I do so to see what is going on with my family. And from the way I watch my family and friends using the network I can definitely see that it's the main reason they're using the site.
Grandparents can see updates about their grandchildren. Friends can see what each other are doing across the country or when they're traveling or getting their feet wet at a new job. It's a great way to stay in touch with those that are important to you.
Facebook & Getting The News
Facebook has kind of been a little bit about getting the news. The link above also delves into the idea that Facebook is a place where some people get their news and information. But the site is not as much about getting the news as it is about staying in touch with family and friends.
One poll found that 26% of adults get their news from Facebook sometimes. It's a little higher for a younger age group, but getting the news is not the main reason people use the site.
One interesting thing is that people that do get some of their news from social media (Twitter, Facebook, etc.) do primarily get it from Facebook. If they're going to get news from social media it's probably going to be from Facebook. And that makes sense since most people are using Facebook as their primary social site.
Fewer News Items On The Facebook Feed
One of Facebook's main goals is to make sure their users have a good experience on the site while getting the information they most want to get.
Since most people use Facebook to connect with friends and family it makes sense that most of the updates they see on the news feed is comprised of updates from family and friends and not news articles or other updates from brands and publishers.
So that's why Facebook is changing their feed again to lean more heavily on updates from family and friends.
Facebook has done this a number of times over the years. It always seems like they go in this direction where they try to provide more updates from family and friends. The result is that it's harder for brands and marketers to earn attention from an audience even if people have liked their pages.
You might like a business's page on Facebook, but the odds aren't very good that you'll see articles and blog posts they share on your main feed. You're more likely to see updates from friends and family and that's probably how it should be.
Getting Others To Share Your News
So what can you do to get more referral traffic from Facebook to your website?
The key is to get people to share your content.
You still want to share it. The more that people interact with your updates on the Facebook the more likely it is for their family and friends to see the updates.
But getting others to share your content is the real big key. They might re-share your update or they might grab the link from your article or blog post and post it on their Facebook wall. Facebook will still show it less often than they would if that person shared a photo, but it will still be shared with a good number of friends and family.
It varies, but the type of content that people often share from brands include:
Videos & Photos
How-to articles (videos too)
<GIFs
Fun and interesting list posts
DIY ideas
And more
Look at the walls of you followers and see what they're sharing. That will give you an idea for how you can get them to share your own content. Figure out what kinds of things they're sharing and tweak your content strategy appropriately.
Facebook is changing their feed – for good reason – but you can still get traffic from Facebook with the right kind of content and the right kind of approach to social media marketing.