Are you overwhelmed by the amount of information available today?
All of us are. It's crazy. There is so much information on the Web that you will drive yourself crazy trying to consume it all. It can be a struggle for those with inquisitive minds because we want to learn more, but we'll fry our brains trying to consume everything.
That's were content curation becomes important.
A recent article on eMarketer showed just how important content curation is becoming.
From Content Curation Can Inform, Engage Customers:
Both consumers and marketers are faced with an ever more fractured media landscape in which informative and engaging content can be hard to find. But enterprising marketers are taking the reins and curating their own content in the hopes of providing the material that their customers are searching for.
These days, almost all marketers are finding, filtering and sharing content, according to content curation services provider Curata. In a March 2012 poll of more than 400 US marketers and agencies that sold to business-to-business and business-to-consumer companies, Curata found that 95% had curated content in some way over the past six months by sharing a link, blog post or other content type with a potential customer.
The survey also found that 85% of respondents viewed the main objective of content creation as establishing thought leadership. Building a brand's visibility and buzz was a close second, at 80%.
There is no doubt curation is something people place value in and demand. It's a worthwhile proposition to have someone spend the time curating content for consumption.
The concept of content curation gets back to the idea of trust. If you can build trust with somebody they will look to you to find the most important content on the Web. I think about the folks I follow I Twitter. I used to follow a few hundred people. Then about a year ago I cut that back to about 15 people. There was too much information in my Twitter stream and I wanted to cut back to only the people that I trusted most to provide the most valuable information. In a way these folks are curating content for me. It's great. I trust them because their efforts add value to my life in various ways. Some are for entertainment. Some regard insight into money. Others provide insight into business.
Action Item: The best way I see for a business like yours to curate content is with an email newsletter. Create a newsletter for your current clients. Every month send out an email with the five or ten most interesting articles you have read over the past month. Provide a few of your own thoughts to add context for them.
The next step would be to take the posts and add full context in the form of your own blog posts. People love curated content, but they also demand interpretation and this is a huge opportunity for you to increase the standing of your business amongst your target audience.
There were two more interesting insights from this article.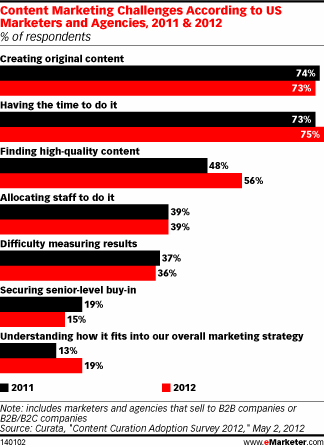 It seems you're struggling most with creating original content. You have no time to write your own content and you have no time to find content for an email newsletter.
This is why I started Ghost Blog Writers. We know you're looking to build your business with content marketing, but you don't have time.
Contact me personally today and let's discuss the opportunity for your business to grow with:
Original Blog Posts
Guest Blog Posts
Content Curation
I'm looking forward to speaking with you. Let's grow your business.