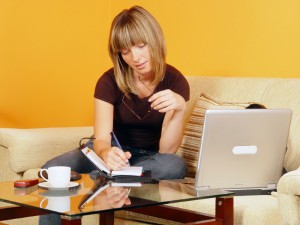 The solopreneur life can be a challenge.
Sometimes even more than others in business or entrepreneurs with employees and a team, solopreneurs put all the stress on themselves.
And for entrepreneurs, their self-worth is often tied to the success of the business. If the business is struggling, even in the short-term, it really takes a toll on the owner.
And solopreneurs are those that take on all the tasks themselves. They have purposely done this because they like doing business that way and don't want to deal with the growth of a full team. Or perhaps they're working toward that type of growth, but in the short-term need to take on everything themselves.
That's a lot to deal with and as a result the well being for that solopreneur can fall off.
You've probably heard about company wellness programs for companies, large and small. But you don't often hear about plans for solopreneurs.
Time is a critical factor so we're going to look at ways solopreneurs can live healthier so their overall wellness improves.
Eating Healthier
1. Snacks
Something many people, not just solopreneurs, struggle with is snacking. It's easy to sit in the office and snack on things that may be tasty in the short-term, but that can be bad for you.
Instead of grabbing that bag of chips or that sugary snack, reach for healthier options like nuts, avocados or pickled veggies.
Those items will fill you up even more than the sugar snacks and you won't need as many. So in the long run they'll actually be cheaper too.
2. Eating Schedule
This one is great. There is new research on intermittent fasting. You basically adjust your eating schedule to cut out a meal. You only eat in a 6-8 hour window.
The great thing is that you don't have to prepare as many meals. Score!
Try having breakfast at 10 AM each day and eating dinner/supper at 6 PM.
More time in the mornings for work.
3. Quick Fix Meals
Don't always go for the quick fix with meals. We'll talk about mental well being later and taking time to get involved with meal prep can be good for your mental well being.
But if you don't enjoy cooking even after you've tried it you can cut back on your prep time. Veggies can easily be steamed or eaten raw. And those often make up the biggest percentage of a good diet.
And you can cook different meats like chicken, ribs, pork, etc. on one day all in the oven at the same time and put them in containers to reheat later in the week.
Exercise
1. Walking Meetings
The key to exercise for solopreneurs or those on a time crunch is getting in exercise while doing regular things. It's multitasking at it's best. You don't need to be a gym rat to live a health life.
A good way to mix is to do walking meetings. Steve Jobs was a fan and would often ask those he was meeting with to take a walk with him while they discussed what they needed to.
2. Taking The Stairs
I like parking a ways from stores or offices and taking the walk. And I also like taking the stairs. I often find that you'll always find plenty of spots open far from the building and it doesn't take any extra time because you don't have to drive around looking for a close spot.
And taking the stairs is often the same as taking the elevator as long as you're not climbing several stories.
3. "Think" Workouts
Business owners often need time to simply think. If you need time to think it can be great to do something physical even if you're chopping wood or rearranging the garage or basement storage area. Some of the best ideas often come while doing something physical.
Mental Wellness
1. Reading
It's also important to make sure your brain is healthy. You can't be 100% on the business all the time. You have to pull away and get perspective from other places.
Reading is a great stimulant for the brain. It's a habit many entrepreneurs have so if you don't read often it's a good habit to get into.
2. Hobby
Everyone should have a hobby. You don't need to have several hobbies, but having a hobby is a good way to unwind and get away from the business work. Your brain can get fully involved in something and often you'll do the hobby with your subconscious, which is a good state to do many things especially physical tasks.
3. Games
Many people play smartphone games and those are fine, but don't overlook physical games like board games or the more physical yard games. And you can often do them with friends and family and that is obviously good for your well being.
Conclusion
It's easy to get caught up in the busy life of being a solopreneur. You're going to have a lot of stress and pressure on your shoulders. To deal with that it's necessary to have a plan in place to make sure that your body and mind don't break down. The routines above should help so that you have your own company wellness plan even if you're a single-person operation.