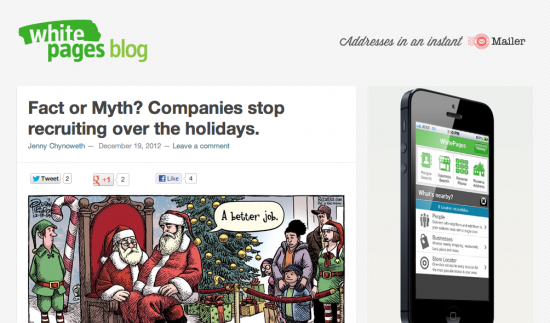 If you haven't already checked out The Big List of Companies That Blog head on over and check it out. Most people are surprised by the companies that do have corporate blogs.
Business blogging is a growing trend. Companies are finding it's a great asset.
A company blog provides a few different benefits.
The first is that it keeps your company website fresh. By adding new blog content on a regular schedule your site looks updated and fresh. This is appealing to potential customers, current customers and the search engines.
Business blogs also allow the company to speak directly to the public. Google is a good example of a company that takes information right to the people with the blog. It's a great platform for giving the exact message you want. Tiger Woods does this too.
Blogging builds trust. By providing useful information to people you're building trust with your ideal customer. Imagine a plumber that shares basic information like how to stop a running toilet on a blog. Someone can really use that information and when the time comes to hire a plumber to install a new toilet they will hire the company they trust – the one that provided the helpful insight and proved their expertise.
There are more benefits to business blogging. They are all reasons some of the biggest (and smallest) companies in the world are blogging.
Here are 10 company blog examples.
Company Blog Examples
These are just a few. There are plenty more. You can even search for the blogs on your own. You might be surprised by the companies that are blogging.
1. Rubbermaid – Adventures In Organization
Blog: Rubbermaid – Adventures In Organization
This blog is absolutely amazing. They take questions from customers and turn them into blog posts. That's something any business can do. This stuff is incredibly useful. You can learn how to setup your home office so it easily converts into a guest room and learn how to organize your holiday decorations.
It's great stuff and it all relates back to the products Rubbermaid sells.
2. Quicken Loans – Zing!
Blog: Quicken Loans – Zing!
Here is another great company blog example. You have Quicken Loans giving insight into money. There are some great tips, but what's even better is the personality of the blog. You get a feel for the company and that builds trust with potential customers.
3. Teva Collect Blog
Blog: Teva Collect Blog
Teva is a pretty hip footwear company. They're funky and different and their blog matches that personality. It's another look inside a company. It all works to build trust in the brand. It's appealing to a very specific customer.
4. Kodak: A Thousand Words
Blog: A Thousand Words
Kodak is still around and kicking strong. The company blog has tons of photos, which is what you'd expect. There is a certain human element to the blog and that makes it all the more appealing.
5. PGA Tour – The Equipment Room
Blog: The Equipment Room
I consider the PGA Tour to be a company even though I think they're technically a non-profit. They just launched a great new blog covering the equipment the pros are using. It's a brilliant idea for a blog and I'm sure the manufacturers love it too.
6. Graco Heart to Heart Blog
Blog: Heart to Heart Blog
Graco has to be the top name in all baby equipment. They introduce new items on their blog. They do contests and giveaways. They also have tips for new parents. It's a useful and fun blog for their ideal customer.
7. General Mills – A Taste of General Mills
Blog: A Taste of General Mills
Just what is a cereal company going to blog about? How about everything from innovation to world hunger to fitness and nutrition. The company takes world news and turns it into useful insight. They also provide tips for living a great life. Who doesn't want that?
8. Oakley Community
Blog: Oakley Community
Oakley is a pretty cool company. They have been around for a while and are still relevant. They know what their customers want and they provide some great information on their community site. You'd expect them to have a pretty great blog and they do.
9. The White Pages Blog
Blog: The White Pages Blog
This is one I didn't expect to find, but there are great tips here for small businesses. It's the perfect fit.
10. McKesson Press Release Archives
Blog: McKesson Press Release Archives
I wanted to include this blog to show you that a blog can take on many different forms. Even official press releases from the company can be blog posts. Here you have everything from announcements to stories of how people are using McKesson products.
Additional Company Blog Examples
Did we miss anything?
Share your favorite company blog examples in the comments.