Blogging Strategy
We approach the Ghost Blog Writers blogging strategy the same way we do with our clients.
It starts by looking at the business and the industry. Then we look at the target customer for the business. We look to identify the questions the target customer is asking in relation to the industry the business is in.
Potential customers likely haven't heard of your business or chances are good that they're not thinking about your brand most of the time.
Target Customers, Answering Questions
However, potential customers do search for answers to a lot of questions as it relates to their jobs and their lives. We try to identify those questions and to provide the answers with blog posts.
By answering questions we provide value to our target customers. Over time, that introduces potential customers to our website and also increases our reputation, which helps bring more traffic to the main sales pages on the site like the homepage and services page.
The target customers for Ghost Blog Writers are businesses with a website that want to increase organic traffic. Our contact for smaller businesses and startups is often the Founder or CEO. For larger businesses it's often the CMO or Internet Manager.
Blogging Topics
So we look at the questions those individuals are asking in relation to Internet Marketing, General Business and a few other areas.
Blog posts could be about blogging. Those posts would fall into Internet Marketing. But we also write posts that touch on items important for General Business questions like productivity, management and more. And we'll even write about the life of an entrepreneur or executive with a post on work-life balance and how to manage responsibilities with ambition.
We started blogging weekly. Then we increased the frequency to five times per week. Today we post three times per week. That may or may not change in the future, but it's been a good frequency for us.
Featured Blog Posts
Consistent Traffic Increase Every Year
Traffic is a good indicator of a blog's success.
However, you have to tie traffic to the right kind of traffic, which is traffic from your target customer. That's where the strategy comes in that we mentioned above.
The traffic for Ghost Blog Writers has steadily increased since the site launched in 2010:
You can see that traffic increases start out slow and steadily pick up over the months and years that you commit to a blogging strategy for your business.
The traffic numbers will depend on the industry you're in and the size of your target audience. But the growth chart here is similar to what many business blogs experience if they have a sound blogging strategy.
However, you'll often see many people give up right around that first 6-12 months. You can see that it starts out slow, but then steadily picks up. That's an opportunity because some will ignore the opportunity, but you can stick with it.
So if you stick with it you'll begin seeing the results and can build another channel of incoming leads for your business.
Organic Search Traffic (SEO)
One of the main efforts with blogging is often to increase organic traffic.
There is a lot of information about search engine optimization (SEO) and sometimes it can all get confusing.
At Ghost Blog Writers, we certainly look to the technical side of SEO and work to optimize all website content for SEO, but we also believe that a core online marketing strategy starts with a content strategy.
After having the blog established for a few years (the site and blog launched in 2010) the organic traffic continues to steadily increase for GBW:

That's a 37.57% increase in organic search traffic year-over-year.
That increase comes from an increase in traffic to the blog posts on the site, but it also comes from traffic to the homepage.
How it's seemed to work is that over the years the website has earned trust online. People seem to be getting value from the content in the posts (answering questions). That turns into things like links, social shares, etc. That all happens naturally over time.
That has seemed to make the homepage and other pages on the website to rank better for important keywords that our target customers are searching for on Google.
Blog Post Traffic
When you evaluate the success of a business blog it's typical to look at the success of each post. This is a good strategy to see what posts are doing well compared to other posts.
But if you compare single posts to the rest of your website you'll often find that single posts don't have the traffic that your homepage or About page does.
This is a good thing and it's the case with Ghost Blog Writers.
The top post on our blog the past five years accounts for just over 1% of all the traffic we've received. In comparison, the homepage accounts for 28.6% of overall traffic.
The way we like to look at how the blog is contributing to the overall site traffic is to look at the blog posts as a whole. With this view you can see that for GBW all blog posts account for ~37.6% of overall traffic: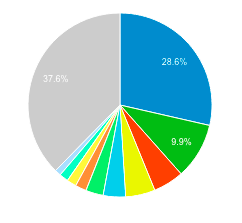 The great thing, however, is that blog posts are often the first pages new visitors visit when they first get to our website. They might discover a post on Google or Twitter. They hopefully read the post and get value from it. From there they might click through to the homepage.
Or perhaps they'll leave the site, but remember the name Ghost Blog Writers and search for that term on Google later when they're interested in blogging services.
Key Takeaway
Blogging has been a big part of the growth of Ghost Blog Writers. A blogging strategy has been our main marketing focus. We have always wanted to practice what we preach and blogging has brought our business traffic and leads. Those two metrics have been steadily increasing each year since we launched the site and the blog.
Traffic does correlate with leads, but only if you're attracting the right kind of traffic to your blog posts and website. That goes back to having the correct blogging strategy and knowing your target customer.
Blogging is a marketing strategy that can work for many businesses. It's a long-term commitment as you can see by the first traffic image above. But if you go into blogging looking at it as a long-term investment for your business there is a good chance you'll see similar results to the ones you see here and on the other case studies on the site.