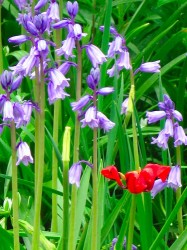 One of the challenges of running a business is differentiating yourself from the competition.
I know the feeling. There are lots of options out there when it comes to blogging services. Not only are there options, but all seem to have a varying type of service to provide.
The challenge for us at GBW is to make sure we stand out from the pack because we want to be the partner you choose for your blog.
Surprisingly, one of the ways we've found we can stand out is by having a blog of our own here on the site. That's right. I won't say all or many, but I will say that some of the blogging or writing services out there don't have a blog of their own.
A quick site note: we do have other areas of focus at GBW that we feel differentiate us. We really pride ourselves on reliability. So much of blogging is consistency with the quality of the content and the delivering of the content. We work to always be on schedule with the posts we deliver and schedule for clients. We work ahead so there is plenty of time if changes are necessary or if any unforeseen issue comes up.
Our clients have told us they really appreciate this. Their posts are there every day or every week on their blog and they never have to worry about it. The quality is good and the post is always on time.
But back to blogging.
Yes. A blog can differentiate your business. It has certainly helped us here at GBW. So far nearly all of the blogging has been done by me with help on a few posts from others. I'll continue blogging, but as GBW grows the other writers on the team will be contributing.
The nature of the business is that our team doesn't take credit for a lot of the writing. A few clients have us write under our own names and that works really well, but some want it to be a true ghost relationship and that's fine too.
But to really showcase the talent of the team we have the writers are going to add content right here on the GBW blog. It's going to continue to cover everything you (business owners, managers and marketing directors) want to know to improve your business.
In our world this means we'll have a differentiator that sets us apart from others.
I've been saying for a few weeks now on the blog that a business blog on your site is part of your service or product offering. That's how we look at this blog. It's part of the value we deliver.
When new visitors come on our site we want them to get a feel for the kind of blogging we do for clients and they can see that right on the GBW blog. What you're reading now is what you can expect from us for your blog.
This element of our offering is what has convinced many of our clients to hire us. They see what we do. They see it drives sales for us (we practice what we preach) and they want to get sales from a blog of their own.
Blogging is hard. If you've tried doing it on your own you know that it's true.
But because it's hard you'll find that many companies avoid it or have a blog that's abandoned.
This is your opportunity to be different.
Get your blog rolling. It'll be something that makes your offering more valuable than all the competition.
Heck, even if your competition does have a great blog there are still ways your own blog can be different. You can bring a new perspective and personality to the industry. You can take new slants on popular topics and you can discuss new topics.
A blog gives you the freedom to attract the people you want. It's a great business differentiator.