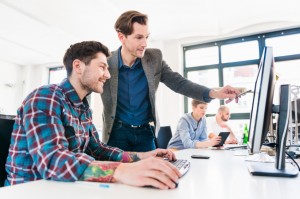 On the surface, the goal of a business blog is to increase traffic.
That's a good way to look at a business blog, but it goes beyond that.
A business blog is about bringing new people to your brand, earning their trust and earning their business.
Traffic is a part of that equation, but there is more than just traffic. That's why I like the focus of finding questions that a target audience has and answering those questions in the best way possible over a long, dedicated period of time.
With that in mind, we're going to look at some stats that Moz released recently regarding winners in Google rankings for 2015.
Moz tracks brands and the number of page one rankings those brands have. I'm not sure how exactly all the tracking and math works, but I trust Moz and what they do.
And I think this is a great analysis. When you want to improve on something, like search rankings, it's good to see who is doing a good job and try to emulate their good strategies.
Here is the research: Brands That Won (And Lost) Google In 2015
There are two charts of interest in the data (three, but more on that in a second).
Here's the first: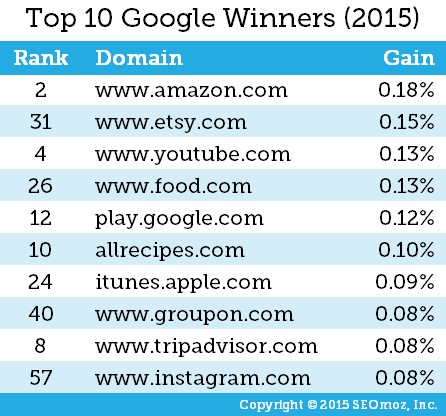 These are the big winners of the year. Some big names on there. Most are recognizable and maybe there are a few surprises in there as well.
And here is the second chart: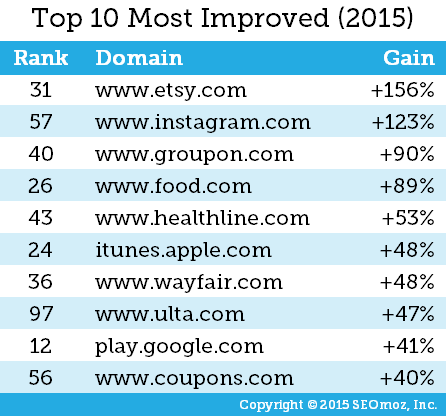 As it says, these are the sites that had the biggest improvement last year.
I wanted to look at some of these companies and see if they were blogging and how they were blogging.
Etsy
Etsy was mentioned as the biggest winner of the year toward the end of the Moz article. They were the most improved and that improvement probably resulted from multiple things they've been doing.
About two years ago I actually took a little dive into the Etsy blogging strategy.
It's probably fair to say that many retailers don't have or aren't known for their blogs. But Etsy has been investing in blogging for quite some time.
In December 2015, they had about 20 posts. So they're blogging multiple times per week and have been doing it for a long time.
They have multiple types of posts. They feature shops that are on the site. They also focus on answering questions that target readers have like what tips for gift buying during the holidays.
Is a blog the main reason for Etsy's big gains on Google in 2015? That's hard to say. Probably not, but I think it's fair to say that blogging has helped to raise Etsy's overall brand, which can lead to better rankings as well as benefits that go beyond rankings.
When you help people, you help yourself.
Etsy is helping people with its blog (and in other ways).
Instagram
Instagram is an interesting one. They're an app. I use the app. I don't really read their blog posts, but oddly enough they have a very active blog. There are some cool things on that blog. It's aim seems to be to help people.
Again, that's the strategy to take with a business blog. It can be part of your efforts to increase traffic and sales.
YouTube
It's always tricky to analyze how Google's own properties do in the rankings. But I'll make a quick note that YouTube does have an active, official blog.
Groupon
Another big winner in 2015. They have a blog. It's not quite as active as the others listed above, but it looks like they're taking the blog seriously and they're looking at it as a way to communicate with target users. It seems like they're genuinely looking for a way to show their human side.
Food.com
They have a blog. It looks like this site went through some changes including to the blog. It seems like they've moved or changed its URL of late and that the blog perhaps have gotten overlooked as they've made those changes the last several months.
Will they come back and invest in content again?
The Rest
The rest have a few blogs and some don't. I don't think iTunes has a blog. I don't think Google Play has its own blog, but Google does have several blogs.
Wayfair has a pretty cool blog. I really like that one.
Amazon has a blog for their AWS, but I don't think they have one for their ecommerce arm.
Final Thought
Again, the point here is not that a blog will change your rankings in a major way. I do believe that a blog can do that, but there are other ways. I'm sure the sites above did technical things, content things and more to improve their rankings in 2015.
I'm sure that the work they've been doing the last several years has helped. In general, if you become a trusted source and have the best answers to questions, Google will reward you with rankings. They want the best answers for their users.
It's really that simple.
And one thing that many of the brands above are doing is focusing on long-term blogging strategies. They're focusing on answering questions with blog posts that their target audiences have and they're committing to doing it over several years.
If you're looking to improve rankings like the brands above, a blog can be a part of the overall strategy to achieve that.