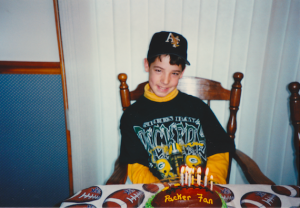 So I'm kind of a fanatic when it comes to the Green Bay Packers.
There is photographic evidence of me as a kid wearing full Packer uniform (helmet included) getting ready for the games on Sunday.
And every halftime I would make my Dad go out into the yard to throw the football around. He was Brett Favre and I was players like Sterling Sharpe and Robert Brooks.
I tried to make every catch a catch of a lifetime. I can't tell you the number of grass stains that Packer uniform had after all those years.
Anyway, each August I follow the Packer beat writers. These are the folks that are out there are every practice. They're following the team and reporting on all the news. They're doing interviews with players and coaches. They're getting all the good stories and they're also scooping on the big news.
That got me thinking about something…
Reporting The News
A big thing this week, and really a sad thing, was that one of the Packer players got hurt. He tore his ACL. It happens every year and it's one of the sad things about football.
In today's media age, news like those kinds of injuries gets out fast. The reporters all saw that the player was out. Then rumors started trickling out about the severity of the injury.
The rumor was eventually proven true, the ACL was torn. Then the reporters were kind of wondering who to credit with the scoop.
As a fan, I didn't really care who reported the news.
Well, I do care about the news, but even more I care about what the news means.
Commentary And Interpretation
It's hard to report the news today. It's hard to get that big scoop.
Reporters seem to make themselves crazy trying to get a scoop. And when they do the recognition lasts for about a second. Then it blows up on social media and nobody remembers who reported it first because everybody is reporting it.
That would make anybody crazy.
That's why I think it's good to have a balance. Yes, reporting the news first is good.
But it's also good to focus on the long-term value of your content. That comes from providing something that others might not be willing to provide: commentary and interpretation.
My favorite reporters are the ones that will take news, like an injury, and provide commentary. They'll talk about what that means for the depth chart. They'll talk about the players that will now be counted on to step up. They'll talk about how that player has done in the past. They might even interview that player or get an interesting background story on them.
Your Business Blog
You can do this with your business blog.
You probably don't report the news in your industry. But that doesn't mean you can't provide value in regards to that news.
Take a big news item in your industry. Your customers are probably wondering what it means for them. You can provide the commentary and give them understanding and direction.
For example, let's say you're a website designer and WordPress comes out with some big changes. Address the changes in a post and share your thoughts on what it means and the action your customers need to take.
Or maybe you're a plumber and a new regulation comes out about water use and toilets. You can provide the understanding for your clients with a blog post discussing what it means for them and what they have to do (if anything).
Provide understanding
Look for a unique angle that others are missing
Find the hidden story that is really interesting
That is the type of content that has a long shelf life. It's the type of content that people remember and when people remember something they trust it, they look at it as authoritative and that leads to them hiring you for your service.
Final Takeaway
Anybody can report the news. Let others chase that. Instead, take the time to provide a unique perspective on what the news means to your readers. That's what people really care about.