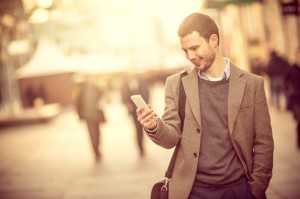 One strategy we use for the GBW Blog and for client blogs is mentioning influencers and brands in blog posts.
This strategy can really increase the social media re-shares and traffic to your blog and website from social media.
It's not the only strategy we use for blogging. We still stick to mostly answering questions the target audience is asking online, but we do like to mix in the mention-type posts as well to keep things balanced.
I recommend writing the kind of post where you mention or feature influencers and brands before. Doing so is one part of the equation for making these posts success. The other part is letting the influencers know that you've mentioned them.
That's what we're going to cover in the following steps.
Step 1: Email
The first way to let someone know that you've mentioned them in a blog post is to email them. There are two ways you can go about doing this.
First, you can reach out ahead of time before you write the post. You can describe what you're doing with your post and ask a single question where the answer from the person will be included. Many people jump at this opportunity because it's easy for them and they get to be a part of a big post with lots of influencers.
Here's an example:
Hi,
My name is Dayne Shuda. On my business blog, Ghost Blog Writers, I'm writing a post about responsive design. I know you're an expert in web design and wanted to include a quote from you in the post.
What are your recommendations for businesses regarding responsive design?
Your response will be included along with other industry experts in the post. I can let you know when it goes live.
Thanks!
Dayne Shuda
Keep it simple. Make it easy for them to respond.
Then once the post is published simply reply to the same email thread letting them know the post is live and include the link. They'll likely share it immediately with their social followers.
Second, you can find something someone has said in an interview or on their blog and use that information as a quote on your new post. Always link to the original source and make sure it's formatted as a quote on your post. I also like to link to the person's Twitter or Google+ account. More on this later.
Once the post is published, look to see if you have the email address for the person or if it's public. Some influencers put their email address on their About pages, contact pages or even on their social profiles. Email them again letting them know that you've written a post. Include the link and let them know you've included their quote as an expert source.
Step 2: Social Media Direct Messages
Direct messages work pretty much the same as email. Some influencers are protective with their email addresses so you might not have those. But influencers can be less protective of their social media accounts.
Now, you don't want to abuse this fact. So when you write a post make sure it goes beyond anything that's been written on the topic so it's worthwhile for the influencer to read it.
Again, you can start by direct messaging the influencer and telling them you're writing a post and that you want to include a quote.
Or you can take something they've published, cite it and link to it, and then let them know via direct message.
You're limited on characters with social media especially on Twitter so you'll have to keep it short. Use a URL shortener like Bitly to help save characters. I also like to mention the person's name. It seems to make it feel less like spam.
Hi John. Got a new post on responsive design and included one of your quotes: bit.ly/45678
Step 3: Social Media Mentions
This is the method I used with the post included early in this post. I would write a post that mentioned a brand or influencer and when I would share the post on social media like Twitter and Google+ I would mention the brand.
All this takes is adding the @ or + symbol in front of the brand or influencer name. I schedule these posts with Buffer, but you can do it right on Twitter or right on Google+.
Most people keep tabs on their mentions column on Twitter of their notifications on Google+. Even the big brands do this. You have to remember that a brand might seem big, but it's just a normal person that handling the social media accounts.
Share the post and mention the person or brand that you included in your post. It's a simple way to let them know that you did so. And you'll get them to share it.
Step 4: Contact Forms
If the first three items don't work then you'll have to get more creative. I've done this a couple times and it's worked a couple of those couple times. It's not a high outcome process, but it can work if you're out of luck.
If you mention a brand or an influencer, go their website and send them a contact form message. Keep it short and to the point. Let them know that you've written a post and that you mentioned them. Add the link and hit submit. That's all you have to do. If they're paying attention and if they're interested they'll check it out and if you did a good job on the post they'll share it on their social media accounts.
Final Thoughts
Content marketing includes promoting your posts. But I don't like to think of the strategies mentioned here as promotion. You're simply letting people know that you've included them in one of your posts. Don't overdo it with the email and messaging. That can make it seem like spam. But most of the time these work out well because people like when you say good things about them so don't be afraid to write about brands and influencers and don't be afraid to let them know.