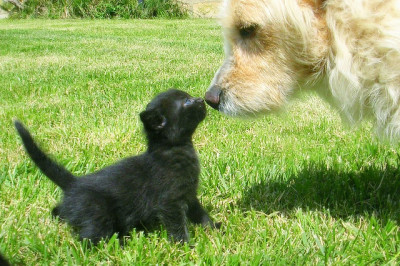 One of the biggest questions we get at Ghost Blog Writers is how we handle blog images.
So we'll start by answering that question.
We use Flickr Creative Commons for images in most cases. That's what you see here on the GBW mostly. Creative Commons 2.0 is a great movement. It's a win-win situation for those that want to use images and those that want to get exposure for their photography work. These images are free to use as long as you provide proper attribution (see the image above for one such way).
Sometimes, though, it's difficult to find an image that makes sense. You can get away with using just any  image as long as it doesn't take away from the post and confuse readers. It can be good to shorten the width of your articles with an image as Derek Halpern does on Social Triggers.
But if the image doesn't add to the article context and it's not just for shortening the width it's time to move on to another source. This happens with clients when they really want something good.
The next option is to use stock photography. There are some that are pay-as-you-go and there are others that are subscription-based. If you're going to be doing a lot of blogging then the subscription model is the best option. We recommend this to clients that want the best of the best photos. The requirement is to have them pay for the subscription.
The third option is to use your own photography. Make sure you have the rights to the photo. It can be a photo from within your company, but make sure it is the property of the business and not the property of the photographer. There are some weird laws surrounding photography.
There is a fourth option that kind of catches all the remaining types of images you can use on a blog. We often use screenshots in blogs. It's a little bit of a gray area, but mostly white. We'll take a snapshot of a website or of a screen in an analytics program to make a point in an article. We'll give proper attribution to the site. For the most part this is standard practice. If someone does reach out to your business with anger you can always take the image down. I've never had that happen.
To be safe, stay away from screenshots of movies and music. Those two industries are really uptight about intellectual property and they'll pounce on any opportunity to make headlines with "pirates".
So there are your three options for blog images:
1. Flickr Creative Commons (Free)
2. Stock Photography ($$)
3. Your Own Photography ($ to  $$$)
I really suggest using photography in your posts. It can add context to the content and improve the understanding of the post. When people understand your post they are more likely to read more on your blog and eventually become customers of your business.
Also, there is SEO benefit to images (although less now). Your images can rank in images search. Images also help with SEO and clickthrough rates on social media sites because the first image from a page is often pulled for snippets on these sites.