Is customer service part of your business?
If you're like most businesses, the answer is yes.
Customers will likely always have issues at some point with products and services. It's the nature of an imperfect world. Some customers will be unhappy and it's the job of the business to determine the level of service they should provide for any given situation.
A growing trend is to use a company blog as a way to address customer service issues.
Customer Service Blogging
Traditionally, customer service has been handled via phone and email.
In more recent times, live chat online has been used by some companies for a more immediate alternative to email. Live chat also offers something different than a phone call, which some customers aren't comfortable doing.
These channels of communication work well, but on occasion a company needs a place where they can address issues in a broadcast medium.
Enter the company blog.
I'm going to use Go Daddy as an example. This company always seems to come under heat from Internet users for various things. The company has been known for some questionable products and they have also taken interesting sides on certain Internet-related issues.
All that aside, they have a pretty good way of communicating with customers via a customer service blog.
Go Daddy Customer Service Blog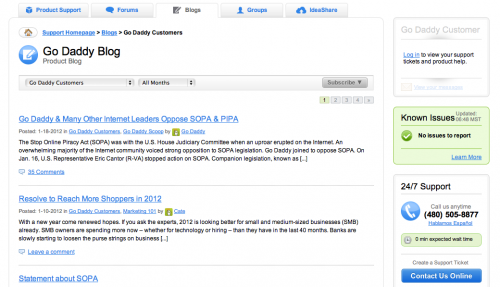 The Go Daddy Blog is used to broadcast important customer service-type issues. The company appears to use the blog to broadcast their messages to their large collection of customers.
Sometimes it's just too difficult to call customers individually to deal with issues. In the cases where a number of customers are having the same issue it can be more efficient to publish an article or blog post on the topic.
Something Go Daddy will address with their blog is the issue of having slowness on a site. Customers often experience this situation on shared servers. In most cases, Go Daddy will say there is an issue right on there blog. They might publish a blog post, but they'll also put an update on the sidebar. You can see the Known Issues area there on the right of the image above.
This way customers with issues can visit the blog, see the issue and call if they have further questions.
When you're having an issue, as a customer, it's nice to known that the company is at least working to resolve the issue. To mitigate the number of emails and calls coming to the customer service team, Go Daddy determined that it was more efficient to publish a broadcast post to let customers know about the issue.
From there, Go Daddy can spend time fixing the issue and less time telling the customers about the issue.
Blogs, Forums and Newsletters
Company customer service blogs often pair well with forums and newsletters.
A company has the option to maintain a forum and a blog for customer service issues. The forum works as a more involved customer support area where customers can ask and answer questions. The forum is also a good setup for publish answers to issues.
The blog serves as a broadcast channel for customer service issues and resolutions.
A newsletter can be another good broadcast tool for alerting customers to issues.
Working together, these channels can mitigate call center and email needs while also solving customer service issues.
Discussion
Have you used your blog for customer service?
Share your story.