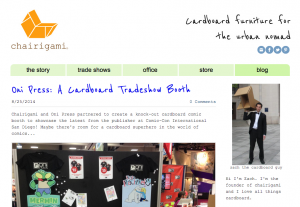 It's Christmastime out there – Ho Ho Ho!
And I actually have a birthday coming up here on the 15th of December. I don't have any weird feelings about it right now, but I will be turning 30 on that date. I'm sure if that will be weird for me. I have had others say it's a difficult birthday.
But today I listened to Aaron Rodgers on his weekly radio show and he said that the year after turning 30 was a great year for him. So I'm looking forward to it.
Usually every year I look to maybe get myself one gift to kind of celebrate the a few events like the birthday, Christmas and the end of the year. Things have been pretty good at GBW this year so one of the things I'm looking at is a standing desk.
I've had standings desks in the past and I'm a fan. But earlier this summer my wife and I moved and the standing desk was a casualty of the move. It didn't break, but we got rid of it. The plan was to get something in the future. But so far I haven't replaced it.
And that finally brings us to the topic for the day: chairigami.
My wife actually mentioned that she saw a cardboard standing desk online somewhere. I thought that sounded interesting so I googled around and found chairigami on Kickstarter and then on their website. It actually turned out that my wife was looking at a different cardboard standing desk, but chairigami's looked a little better.
I still don't have the standing desk, but in the meantime I'm going to look at their company blog. I think it's an example of what could be seen as a boring company in a boring industry with a great opportunity to write valuable blog posts.
And for the record, I don't think chairigami is a boring company or industry.
Here are some of my thoughts on their blog:
1. Hacks
Who doesn't love a good life hack?
We all have our own ways of doing things. But some of us are also curious about how other people do things. And that includes how other people have customized their chairigami items including the standing desk I was talking about earlier.
Cardboard standing desk hacks was the topic of this post on the chairigami blog. This is a cool post for a few reasons.
First, you're providing value to your readers. Others that have standing desks can get inspiration on how to hack their own. And if new readers are curious about desks they can stumble on this post and get interested in buying this cardboard standing desk.
Second, you're getting feedback from your customers and you're interacting with them. You've heard about engagement? This is great engagement and it's happening right on your own site.
And when others are included in your blog posts they're incentivized for the post to do well so they'll share it and pass it along, which is good for you.
2. Company Updates
Company updates can make good blog posts on occasion. For chairigami, shipping out the first batch of standing desks was a big day and they shared their excitement with a post.
I like the use of pictures in the post. chairigami is actually very good at doing that with all their posts. It's something that readers respond to especially when the industry or the voice of the company is creative.
What's even cooler is that chairigami took it a step beyond what others would normally do with a post like this. They included a map of all the places they're sending those desks. This is cool to look at, but if you have one of the desks it kind of makes you feel special and part of a community.
3. New Product
New Product posts can work well as long as you don't overdo them. It actually depends on how you do these types of posts. If you just pick a product and throw a little content in a blog post you're not really adding anything interesting to your blog. And people won't respond to it.
But I think this post from chairigami is a great example of how you can share new products on your business blog.
They have a cool little gallery at the top showing some different ways you can use the product. It's simple, but pretty cool.
The post is pretty short and I like how they shared a little background on how it came to be. I think they could have added a few more details, but maybe they didn't want to overdo it on this type of post since these posts can come off as being spammy.
4. Company Achievements And Stories
This post is similar to a company announcement, but I want to touch on a different aspect of it. This post discusses a big day for the company. They shipped their biggest order to date. It talks about how they achieved such a large order and added a few more photos.
These kinds of stories about achievement can make a reader feel like they're inside your company. It can make them feel like they're part of your success since you're sharing it with them.
That can lead to loyal customers and customers that want to share these kinds of posts with their friends.
5. Opportunities
chairigami has a pretty cool blog. I think they're doing wonderful things already and I just have a few suggestions.
They could post more. It's been a little while since they've posted and that's not surprising for a company that is growing. There are lots of things to focus on as you grow a business.
But if they could post even one post per month and do it regularly I think followers would appreciate it.
What else could they write about?
They could focus on questions the target reader has relating to the industry. For example, I think I'm in the target reader category for this blog and I have questions about how and where to setup a standing desk in my house for my home office.
Beyond that I would even be interested in knowing more about hacks for working from home. I'm sure others would want to know about hacks for setting up a startup office or designing a startup office.
You can get specific with posts related to your product and get more general. Whatever questions your target customer is asking relating to your industry and your broad industry are fair game.
Final Thought
This is a really cool product, but you wouldn't think that if you just read a short description. A cardboard furniture company. And one that focuses on office furniture? That's not very exciting on the surface, but chairigami has infused their business blog with their unique personality. I think it adds value to the products they offer and can be a great marketing tool. And they even have opportunity to expand with more posts.