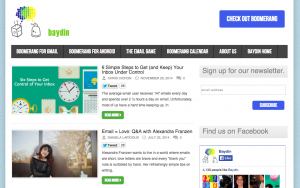 So I've been seeing notes about this Gmail add-on called Boomerang all week. I've had people mention it and I've seen their ads on a few different places. I'm probably seeing the ads because I visited the company's site and now the cookies are following me all over.
But either way the app or add-on had me interested. It seems that you can schedule email in Gmail and do some other cool things. Since I'm a Gmail user it has me intrigued.
And I think you can schedule times that you receive email. I think I have an addiction with email. I've cut back the timeframe of when I check email, but being able to control when I actually get things in my inbox would be great. It's a little thing, but it could trick me into not having my email open all the time.
Anyway, that's a little background on the company. I'm going to check out their blog.
And it's actually not on the Boomerang website. It's on the corporate website, Baydin. Here are some of my thoughts.
1. Tips For (Email) Productivity
At this time the first post on the blog is a post on keeping your inbox under control. There are some really great tips in here for making sure you are efficient with your email.
One of the tips is one I just did with my inbox a few months ago. They recommend unsubscribing from all the social channels and other items that send you notifications for everything. These emails will fill up your inbox like crazy and you just don't need most of them.
Posts with tips are common and they're common for a reason – people love learning tips and knowing solutions to their problems – both little and small.
This post is about email and there are a number of tips Baydin could share about email. That's what they do. But in the future they could expand into other areas of productivity as well. Their target readers would definitely be interested.
2. Company Updates
A corporate blog is a great place to make company announcements like this one. You'll want other forms of content on the blog so that all the posts aren't updates, but you do want to share company updates on the blog.
This way your corporate blog becomes the official source of information from your company. People, including industry publications, will treat your blog as the official source of news about your company. Customers will go there to see what you're up to and so will industry writers and sometimes those writers will get material for their stories from the information you share.
Think about every time Google shares an update on one of their corporate blogs. Industry publications always pick up the news.
3. Interviews With Industry Experts
There are a few interviews on the Baydin blog including this one with the COO of UserTesting. These types of posts are great on a few levels.
First, you get some great information for your readers. And you can get the kind of information that is maybe outside of your wheelhouse a little bit, but that you know your readers will find interesting.
Second, because you're interviewing someone they will want to share the post with their followers. That expands the potential audience for the post and can help to grow awareness for your company.
To write posts like this always look to make connections with industry leaders. You can do this on social media sites like Twitter and LinkedIn. Then just ask people you want to interview. You would be surprised how often leaders are looking to do interviews for articles, blog posts, podcasts and more.
4. Blog Post Series
There is an ongoing series on the Baydin blog called Email Etiquette. These types of series are great. I do it here on the GBW blog with the post you're reading. We do Blog Analysis. A cool little trick is to use a category or a tag each time you do something in a series. Then you can link to the entire series in future posts like I just did there.
And often you'll want to link to the series in the sidebar or in emails and in other places.
Series are great because you can get readers interested in a regular influx of content that follows a certain them. If they really like the series they can set their calendars to come back every week or however often you want to do those posts.
People like consistency so strive to do a regular schedule of posts in a series.
To find out what to do a series on check on what your popular posts have been in the past. Then see if you can find a theme to center around and plan to write more posts in that series. That's how this blog analysis series began.
5. Click To Tweet
At the end of this post you'll see a little Click To Tweet link. I don't think I've mentioned those before in this series, but we use the same strategy with a few of our clients.
Within every post there are usually a few lines that are tweetable. These are things like studies or tips that your readers and the people in their network find interesting.
And Click To Tweet Makes it easy for them to share the post on Twitter. To get them to share it, find something that will make your reader look good for sharing.
Stats usually do well, but so do tips that your reader's followers will find interesting. Your tweetable quote should make your reader look smart for sharing it. It's not about you.
Final Thought
It looks like Baydin used to publish just about every week in 2013. Then later on in that year they moved down to once per month and now it's been a few months since they've published anything.
They have a lot of great content, but this happens with companies when things get busy. It's good that Baydin has been busy with Boomerang, but hopefully they keep up with their blogging. It's a great resource for their customers and a great way to attract new customers in the long run.