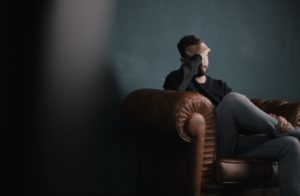 People are worrying more than ever.
Ten years ago we were worrying about 2 hours and 15 minutes each day.
The top things we worry about probably won't surprise you:
Work
Money
Being Late
Friends and Family
Our Health
There are mixed results on the effects of worrying.
Some research shows that worrying less is good.
Other research says that worrying can be beneficial.
The fact is that 85% of what we worry about doesn't come true.
So maybe the answer is that a little worry is just fine. It helps us prepare for the future. But we all probably know when we're worrying too much. If it's affecting your health and your relationships it's time to cut back.
But how do you do that?
Here are some tips.
1. Postpone It
Research has found that suppressing negative thoughts does not work. Yet that's what we often try to do.
A better approach is something similar, though.
That is setting aside time to worry.
That's right, if you worry often it can be beneficial to schedule time to worry. Perhaps 30 minutes at the end of each workday.
This way if you get a negative thought right before bed you can "set the thought aside" until tomorrow's worry period.
Over time, you build the habit of worrying at specific times. It can improve your sleep and your overall well being. You're not suppressing. You're dealing with things, but not letting them affect you so urgently.
You'll probably find that the things that aren't really important will be forgotten while important things will still be dealt with.
2. 10-Minute Meditation/Mindfulness
More and more research is showing that short, but regular spurts of meditation or mindfulness can do a lot of good. This includes reducing worry and anxiety.
There are so many distractions today. We kind of lose touch with what's happening in the present to ourselves. Mindfulness allows us to remain in the present and it apparently helps us to worry less. At least in the short-term.
3. Accept Uncertainty
What's the worst that could happen?
I like to go through this exercise if I find myself getting a little worried about something.
Usually as I work through things the worst result isn't really all that bad.
Yeah, losing that client would be difficult. Losing all clients would be difficult. But the world would keep spinning. I'd adapt.
The world is an uncertain place.
Think back 10 years. Even 5 years.
Has life gone according to plan?
Have things gone horribly wrong?
It's amazing how much life changes without us even realizing it. Usually some things go to plan and other things surprise. They're things that we could have never planned for.
The world is uncertain. Accepting that can lead to less worry. Embracing it can lead to enjoyment.
4. What Do You Control?
Much of what we worry about is simply out of control. That's difficult for those that like to be in control. I experience this all the time. I like being in control.
But there is a switch in your brain that you can flip to help you worry less. I've had to do it.
The switch is looking at the world by seeing the things you control.
Let's set the stage.
Your employee doesn't turn in a project on time. It will negatively affect your bottom line this year.
You could let this get to you. Focus on the wrong things. Things you don't control. Blame the employee. Blame everything else for the issue.
Instead, focus on what you control. What did you do that caused the situation to occur?
This switch goes nicely into another way to stop worrying.
5. Problem Solving
Don't see the world as a bunch of problems.
See it as opportunities that need solutions.
Many successful people think this way. I see it all the time when I'm around people I admire.
Something happens to them. They experience failure, but they don't really see it as failure. They see it as an opportunity. They love problem solving.
A client is not paying you?
Look for the solution to the problem. That solution could be a change in your system that will positively affect your business not just with this client, but with every client going forward.
Conclusion
The world really isn't that scary of a place. There are plenty of bad things that could happen. But most don't happen. And worrying about it doesn't really solve much.
Use the tips above to help you ease your worrying. It'll lead to better health and a better form of worry. One that allows you to have a good balance of thought as you move forward in the world.