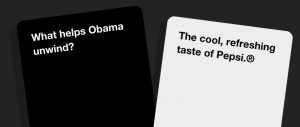 I was in the store today picking up some items for a wedding that's coming up in a few weeks. I walked in and I could see all the Christmas items ready to go for the holiday season.
I look forward to Christmas each year. I know that it creeps further and further out into the fall with the shopping and things, but it's a happy time of year so I'm okay with extending the enjoyment of the time. November and December kind of mesh together for me. It's a time for seeing family and all that good stuff.
But one thing I'm not a huge fan of is the heavy discounting that goes on during the holiday season. My wife kind of makes fun of me because I never look for shopping deals. I look for good products and pay whatever they cost when I decide I need or want them.
I think it can cheapen your brand if you offer discounts, especially steep discounts at any time of the year including the holiday season. It seems like a tactic that tries to cover up issues with the merchandise or service you provide. If you have to offer a discount then it's probably time to look at what you're selling.
However, if you want to gain attention during the holiday season I do have a few action steps for you. These can help you get more attention for your brand and products without having to offer discounts.
That's real marketing and not cop out marketing.
Here you go.
Idea #1. Partner With Another Business
One of the best ways to expand your reach is to partner with other business. And the holidays are a great time to do that.
Find other complementary businesses and offer a unique package or offer to your shared customers. This way the other business gets access to your customer base and you get access to theirs. And your shared customers get a unique offers.
It's a three-way win.
Let's say you make software that helps people buy houses. Partner with an interior designer software and offer some kind of package for consumers decorating new houses for the holidays. Kind of a find your new home this season and get ideas for decorating it.
Or if you're a local restaurant, contact a local retailer or boutique shop and offer to setup a catering booth offering tasty treats for guests.
Idea #2. Give Your Customers A Tangible Gift
Gifting is kind of like giving a discount, but I think there is an important difference – you're not cutting down on the value of your main product. Send your customers or clients a little gift during the holidays.
Even something like a card is nice, but you can go beyond that by sending gift baskets of tasty treats or something else. I worked for a company and one of our vendors made shoes. They used the extra leather they had lying around to send leather coasters to their clients. Neat idea and it didn't cost them anything.
Really cool little gifts add value and it's the season of giving gifts.
Maybe if you're a local store you could open a few extra hours. Present it as if you're giving it as a gift so your busy customers can come in to get what they need.
Idea #3. Donate To A Cause
Do this out of the goodness of your heart. Find something that really means something to you and to the values of your company. But you can also encourage others to do the same. Show that you've committed to a cause and ask others to do the same.
You'll also expose your brand to those that follow that cause and they'll see the alignment of themselves with your brand and they'll probably want to become customers of yours. It's certainly not the main reason for doing this, but it's a nice secondary benefit.
Idea #4. Charge More For Your Product
This idea comes from the game, Cards Against Humanity. They had some fun with Black Friday by increasing their regular price. They charged $30 on Black Friday instead of $25.
It got them more attention and their sales went up on that day. It could have been just the fact that more people were shopping on Black Friday, but it was hilarious.
And if you think about it the strategy actually makes sense. If you have a product that is in demand and you have limited demand then why not charge more when more people are shopping?
Idea #5. Shop For Your Customer
People are busy this time of year. And you're the expert in your industry and you know your customers. Save them time and add value to their lives by putting together a kick ass gift buying guide.
You could ask them questions leading up to the holidays and then create an amazing gift buying guide. You can just tell people what to buy. They'll really appreciate it because it will save them time.
This can work for a variety of industries. And even if your product or service really isn't a gifty item you can suggest outside things that you know your customer would like.
If you do a good job here your customer will love you and they'll probably share the guide with people they know thus introducing those people to your brand.
Conclusion
Don't cheapen your brand this holiday season with steep discounts. That's the easy way out with marketing (Cop Out Marketing). There are better ways to get attention during the holiday season that won't cheapen your brand or cut into your bottom line. Hopefully these ideas can help get the creative juices flowing. I'm sure you can think of even better ideas that will have new customers lining up this holiday season.