As predicted on earlier reports mentioned by eMarketer, marketers and companies are putting high importance on creating content.
A new study by Unisphere Research has gotten some interesting findings about content in their new study.
The new survey was sent out to marketing professionals in the US. They were asked questions regarding content in August of 2013. The results are interesting and shed light on how marketers view content today.
The goal of all marketing is to increase sales. It's becoming obvious that content can help push sales for a variety of companies.
The first finding is that nearly half of the marketers in the survey said they are devoting at least 10% of their marketing budget to creating content. Creating articles and videos are the top two ways marketers are creating content.
The channels marketers place importance on vary and there are a few surprises.
From Content Takes a Notable Share of Marketer Budgets: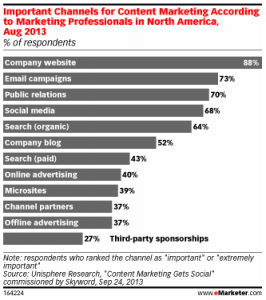 The company website remains the most important channel for content, with 88% of marketers citing it. That was followed by email campaigns (73%) and public relations (70%).
Your website and email programs are certainly important. At Ghost Blog Writers we always recommend to clients to have a solid website that answers common questions and clearly explains what you offer while calling the visitors to some kind of action on each page.
And the email program is a big part of the online sales process. An email newsletter is a great way to get new visitors to commit to a small conversion as you build the relationship to the eventual sale.
Blogging is on the rise too. Over 50% of the marketers in the survey said that a company blog was worthwhile for building content.
A couple interesting things.
First, marketers are a smart bunch. You can see that they realize that investing content for inbound methods like content on your website, email program and with a blog can provide better results than advertising where your original content has a shorter lifespan.
Second, it's interesting to see social media up as high on the list as it is. I think it's good that people are creating content on social media. There are big audiences on social media and if you can initiate discovery with potential customers it's a great way to get people into your sales cycle.
But there are dangers with creating original content on social media. You give up ownership of the content. The content you create also has a short lifespan as it dives down on the social feeds never to be seen again.
Whereas creating content on your own website has a longer lifespan for you to promote.
This is an interesting study and continues to show the importance of content in the future of marketing on a variety of channels.