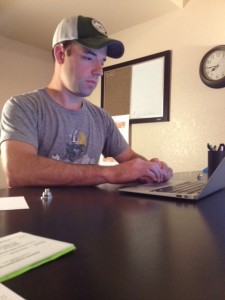 I love reading Inc.com. There are tons of great articles even if they tend to lean a little heavy on the list post format. As mentioned just last week I think list posts are Ok, but Ok when used in moderation. I guess that's why I'm creating a list post here.
Anyway, a recent post on Inc.com got me thinking about a format for a post. The article was One Thing Every Great Entrepreneur Does (you'll have to click to find out what it is). My take on the post is a little different. Here are five things every business blogger does well.
1. Focuses on the Right Customer
Many blogs struggle with focus. It's important to narrow down the focus on your customer. I see it happen all the time. Bloggers will write about what interests them instead of what interests their customer. This can happen early on if a few posts get off topic and some traffic starts coming in but from the wrong people.
An example I'm thinking about is a Web design blog. The designer will write about topics that are interesting for designers, but the designer is not selling their services to other designers. This blogger needs to focus on business owners or business managers. In fact, it's even better to make the focus even more fine. Focus on small business owners at organizations with less than 10 employees that are in specific fields.
Narrow your focus and your blogging will not only improve, but you'll start attracting an audience that converts (see #5).
2. Experiments with Formats
This is a list post. Last week we wrote about list posts. They're really common, but the best business bloggers and the best bloggers in general will experiment with other formats. I've tried probably a dozen different formats here on the GBW blog. I'm still planning to try some different formats. I copy formats I see on my favorite blogs that I enjoy and I try variations on blogs I read. On occasion I'll get a little crazy and will try something completely against the grain. The reason this works is that best practices are only best practices because people have found success with them. But before best practices are established there were people experimenting. Find formats that work for you and use those, but continue to experiment because you still need to find something that's better.
3. Uses Controversy
It's hard to be controversial. For some it's easier than others, but for most it's difficult to take sides on issues because it means being offensive to some people. When you take sides and present controversies you get people riled up. Polarizing topics are traffic goldmines for bloggers. If you can take a side on a hot topic you can get traffic. Some people will love you while others will hate you. If you have thick skin it's a great way to get the people that love you to really love you (by giving you cash).
4. Has an Outreach Strategy
Blogging is not an isolated task. You need to create blog posts for your own blog, but if you want to grow your audience you need to do some outreach. This means building a social network on social sharing sites like Twitter, Facebook, LinkedIn or a similar site. You can even use forums to leave comments or leave comments on the blogs you feel have similar customer targets. There is very little chance of having a successful blog without outreach because people won't know you exist. SEO is becoming less important so outreach is becoming even more important.
5. Remembers the Business Goals
Perhaps the most important thing about business blogging is remember the ultimate business goal of the blog. You shouldn't start blogging with a goal. For most blogs the goal is to create a long-term traffic and lead generation engine. Traffic comes from search, social and other referral sources. If this is the goal for your business then make sure you're writing posts that attract the right kind of traffic while writing in a way that turns that traffic into leads.
The way to do this is to write about what your target customer cares about most. Refer to #1 above. Also be sure to call those visitors to action on the post. The call to action can be subtle with a small Contact link on each page or it can be more direct like asking customers to call you at the end of each post.
You need to do these things in order to achieve your business blogging goals. It's something every great business blogger does well.