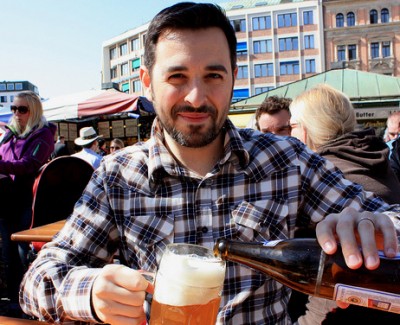 Earlier we looked at social media predictions for 2014.
I think it was cool to search around and find the predictions the real experts are making. I have my own thoughts on things, but I like to see what others are thinking about the upcoming year.
Plus I think it provides a different perspective from what you usually get here on the GBW Blog.
So we're going to do the same thing, but this time we're focusing on SEO predictions for the New Year.
There are similar things going on in the social and search worlds, but I think both are kind of heading in different directions. Social seems to be offering more opportunity while SEO may not be doing that quite as much.
But that's my opinion.
Here is what the experts have to say.
1. We Will See Google Test Search Results with no External, Organic Listings
As Google continues to get more and more aggressive with things like knowledge graph, visual ads, and instant answers, I suspect we'll see some of the first result sets that have no traditional, external-pointing, organic links whatsoever. Google may keep some links as references to the source they're bringing in, but they won't be in the classic organic results format we've seen from them over the last 15 years.

Side note: This will scare the poop out of many marketers, but it probably (hopefully?) won't expand much beyond the experimental/limited release phase.
I completely agree with Rand here. Google has been moving in this direction for some time. It seems like they're trying to ease into this. 2014 could be the first time we see it.
This is what I meant when I said earlier that search seems to be heading in a different directions for business owners at least in an organic sense.
From: 6 Predictions For The Marketing World In 2014
By: Rand Fishkin, Moz (@Moz)
2. Focus On Topics
Review your content creation strategies. Content that is of low utility is unlikely to prosper. While it's still a good idea to use keyword research as a guide to content creation, it's a better idea to focus on topic areas and creating engagement through high utility. What utility is the user expecting from your chosen topic area? If it's rap lyrics for song X, then only the rap lyrics for song X will do. If it is plans for a garden, then only plans for a garden will do. See being "relevant" as "providing utility", not keyword matching.
We've been doing this at GBW for most of the last year. The focus has moved away from keywords to focusing on topics. The idea of providing answers to questions remains the same.
From: SEO 2014
By: Peter DaVanzo (@peterdavanzo)
3. Content Drives The Engine
However if there is a search for something like, "How can I get a better tax return in 2014?" Google obviously cannot provide a clear-cut answer. If a site wants to rank well for this search, it needs to create unique, valuable content that is competitive with other options.

There has been some amount of uproar over the state of keywords within SEO. Google analytics no longer directly provides keywords for webmasters. Instead, you must decide on your own (based off your data) what keywords are going to yield the most fruitful results.

It's no secret that if you're interested at all in keywords, long-tail ones are the name of the game. However, if 2013 has proven anything, it has shown that Google could change anything about search at any given time. A focus on keywords will not be nearly as important as a high, intense focus on quality content.
I tried cutting this part down more, but it was all so good. Check it all out for the full story. Clickthrough to read more. I highlight a few areas for emphasis.
From: Changes in SEO: What You Need to Know in 2014
By: Drew Kobb (@drewkobb)
4. Without Content You're Not In The SEO Game
Going forward, any site that wants to get to, and remain, at the top of the SERPs will need to have high quality content that the visitors will benefit from.
That pretty much says it all. Are you in the game?
From: Is SEO Dead in 2014?
By: Brett Relander (@brettrelander)
5. Get To The Point
Consider content relevancy. Mobile users want information quickly, at the top of a page. Consider how your pages can deliver information up front.
More people are searching from mobile devices. This is especially relevant for those searching with smartphones. They want the information quickly so give them something worthwhile right away.
From: SEO Changed Forever In 2013. How To Adjust And Thrive In 2014
By: Jim Yu (@jimyu)
6. Repurposing Content
As for reusing and recycling, for content that connects with core intent (and context), your focus should be on intelligent repurposing of content copy, content elements, content themes and content ideas, to create unique and aligned articles, rejiggered for different platforms, mediums, formats and audiences.

No piece of written content is an island. If you aren't promoting worthy content in the most appropriate formats across your social channels, then 2014 may not be your year!
Great item here. You're not creating duplicate content. The idea is to take a topic that you're an expert on and focus on providing useful information for your target audience on that topic. Just because you've written something on it before doesn't mean you can't do more. And you can repurpose content into videos, graphics and more.
From: Top 10 SEO New Year's Resolutions for a Successful 2014
By: Grant Simmons (@simmonet)
7. Big Content Gets Big Traffic From All Sources
About a year ago, a study came out showing that the first ten entries of the SERP for a selected set of keywords averaged about 2000 words. Many people argue this point (and describing the mean in a sample set like this is probably somewhat misleading), but it does make sense that the more relevant, useful information you are able to share, the more likely it will be helpful to readers. Despite my overtures to the contrary, most experts suggest going about keyword research the same way businesses have traditionally done it. This makes some sense if you are generating qualitatively better content for the same targets.

It's also important to think beyond just words. Infographics, pictures and charts are very effective ways to drive traffic (and build links). And although social traffic probably doesn't cause a high position in search, it does correlate.
We've been seeing this change too with the content we write. It seems like companies that have been doing this for some time are benefitting. When you focus on providing the best content on an overall topic you can become an influencer in the space.
From: 2014 Marketing Trends: SEO in 2014
By: Jim Dougherty (@JimDougherty)
8. More Adoption Of Google+
Along with Google Authorship and Google AuthorRank, I believe we will begin to see more public adoption of Google Plus. SEOs will begin to realize they pretty much HAVE to be a player. I have already adopted Google Plus into my daily routine, and realized it's not just about posting stuff to your Google Plus profile. It's all about engagement, being an influencer. Who cares how many "friends" or followers you have? It's about how many people are +1ing, sharing and commenting on stuff you post. Even if you have over a million followers on Google Plus, if no one comments or shares your updates, then you're not an influencer. My prediction for 2014? SEOs will begin to realize that AuthorRank is tied to being an influencer.
There have been mutterings about using Google+ to help your rankings for a few years. Experts continue to point to this as being a requirement for search rankings in the New Year. It's a blending of social and search.
From: SEO Predictions for 2014: Link Earning, Google Authorship and AuthorRank
By: Bill Hartzer (@bhartzer)
9. Earning real media coverage will start to displace guest blogging as the preferred off-page SEO strategy
Google's Penguin algorithm and its subsequent updates make off-page SEO a riskier proposition for brands. Matt Cutts' recent comments on guest blogging included some warnings that have many SEOs concerned.
Great point here. Guest blogging and other methods people used to build links are out of style. It's about great content, promoting that content and getting mentioned on other sites in the style of PR.
From: 10 Digital Marketing Predictions For 2014
By: Chad Pollitt (@ChadPollitt)
10. Make Your Content Mobile According To That Mobile Searcher's Needs
Once you understand your searcher, you'll know which direction your mobile site configuration strategy should take. Have a blog, news or information site where your searchers are looking for information? Go responsive. Have a more complex audience that uses different queries on different platforms at different frequencies? Then dynamic serving or dedicated URLs are the way to go.
Mobile is big time important in the marketing world now. If your online experience isn't optimized for smartphones, Google and other engines will see your site as not being relevant enough. The experience matters for relevancy.
From: New To Mobile SEO? 5 To-Dos To Help You Start 2014 With A Bang
By: Bryson Meunier (@BrysonMeunier)
Hopefully this has been helpful. Best of luck with all your SEO efforts in 2014!