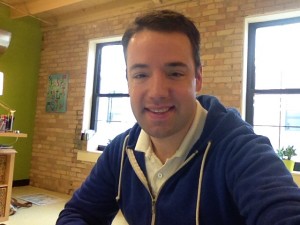 We typically write a new post every business day on the GBW Blog.
For a year that's about 250-260 blog posts.
We try to make each of those worthwhile, but I realize that doesn't always happen.
It's the nature of blogging that some posts will be more useful and popular than others. And even after a few years of blogging it surprises me sometimes the type of blog posts that do well.
It's why we always look for new blog post formats that hits home with readers. We use our tried and true post formulas, but we're always looking for something different because if looking back it's obvious that things are always changing.
2013 was a great year for the GBW Blog. Traffic doubled again. We got more inquires than ever before. That's blogging success.
So on the last day of the year I thought we could look back on 10 of the most popular articles from the blog.
10. The Go Daddy Social Media Strategy (The Simple Genius)
This was a fun post for a couple reasons.
For one, Go Daddy has gotten a bad reputation I think the last few years. In the hosting world they've been seen as kind of outcasts yet they're one of the biggest in the industry.
I've used them on a few occasions and I do have to say that this last year they've done really well and their support has been great. Nothing is perfect with hosting so you can cut Go Daddy a little slack I think.
The other item was that it's fun to look at brands and what they do well. Sometimes it's too easy to point out what brands do wrong. I don't like doing that. Who's to say when a brand screws up anyway? I'd rather stick to the positives.
And Go Daddy has a marketing strategy that has proven to work and you can take a lesson from it with your social media efforts.
Read: The Go Daddy Social Media Strategy (The Simple Genius)
9. What Social Media Buttons Are Best For Your Website?
One blog post format that works well is answering common questions.
Sometimes you target audience will ask questions directly and other times you'll have to be a little more observant to figure out the questions they don't even realize they should be asking.
In 2013, I realized that for years I'd been seeing business blogs with a crazy number of social sharing buttons and follow buttons. It dawned on me that there needed to be some clarity on the subject.
Social sharing buttons are notorious for slowing down page speeds, which can be detrimental to your blog.
So I wrote a post on the subject.
Read: What Social Media Buttons Are Best For Your Website?
8. 5 Blog Posts That Did It Wrong And Won Big
This was a really fun post to write.
For one, the post was not focused on any kind of SEO. If you know me you know that I've had an on and off relationship with SEO for the last few years. I've tried hard to broaden the focus of blogging and traffic sources. SEO remains important, but to get traffic from a variety of sources you have to buck the trend and write about different things. That's what I wanted to do with this post and the result was a post about people that do it differently.
The posts in this post all bucked trends. They didn't follow formulas yet they were all very successful.
The lesson here is that whether you're blogging or doing business you don't always have to follow best practices. They can help, but if you really want to make a difference you have to be different.
Read: 5 Blog Posts That Did It Wrong And Won Big
7. 10 Companies That Have Just Started Great Company Blogs
Again, I admire companies that do good things. I also admire the many companies that started company blogs in 2013. It's a good trend for us in the blogging industry, but I honestly do think blogging is a great marketing tool for businesses.
So in this post we looked at 10 of the best.
This post also tested one of our new blog marketing strategies. We mention other brands and share the post with them. Many will share the post with their followers, which helps the GBW Blog gain readership.
Read: 10 Companies That Have Just Started Great Company Blogs
6. Study Finds That Social Media Improves Corporate Trust
I've had a growing interest in psychology this past year. I've curious how it can help improve business. It makes sense that the more you know about people the more you know about running a business both in terms of working with people in your company and serving clients.
So for this post we looked at a psychology study and found that social media improves corporate trust. I think people liked it because this is not just a claim. It's hard to argue with findings in a study.
It's also a good lesson that social media might be more important than we think.
Trust is a key component of selling.
Read: Study Finds That Social Media Improves Corporate Trust
5. The Ghost Blog Writers Editorial Calendar
One thing I'm learning is that people really like tools and action items. We're a people that like to take action so one of my goals for the New Year is to provide more actionable items in posts.
One tool or action item from last year was this blog post that included an example of the calendar we use at GBW. It's pretty straight forward and it's changed a little bit, but creating a calendar for your business blog is a simple way to improve it.
The calendar allows you to separate the idea generation from the writing making it easier to write.
The calendar also puts good pressure on your writing team to deliver posts on a set schedule. With a calendar, things get done.
Read: The GBW Editorial Calendar
4. 5 Common Factors Of The Best Company Blogs
These types of posts are fun.
It's a numbered list and lists always seem to do well, but we also had the chance to look deeper at some of the common attributes of the best company blogs. We do this from time to time and always learn something new.
This was a fun post to write and an educational post on our part. I think readers got something out of it too. I guess that makes sense since it was a popular post in 2013.
Read: 5 Common Factors Of The Best Company Blogs
3. 10 Successful Company Blog Examples
The posts you write in January always have an advantage to become top posts of the year. They have the most days to rack up views. I think that this post benefited from that, but I also think it was just a good post that offered some good information.
Sometimes the best thing I can do is simply highlight things and people that are good and leave it alone after that. People are smart and they can pull their own lessons from the examples.
Read: 10 Successful Company Blog Examples
2. 7 Blogging Mistakes That Waste Your Time
This blog post was a hit from the moment it was published. I don't know why it's been such a hit. I can offer a few guesses.
I think people are afraid to make mistakes. We're also afraid that we're making mistakes without realizing it and we want to know what we can do to fix those mistakes.
I've made more than my share of blogging mistakes, but with those mistakes I've learned a few things. I wanted to share those experiences with readers and the post was a hit.
And I don't think my mistake making days are over so I'm sure I can write a sequel to this post in the future.
Read: 7 Blogging Mistakes That Waste Your Time
1. Analyzing The FreshBooks Blog
Now we get to the most popular article on the GBW Blog for 2013.
It comes as no surprise because this post has been popular all year.
And we've been doing this type of post for a few years. We find a great business blog and analyze a few of the things they do well. It gives us a chance to learn and it gives readers a chance to learn.
We also find that the brand highlighted in these posts will also share the post (sometimes more than once) on their social profiles, which helps traffic to the post.
Read: Analyzing the FreshBooks Blog
Conclusion
Heading into 2014 we'll continue to hit on the subjects that affect you and your business. Yesterday we looked at some of the hottest topics of 2013. It seems that many of these will be hot topics again in 2014 so we'll be sure to touch on those.
Our goal here at GBW is to help you with your business. Our core competency is with blogging so we can help you there, but with our blog we also want to use our blogging experience to bring you the information you need to take action and to improve.
So here's to a great 2014!